The easiest way to describe the Philadelphia Flyers' season to date is up-and-down. A win there, a loss here pattern has earned the team an 11-10-3 record through the first 24 games.
Just looking at the schedule, Tuesday's win was the first time Philly won back-to-back games in 10 contests, and have only won three games in a row once. During that stretch, the team had a three- and two-game losing streak. As a result, the Flyers sit fifth in the Metropolitan and outside of a Wild Card spot.
Not incidentally, "up-and-down" can be used to describe Philadelphia's in-game play also. A strong first period is canceled out by a weak third; winnable goaltending is matched with a lack of scoring, or vice versa.
But if you look at the Flyers' recent results, you'll see two wins in the past two games. One where the team scored five goals and another where it won a close one-goal game that needed overtime and a shootout.
Of course, that doesn't paint the complete picture of Philadelphia's actual play in those matches, but it is a hopeful indicator for Flyers fans that the team is beginning to take small steps toward lasting success.
The Good
Goaltending shouldn't be on the forefront of fans' minds when worrying about the Flyers anymore, despite Michal Neuvirth still on injured reserve.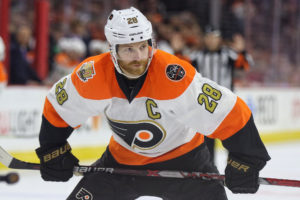 In his last six games, Steve Mason has a .906 save percentage, which is nothing to get excited about, but isn't a good indicator of his play. He let up four goals against the Lightning, but received no offensive support and actually had a strong game. The team wouldn't have earned two points against the Bruins Tuesday if it wasn't for him.
Rookie Anthony Stolarz also earned his first career win in his first game against the Flames on Sunday. He didn't play as well as Mason has, but did enough for the team to win.
The much-maligned power play is actually ranked second in the NHL, and Claude Giroux scored on the man advantage Tuesday to end a nine-game goalless drought. Meanwhile, Wayne Simmonds and Jake Voracek are still producing.
Dale Weise has also contributed a bit after a rough start in Philly. He's scored twice in the past five games and is more tenacious on the forecheck than at the start of the year.
The defense still has issues, but Andrew MacDonald has played two of his best games in a Flyers sweater in the past two matches, and Radko Gudas' game continues to evolve. Gostisbehere's benching hasn't diminished his play, but it's not like it was bad to begin with.
The Bad
While Gostisbehere hasn't been playing badly, it would be nice if he started to contribute offensively like he did last year. While highlight plays were almost daily last season with the Florida native, there haven't been many this year.
But there are worse struggles that have Flyers fans concerned – namely Brayden Schenn.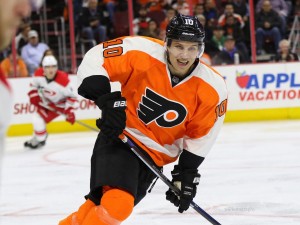 The surprise star from last season has been a dud at even strength since returning from his three-game suspension to start the year. Nine of his 14 points and all three of his goals have come on the power play.
Coach Dave Hakstol has shuffled him all around the lineup. He was first with Giroux and Simmonds where he finished last year, and lately has played between fourth-liners Chris VandeVelde and Roman Lyubimov. But he had a new line in practice Wednesday before Thursday's tilt against the Senators:
Brayden Schenn will center Travis Konecny and Wayne Simmonds today in practice.

— Dave Isaac (@davegisaac) November 30, 2016
One would hope playing with skilled players would elevate Schenn's game, but he may just need some time to adjust to one line for a little. It also doesn't help that he's playing center due to Sean Couturier's injury. He's excelled most at left wing.
On defense, Michael Del Zotto's benching hasn't worked perfectly. The former Ranger is still falling down to make defensive plays too often and the Flyers need his steady play to get back on track.
Couturier's injury has also opened a huge defensive hole in the offensive lineup. His absence leaves the team without a defensive center and Nick Cousins has been forced into that role, which hasn't always worked.
Despite all of these problems, it's important to remember that the Flyers worked through issues at the beginning of the year and now have them figured out. While they're just small steps, they're the right ones to have more ups than downs.