The Anaheim Ducks season so far can be summed up in two words: Consistently inconsistent.
We are a quarter into the 2016-17 season and the Ducks sit second in the Pacific Division with a 11-8-4 (26 points) record entering Thursday's contest in Vancouver.
Anaheim got off to a slow 0-3-1 start but since have gone 11-5-3 and are on a two-game winning streak after the 2-1  win over the NHL-leading Montreal Canadiens. However, the Ducks have put up too many uneven performances. They are either blowing opponents out of the water or getting throttled. Plus, this team has yet to string more than two wins together.
In 23 games, the Ducks are 15th overall in the league in goals per game (2.6), 7th in goals against (2.3), 6th on the power play (22.4 percent) and 16th on the penalty kill (82.7), according to hockey-reference.com.
The Ducks as a whole have largely been inconsistent and underwhelming. But there are a few individuals who stand out as the team overcomes its schizoid tendencies and establishes what we know we are going to get from game-to-game.
 Cam Fowler Leading the Blue Line
A big reason for the Ducks turnaround after another slow 0-3-1 start can be attributed to the defense being more effective at moving the puck and limiting a war zone in front of either John Gibson or Jonathan Bernier. Cam Fowler is a large part of the blue line's progression.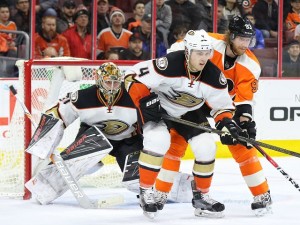 Fowler's game soars despite his name being circulated in the trade rumor mill over the summer. Rather than focus on the rumors, Fowler worked on improving his offensive game. It has paid off in the early goings. He potted his seventh goal (four on the power-play) this year in Tuesday's 2-1 win over Montreal standing as the game-winner; that's two more than he scored all last year.
"I've been so focused on trying to prove myself as a defenseman in this league that I might have let some of my offensive abilities slip, so I really worked hard this summer on shooting from all angles," Fowler said to Yahoo! Sports. "When you get pucks to the net, you'd be surprised how often good things happen and that's kind of been the key so far."
Fowler has taken large strides this season. The 24-year-old is playing the best hockey of his career, especially offensively, since he recorded 40 points in 76 games his rookie season. This year, Fowler has fired 2.09 shots on goal per-game, a rise from last year's 1.64 per-game, according to hockey-reference.com. His 0.59 points-per-game are also a career high as are his 0.27 goals-per-game. Fowler exponentially raised his adjusted 5-on-5 CF% from minus-5.85 last season to plus-3.17.
Jonathan Bernier Pushing for No.1
Jonathan Bernier has bounced back nicely with the Ducks following three rough years with the Toronto Maple Leafs. He's posted a 4-1-1 mark with 2.06 goals-against average and .933 save percentage in seven starts.
Since the 28-year-old netminder landed in Anaheim last summer, he's seen his confidence build with Randy Carlyle as his coach once again. He's shown his mental lapses are a thing of the past in the early goings as shown when he stopped 21 of 23 shots faced in Saturday's 3-2 win over the San Jose Sharks to end the Ducks' three-game skid.
John Gibson is long considered Anaheim's No.1 netminder, but Bernier's strong play is making a case for the top spot. Gibson hasn't looked as sharp especially his body positioning on the lateral movement on cross-ice passes. Bernier has given the Ducks solid goaltending in his nine appearances.
Young Duckling Flyin'
The Ducks have many reasons to be excited about their future. One is forward Ondrej Kase.
While Kase has only registered two assists in his first seven appearances in the NHL, the Czech forward has demonstrated his offensive gifts with his speed and playmaking skills. The 21-year-old forward has shown he can set up his linemates with slick passes and reads plays well.
Kase gave the Ducks fans a glimpse of his filth with this nifty backhander over goalie Thomas Greiss for his first career shootout goal. Kase provides the Ducks with another weapon up top. He can use his speed to pester opponents on the forecheck and to set up his teammates in the offensive zone.
It's been a wildly underwhelming season for the four-time defending Pacific Division champions. But Fowler, Bernier and Kase have provided a spark to this team and will look to build on their 2016-17 campaigns.