For a player with whom success of the franchise depends, Arizona Coyotes' goaltender Mike Smith was a complete embarrassment on Opening Night.
Now, the native of Kingston, Ont. has a chance to redeem himself.
After benched for the Coyotes' last game against the defending Stanley Cup champions Los Angeles Kings this past Saturday, Smith will be back between the pipes for Wednesday's home game against Edmonton. Smith's return to the lineup was confirmed by coach Dave Tippett after practice Tuesday afternoon in the Gila River Arena. "It will be Smithy," Tippett said with a slight smile.
Tippett does not take losing lightly was appeared surprised, frustrated and disappointed in both Smith's physical production mental approach in the opener.
Given the hype and expectation of his pre-season billing, Smith turned in a resounding thud last Thursday night in the Coyotes season-opening loss to Winnipeg at home. What was probably more embarrassing was Smith's admission that he did not feel particularly good or sharp against the Jets.
After telling reporters he was "uncomfortable" in allowing six goals in the Coyotes' 6-2 defeat to Winnipeg in the season opener, Smith returned under the care and coaching of Sean Burke. Apparently, Smith impressed the coaching staff on a certain level to warrant a return as the team's number one goal-tender.
one-on-one with Tippett
Prior to the King game, Tippett said he had a confidential talk with Smith and told the goalie that back-up net-minder Devan Dubnyk would start against the defending Stanley Cup champs. Stressing to Smith that "we're going in another direction," Tippett was livid. Apparently, Smith took the message loud and clear. The goal directly ahead was to restore his credibility and importance to the team.
"Smith has worked hard the last two days," Tippett said. "Yeah, we had a conversation the other day and we'll leave it at that. It had nothing to do with injuries and I'm not getting into what was said."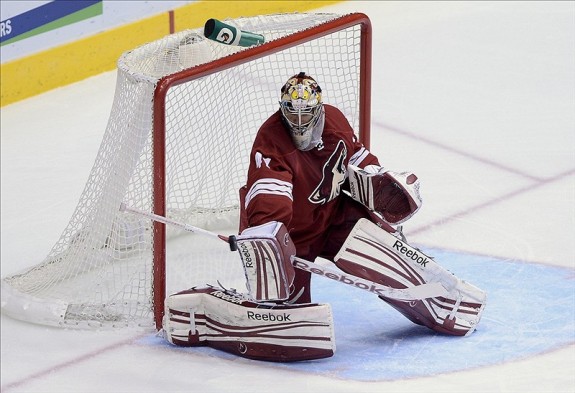 After practice Tuesday, Dubnyk, who has a 1.85 goals against average for his one start against the Kings, said he knew of Tippett's decision to put Smith back between the pipes but did not disclose his hand to reporters.
Recognizing his role as the back-up to Smith, Dubnyk could be expected to play in about 20 games and Smith close to or above 60 contests this season.
"The key to staying sharp is practice," he said. "Practice becomes much more important and by not playing every night, you really need to stay focused all the time. By not playing,  you can quickly get into bad habits and out of shape."
Overall, the game Wednesday night against Edmonton represents a home-coming for Dubnyk, who played parts of the last five seasons with the Oilers before traded to Nashville late last season, and center Sam Gagner who played his last seven seasons with the Oilers. Relying on speed and finesse, Edmonton skates into Gila River Arena winless in their opening two games.
"(The Oilers) are a speedy team and we'll be ready," Tippett said. "But, this is about us and how we play. (Defeating the Kings in overtime last Saturday), we played to our identity. The key for us is to be consistent and do the right things night in and night out. We have to be consistent every time we step on the ice."
Wrapping up the home stand
After the Oilers game, the Coyotes complete their opening four-game home stand of the season with the St. Louis Blues on Saturday night.
Then, the season hits a roadblock. From Oct. 21 to Nov. 18, the Coyotes have 10 of their next 14 games on the road. That begins Oct. 21 in Nashville. Within this time window, the only home contests are with Florida (Oct. 25), Toronto (Nov. 3), the Islanders (Nov. 8), and Dallas (Nov. 11).