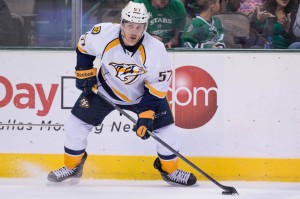 Nashville Predators head coach Peter Laviolette experimented with lines throughout training camp and preseason. Three of the lines made sense, but the most confusing line happened to be the 'top line', consisting of left wing Gabriel Bourque, center Mike Ribeiro, and right wing James Neal. Anyone who follows hockey would be able to distinguish the name that does not fit with the others — Bourque.
This bizarre line combination came about in an October 4 preseason game against the Columbus Blue Jackets. Averaging 18:56 of time on ice, the trio combined for eleven shots on goal. They also scored on a 6-on-3 opportunity from Neal to cut the final score to 3-2 in favor of Columbus. While the loss was deflating, the line's success was starting to show.
Laviolette kept them together for the home opener against the Ottawa Senators and continued with the trio entering Tuesday night's game against the Calgary Flames. Despite twenty-four shots from the three, Ribeiro is the only one to have scored and record a point. Through three games, they have combined for a -9 rating. Looking for offense from the top line, Laviolette moved Colin Wilson to play alongside Ribeiro and Neal amidst their game against Calgary.
"[I was] just looking for a spark," Laviolette said of the adjustment following the 3-2 loss. "Looking to try and change and get some energy going. Get some offense going."
"[The adjustment] was big to change," Ribeiro told reporters. "We didn't create much the last two [games] and tonight too. It was good to have a little change."
Will that carry over into Friday night's game in Winnipeg?
There is no removing of Paul Gaustad and Eric Nystrom from one another, who each have 4 points and a combined +10 rating. The line of left wing Filip Forsberg, center Derek Roy, and right wing Craig Smith will stay together because they have a combined 10 points (2 goals, 8 assists) and +11 rating.
With Calle Jarnkrok likely to be groomed as a center, that leaves wingers Taylor Beck, Matt Cullen (soon returning off injured reserve), Olli Jokinen, and Colin Wilson to swap with Bourque. Laviolette should allow Ribeiro and Neal to play with a winger that would compliment their game. Wilson, a left-winger on the third line, would be the natural fit to replace Bourque.
Wilson, 24, has scoring abilities, but has a history of under-performing. Last season, Wilson finished sixth on the team in scoring with 33 points (11 g, 22 a) in 81 games. Despite such under-achievement, slotting Wilson alongside Ribeiro and Neal could give the native of Greenwich, Connecticut the necessary boost to reach 40 or 50 points in a season.
If the lines were to be altered, here is what it would look like.
Wilson – Ribeiro – Neal
Forsberg – Roy – Smith
Beck – Jarnkrok – Jokinen
Bourque – Gaustad – Nystrom
Extra: Clune
IR: Cullen and Stalberg
Colin Fitts is a Nashville Predators staff writer and is a credentialed media member of the Chicago Wolves. From Nashville, Tennessee, Colin majors in journalism and public relations at Columbia College Chicago. Follow him on Twitter, @FittsTHW. Email: 22fitts [at] gmail [dot] com.