Among the few areas the Nashville Predators need to address this offseason, the most interesting is who will be backing up goaltender Pekka Rinne next season. The backup goalie position will be an important component to the Predators as Rinne, who will turn 34 years old in November, ages.
Current backup Carter Hutton is an unrestricted free agent but has had conversations with Nashville general manager David Poile about "working something out." In three seasons with the Predators, Hutton started 66 games and had a 33-23-12 record with a 2.55 goals-against average, a .910 save-percentage and four shutouts.
Whenever Rinne began to struggle, Hutton was the stable answer. The Thunder Bay, Ontario native had a career year in GAA (2.33), save percentage (.918) and shutouts (2) this season. He has always been an affordable and consistent option for the Predators.
Re-signing Hutton appears to be an easy choice for Poile, but it really isn't.
Prospect Marek Mazanec, who spent the past three seasons with the AHL's Milwaukee Admirals, is ready for full-time backup NHL duties. Though the 24-year-old has made 27 appearances for Nashville, Mazanec did not get any NHL time last season. He has an 8-11-4 record with a 2.77 GAA and a .902 save-percentage in the league.
Mazanec will likely not be able to return to Milwaukee next season, however. Janne Juvonen, who the Predators selected in the seventh round (203rd overall) of the 2013 NHL Entry Draft, joined Milwaukee late in the season and is likely to sign an entry-level contract sometime this summer. The addition of Juvonen and subtraction of Mazanec would allow promising prospect Juuse Saros to have a starting role in Milwaukee next season.
Mazanec is a restricted free agent, so Poile has the luxury of making the decision of who to re-sign. Hutton has the experience, but Mazanec has more upside.
What Should Be Done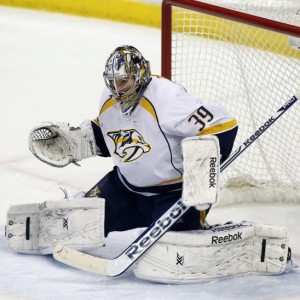 The Predators should re-sign Hutton to a one-year deal and deal Mazanec. Hutton played well enough last season to earn more starts, and the Preds need a goalie who can play a solid 15-20 games to comfortably allow Rinne more rest next season. On-ice play aside, Hutton is a great guy to have in the locker room and always has a positive attitude.
A short-term deal would also buy time for Saros to develop into an NHL-ready goalie.
Further, Mazanec's high upside is certainly attractive to many teams throughout the league. A new organization not clogged with talent in net could benefit Mazanec.
Colin Fitts is a Nashville Predators staff writer and is a credentialed media member of the Chicago Wolves. From Nashville, Tennessee, Colin majors in journalism and public relations at Columbia College Chicago. Follow him on Twitter, @FittsTHW. Email: 22fitts [at] gmail [dot] com.