Eric Staal said this week that he has not ruled out a return to the Carolina Hurricanes. 'Canes GM Ron Francis wasted no time in saying the team has moved on.
Staal was sent from the Hurricanes to the New York Rangers this season. Moving Staal was something many Hurricanes fans had hoped to see for quite some time. Others were not as excited. Seeing the face of their franchise for the past 12 years and team captain leave caused mixed emotions.
Staal promptly laid a giant egg with the Rangers, especially in the playoffs. Having been brought in to bring additional offensive push, Staal's play was offensive. He netted three goals and three assists in 20 games. In the playoffs it was even more disappointing, with zero points in five games. The vision that the Rangers had for Staal quickly dissipated and Rangers fans got a small taste of what Hurricanes fans have had for the past few years.
Staal Mystique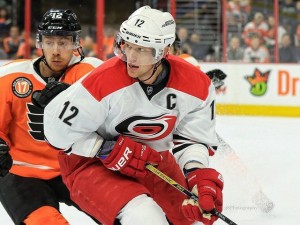 Staal is a player that has enjoyed a great image and aura of being an elite player for years. Even when his play has been less than elite, the perception around the league has held fast. In fact, just prior to the trade deadline this year I wrote, Staal Mystique Makes Rental Attractive. The mystique that pushed the notion that he was a "must-have" made him one of the most talked about players before the deadline. The Rangers believed it, and brought Staal in, but learned the hard way that the mystique has not translated into reality in quite some time.
There are certainly other aspects of Staal's game that can be argued may offset the raw data of his offensive production. The Hurricanes media would often point to his size and leadership in the locker room as positive attributes. But, the fizz out of the soda had gone, and all fans saw was an overpaid player who they shared a mutual sentiment with, but had lost confidence in as an offensive force and leader on the team.
Where to Now?
So where does Staal go now? As mentioned, he has said that he is not averse to returning to Raleigh.
Staal is looking at other options, talking to other teams, but wouldn't rule out a return to Hurricanes if they did express interest.

— Tom Gulitti (@TomGulittiNHL) June 28, 2016
But, Francis made it clear that team has moved on.
Hurricanes GM Ron Francis has told the media that they will NOT be signing Eric Staal

— NHL Transactions (@NHLtransactions) June 29, 2016
Pierre LeBrun wrote at ESPN.com that Staal feels he still has a "lot of good years left." However, Lebrun noted that "one Eastern Conference GM, who requested anonymity, says Staal is a good buy-low candidate." The truth is that Staal will get picked up and will be a part of an NHL team next season. Greg Wyshynski wrote at sports.yahoo.com, "Clearly, the Hurricanes want a clean break. Clearly, Staal is going to have to take a lean, mean contract somewhere else, and in the short-term. Both things are likely for the best."
The Nashville Predators may have an interest in the 31-year old from Thunder Bay. Adam Vingan wrote today at thetennessean.com, "Another player that the Predators may target in free agency Friday is veteran forward Eric Staal, who has received interest from them, according to agent Rick Curran." After yesterday's blockbuster deal the Predators made with the Montreal Canadiens, moving Shea Weber in exchange for P.K. Subban, they may continue to be active. Vingan also wrote, "A center lineup of Staal, Ryan Johansen, Mike Fisher and Mike Ribeiro would be fairly stout."
The latest buzz also include the Minnesota Wild. Michael Russo wrote yesterday at startribune.com, I spoke earlier today with Staal's agent, Rick Curran, who said, "There's mutual interest and consideration that there is a fit with Minnesota. We've had conversation and I would also suggest Eric was extremely impressed."
Wild reportedly very interested in Eric Staal. https://t.co/jFN5kgNFw5

— Wild Feed (@TheWildFeed) June 30, 2016
One thing is certain. The mystique though waning is still alive, and he will land somewhere. Hurricanes fans will watch his play with interest and no doubt wish him well.