After compiling the best regular season in franchise history, followed by a bitterly disappointing first-round playoff exit, the Florida Panthers enter the aptly-named "Free Agent Frenzy" this summer with specific goals in mind:
Panthers GM Rowe said on NHL Radio Sirius that he's looking for two forwards for third line and speed on fourth line. #flapanthers

— Harvey Fialkov (@hfialkov) June 27, 2016
The trade deadline acquisitions of Jiri Hudler and Teddy Purcell simply didn't pan out. Skating on the third line, they were consistently out-possessed, no matter which center played between them. As a result, Hudler and Purcell are unrestricted free agents and new Florida GM Tom Rowe is going shopping. With a few big names available on July 1 (Milan Lucic, Loui Eriksson and Kyle Okposo immediately come to mind), the temptation to make a big splash is tremendous. Temptation aside, Rowe yelling, "CANNONBALL!!!" as he leaps into the free agent pool isn't necessarily the right move for Florida.
Curb Your Enthusiasm, Panthers Fans
Make no mistake: Florida will add at least two new forwards between now and training camp. Though a glance at the Cap Friendly website shows the Cats currently have $18,066,667 in cap space, Rowe has to budget for Vincent Trocheck's new contract (which should land in the $5-5.5 million AAV range) this summer, as well as new deals in 2017 for Reilly Smith, Jonathan Huberdeau, either Mark Pysyk or Alex Petrovic (whichever isn't claimed by Las Vegas in the Expansion Draft), and a hefty payday for Aaron Ekblad.
.@FlaPanthers source tells me the eight-year deal with @Ekblad5FLA is in the works; "he really wants to be here." https://t.co/9eI7m1vvyQ

— –George Richards– (@GeorgeRichards) June 24, 2016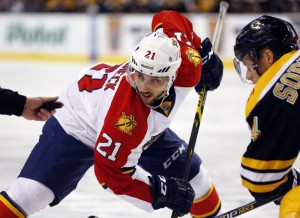 The combined impact of these upcoming contracts will likely shrink Florida's cap space from the current $18 million-plus to around $9 million next summer…and that's assuming A) Jaromir Jagr decides to retire and B) the Panthers don't re-sign newly-acquired goalie Reto Berra, which means the salary for a new backup netminder will come out of that $9 million.
Thus, Florida can only add around $7 million in salary this summer. With that money, they have to add three forwards to the roster. Lucic, Okposo and Eriksson can each expect to sign on July 1 for somewhere in the $6-7.5 million range. In short, they're likely off the table for the Panthers. What, then, are their options?
Plan A: The UFA Bargain Bin
Just like the DVD bargain bin at Walmart, a few reasonably-priced UFA gems can be found by general managers willing to do a little digging. After all, the Panthers' top-six are set, so Rowe & Co. are looking for three bottom-six forwards with speed and offensive upside. Some skaters who could fit nicely in Florida are:
Colton Sceviour (DAL) – 71 Games Played, 11 Goals – 12 Assists, 12:40 Average Time on Ice. Age: 27. 2015-16 Cap Hit: $650,000. Due to the Stars' forward depth, Sceviour was relegated to a fourth-line role in Dallas. The speedy right wing has a nose for the net, scoring 32 goals in 54 games during his last season in the AHL, and showed in the playoffs this spring that he's capable of third-line minutes and responsibilities, if not more.

Joe Colborne will test free agency July 1. (Candice Ward-USA TODAY Sports)

Joe Colborne (CGY) – 73 GP, 19 G – 25 A, 15:09 ATOI. Age: 26. 2015-16 Cap Hit: $1,275,000. Despite Colborne putting up fairly impressive numbers in a breakout season, the Calgary Flames declined to tender a qualifying offer to the big (6'5″) utility forward. Thus, the left-shooting Colborne will be on the market July 1. Though he'll likely want (and get) a contract in the neighborhood of $3 million per year, his ability to play any forward position gives the native Calgarian added value.

Darren Helm (DET) – 77 GP, 13 G – 13 A, 15:04 ATOI. Age: 29. 2015-16 Cap Hit: $2,125,000. Like Colborne, Helm is versatile. The former (as of July 1) Red Wing is a solid option as a speedy bottom-six center who can play higher in the lineup on the wing, if needed. Helm is also a good penalty killer, which Florida could certainly use. Demand for his services could push his contract above the $3 million mark, but Helm could be worth every penny to the Panthers.
Vernon Fiddler (DAL) – 82 GP, 12 G – 10 A, 11:38 ATOI. Age: 36. 2015-16 Cap Hit: $1,250,000. The veteran centerman (who can also play left wing) has been a mainstay on the Dallas Stars' fourth line for the last five seasons, earning an alternate captain's "A." Fiddler is a "glue guy," one of those team players who gives it his all every shift. He hustles, wins faceoffs, kills penalties and chips in timely goals. A "Grumpy Old Men" line of Fiddler-MacKenzie-Thornton could be quite effective for the Panthers.
If none of the above players appeal to Rowe, he could always go with Plan B.
Plan B: Trader Rowe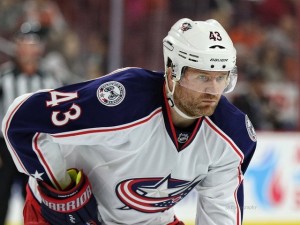 With a number of teams up against the salary cap, the Panthers could meet their needs via trade, rather than free agency. While a multitude of trade options exist, one is particularly intriguing.
Even after buying out the contracts of Fedor Tyutin and Jared Boll, the Columbus Blue Jackets are just $4.467 million away from the cap with only 19 players on the roster. Compounding Columbus' problems is next summer's Expansion Draft, as the Jackets still have five players (four forwards and goalie Sergei Bobrovsky) with no-move clauses, meaning they must be protected in the draft.
One of those forwards is left wing Scott Hartnell. At the trade deadline, I mentioned Hartnell as a possible target for the Panthers. He's still a good fit, though the combination of his age (34) and contract (three years remaining at $4.75 million per) are cause for concern. That concern, in fact, has made it impossible thus far for Columbus to move Hartnell, even though he's (apparently) agreed to waive his NMC and the Blue Jackets are willing to retain salary in a deal:
Blue Jackets have told teams they're willing to retain salary in order to dump guys. Desperate to shed money. Hartnell, Tyutin, Boll etc.

— James Mirtle (@mirtle) June 29, 2016
Hartnell fits the bill as a puck possession-driving top-nine left wing who can help out on the power play. While he would check off many boxes for Florida, the Panthers also need a right wing. Some combination of a pick and a prospect (or two) might well be enough to convince Columbus to retain salary on Hartnell and add young right wing Josh Anderson to the deal.
The Jackets are high on Anderson, who impressed in the Lake Erie Monsters' Calder Cup run, putting up 7-5-12 in 15 games. The youngster will be eligible for selection by Las Vegas and is currently behind Cam Atkinson and Oliver Bjorkstrand on Columbus' right wing depth chart, however, so they could be motivated to move him for a draft-exempt asset. Anderson could play on the Panthers' third line this year, and has the potential to move higher in the lineup.
The Florida Panthers have holes to fill. Whether via free agency or trade, they've got multiple options. Owner Vinnie Viola has issued his marching orders. Tom Rowe has some decisions to make.