Eric Staal is arguably the most talked about NHL player running up to the trade deadline. It seems that every other day there is another rumor or hypothetical scenario or "reasons (insert team here) need to rent Eric Staal" article posted on myriad hockey websites. In fact my colleague with The Hockey Writers Neil McHale wrote on Tuesday "Eric Staal a Necessary Add for the Rangers."
I agree that there are a lot of teams that are very likely looking at Staal. The Carolina Hurricanes have had scouts snooping around the past few games and practices. It is also very likely that a general manager somewhere is sitting at his desk crunching numbers and trying to devise a scenario wherein he can get Staal to his team. 'Canes GM Ron Francis is very likely going through the same motions, searching for the best deal to (A) be congruent with his rebuilding plans, and (B) be something that Staal will agree to waive his no-trade clause to execute.
Mystique
My assertion is that there is a mystique that surrounds Staal that is making people salivate at the thought of his coming to their team. This mystique began when the Hurricanes won the Stanley Cup in 2006 and has endured nearly 10 years. Staal was young but played with purpose and a fire that has dimmed over recent years. Staal put up 45 goals and 55 assists that season, 100 points as a 21 year-old, a remarkable season by any standards.
Staal added nine goals and 19 assists in the Stanley Cup playoffs as the Hurricanes brought the Cup home to Raleigh. The young forward from Thunder Bay, Ontario made a statement that season, and in my opinion it's a statement that many are still listening to across the NHL. In 2009, Staal had 10 goals and five assists in Carolina's only other playoff appearance during his tenure.
So, 43 points in two visits to the playoffs is not shabby, but the "two visits" part of the equation is not remarkable. Staal has been the 'Canes captain since January 2010. There have been no playoff appearances for his team since he had the "C" affixed to his sweater. Yet this fact is seemingly overlooked when speculation surrounding a Staal trade is splashed across the media as if he is the ultimate answer to any prospective team's questions.
Blame Not Staal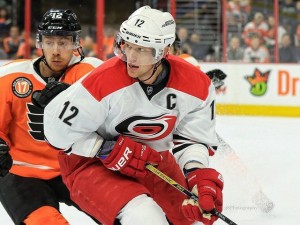 Clearly Carolina's absence from the playoffs is not entirely Staal's fault. There have been injuries in the past few years that Staal has battled. For example, this report at ESPN.com on a knee injury sustained in May 2013 during the World Cup Quarterfinals in Sweden.
In 2014, Staal had surgery to repair a core muscle injury sustained during training in the offseason. Later in 2014, Staal took a puck to the foot, leaving him with an injury that nagged him all season. Fans were tough on Staal last season, but many of them were probably unaware that he played a number of games with the foot not completely well. He has come under fire from fans for his seeming lack of effort in the past couple of seasons, but playing through pain is not easy.
I wrote last August that Hurricanes head coach Bill Peters mentioned at last season's final press conference that Staal had been playing with a broken foot. Whether or not it is in a team's best interest to play hurt is a topic for another article, but Staal is tough and a grinder, that is beyond debate.
Coaching Carousel
Staal has had to put up with a bit of a coaching carousel over the past 10 years. Peter Laviolette, Paul Maurice, Kirk Muller and now Peters have had the helm of the 'Canes since 2003. Four coaches in 13 years may not actually be that unheard of in today's high-pressure coaching world, but it does speak to a lack of building continuity and the need to learn new systems more often than is typically desired. This is not Staal's fault.
Maurice came for a second stint in 2008, having coached the team from 1997-2003. He was able to lead the team back to the playoffs in 2009. Now all eyes are on Peters to take the team up the playoff ladder. So far he's doing well. And Staal seems to have made the transition to the Peters system, and is often spoken of very highly by Peters.
Talking Numbers
So, if you are a GM looking at Staal, what do you consider? Does the fact that he is a big forward sway your perception? Most likely it does. How about a Stanley Cup and decent playoff numbers, albeit only in two playoff appearances? Again, most likely.  Will you be swayed by toughness and playing through pain? Once more, most likely.
So, what's not to like? A big, tough guy with playoff experience and the ultimate NHL success is a must-have. Right? Well, that is until you start looking at the recent numbers. As I wrote a few days ago in an article entitled, "Captain Staal Meet Captain Stamkos" Staal has had a very down year when it comes to the numbers. At that time, Staal had nine goals on the year. He had not scored since January 12. Tuesday night against the Philadelphia Flyers he got number 10:
[HIGHLIGHT] After review, it's a good goal! Eric Staal puts the #Canes up 3-1. #PHIvsCAR https://t.co/EmIAkfjRRw

— Carolina Hurricanes (@Canes) February 24, 2016
It was good to see Staal get a goal, and hopefully he will be able to get in a groove and help his team get on a playoff run.
Love and Hate
As I was walking into the PNC Arena in Raleigh before the Flyers game, I ran into a fan who knows that I cover the 'Canes. We chatted a bit and he said, "Eric is having an Alexander Semin season." Ouch! As you know, Semin only scored six goals last season. I walked away shaking my head wondering if the fan perception about Staal had really dropped that much.
#JordanStaal had his highest goal output as an 18 year old & #EricStaal peaked in only his second yr. All good players, I just expected more

— PuckingOpinionated (@TBAOsborne) February 24, 2016
The bottom line is that a lot of fans in Raleigh love Staal and a lot of fans in Raleigh are ready for him to move. But, the league and fans elsewhere still see the mystique of a young guy scoring tons of goals and leading their team to victory.
If he is traded come Monday, February 29, there will be a giant hole in the 'Canes lineup. I think the fans will realize quickly that he is the real deal, a big forward who plays tough and provides good leadership to his teammates.
Mark Shiver is a staff writer for The Hockey Writers credentialed with the Carolina Hurricanes. You can follow him on Twitter @markshiver
Photo by Amy Irvin/The Hockey Writers
Mark lives in the Raleigh, NC area and covers the Carolina Hurricanes.