It seems like every year the New York Rangers have stolen the show on the NHL trade deadline.
A season ago it was Keith Yandle from the Coyotes in exchange for Anthony Duclair, John Moore and a first round pick (2016) on the eve of the March 2 deadline. In 2014 it was the blockbuster deal that sent ex-captain Ryan Callahan and two picks to Tampa for Martin St. Louis. And in 2013, it was Marian Gaborik to Columbus for a package that included the aforementioned Moore, Derick Brassard and Derek Dorsett.
Even with new general manager Jeff Gorton on the job, the Rangers have reason to again be active ahead of the Feb. 29 deadline. Perhaps the future headliner in 2016 is the reunion of brother with…other brother.
Eric Staal, 31, is in the final year of a seven-year, $57.7 million dollar contract. He carries a $8.250 million cap hit and a no-trade clause–something he'd likely waive to play alongside his brother, Marc in New York.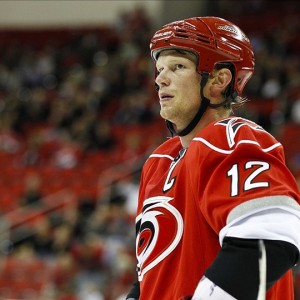 Staal, who has played his entire career with the Carolina Hurricanes, the last four with his brother Jordan, acquired via trade from Pittsburgh in 2012, will be an unrestricted free agent on July 1. Carolina has been trying to trim its payroll for the last several seasons to better accommodate their internal budget. That probably means Staal, the face of the franchise for the last 10 seasons, won't be back in Raleigh regardless of whether or not a trade is completed.
The Rangers are an obvious destination for the eldest Staal brother. But brotherly love isn't the only reason that this could be a good fit.
A Supporting Cast
Since 2013, New York has played in 56 post-season games, going 29-27 in a stretch that included a trip to the Stanley Cup finals in 2014, ultimately falling in five games to the L.A. Kings. Last season ended in dramatic fashion, being shutout 2-0 in game seven at home to the Tampa Bay Lightning in the Eastern Conference finals.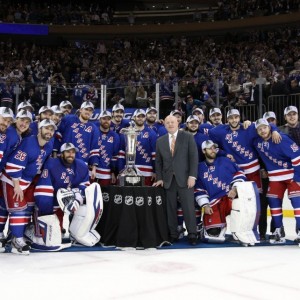 Once again the Rangers look poised for another run. They're second in the Metro division behind the league-leading Washington Capitals and are pushing for home-ice to open the playoffs. Meanwhile netminder Henrik Lundqvist has rebounded well after a concerning stretch in late-December into early-January. He's allowed two or less goals in 12 of his last 15 starts for a 11-4-0 record, dating back to Jan. 11.
There's no question that Lundqvist will give the Rangers a chance to compete for the Stanley Cup, but he will need a supporting cast along the way. That starts with centers Derek Stepan and Derick Brassard, both have been part of the Blueshirts' last three playoff runs. Second-year pro, Kevin Hayes has 19 post-season games under his belt too. And Dominic Moore has nearly 90 playoff games on his resume. He has again performed his role admirably.
There's Rick Nash, who remains week-to-week with a bad bone bruise–a mercuric player when it comes to regular and post-season. And Mats Zuccarello, who has been the best source of offense this season for New York. He missed most of last year's playoffs due to injury, but was a major part of the club's run to the finals in 2014.
Last year's run that lasted 19 games, saw the Blueshirts play in 14 one-goal games. Not exactly the margin for error they would like to play with.
Thus welcomes the conundrum that has almost become redundant on Broadway: How do the Rangers get goals in April–June?
Post-season Production Woes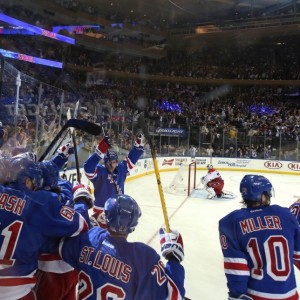 New York was among the league-leaders in goals scored a season ago, but stumbled to keep pace in the post-season, scoring 45 in their 19 games–the lowest of any team that played in 15-plus post-season games, 17 goals behind Tampa.
Forty-two goal-scorer Rick Nash was held to five goals in that stretch and while the team got production from its top two centers, Stepan and Brassard, they might still want to address their depth down-the-middle.
Stepan, who has missed 10 games due to injury this season, is on pace to finish the season with 43 points–a career low. He's found himself off the first line as of late, while Brassard has carried the load as the top center.
Hayes has done a serviceable job as the full-time third line center, but has just 11 points in his last 23, dating back to Dec. 20. A move back to the wing might be necessary heading into the post-season.
Enter Staal, who admittedly has had a bit of a trying season by his own standards–31 points (9 goals, 22 assists) in 60 games. Still, what he presents as a temporary option in the Rangers' top-six shouldn't be ignored.
Not only could the addition allow for Hayes to move back to wing, it would create some strong competition one through three to be among the deepest center-ice trio in the playoffs.
That could mean Stepan is again dropped–this time to third. While that could be unsettling, nothing is more unsettling than 22 years without a cup and for a team on the back-half of a closing window to win, the move is entirely necessary.
Staal in the Post-season
Staal has just two post-season appearances to his name in a 10-year career, but has done well when given the opportunity. He's tallied 43 points in as many games, leading the Hurricanes in scoring both times, with 28 in 25 games in 2005-06 and 15 in 19 games in 2008-09. Both trips saw the 'Canes go far–winning it all in 2006 and surprising the hockey world in 2009, when as a sixth-seed they reached the conference finals, ultimately being swept by the eventual cup-champion, Pittsburgh Penguins.
This could be the big-time performer at the deadline teams like the Rangers crave. Oh, and it doesn't help that he has some familiarity with one of the current Blueshirts–his brother Marc.
Optics of a Deal
Facilitating a deal won't be easy. According to General Fanager, the Rangers have under $1 million in cap space. While Carolina could retain up to 50 percent of Staal's salary–trimming the cap hit from $8.250-million cap hit to $4.125 million, the Rangers will have to find a way to shed salary to make the deal league-approved.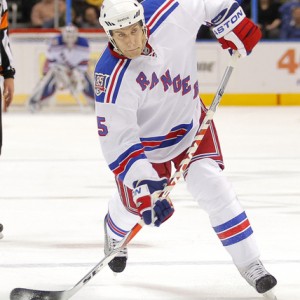 That could mean the Rangers part with one of their own high-salaried players, like Dan Girardi ($5.5 million) or Dan Boyle ($4.5 million), but that would mean virtually no salary retained by New York and both players would have to waive their no-movement clause to be dealt.
A Girardi-Staal swap seems unlikely, even if other pieces are included. He has four years remaining on his deal and is a diminishing asset both in play and as a 31-year-old. They could shed salary by moving Viktor Stalberg and his $1.1 million hit out. The option also exists that they could, assuming Nash remains sidelined, acquire Staal now while Nash is on the long-term injured reserve, and make tougher roster decision later on.
Either way, the first-year general manager will have to be creative, which is somewhat mitigated by the fact that they are without any major future assets to deal.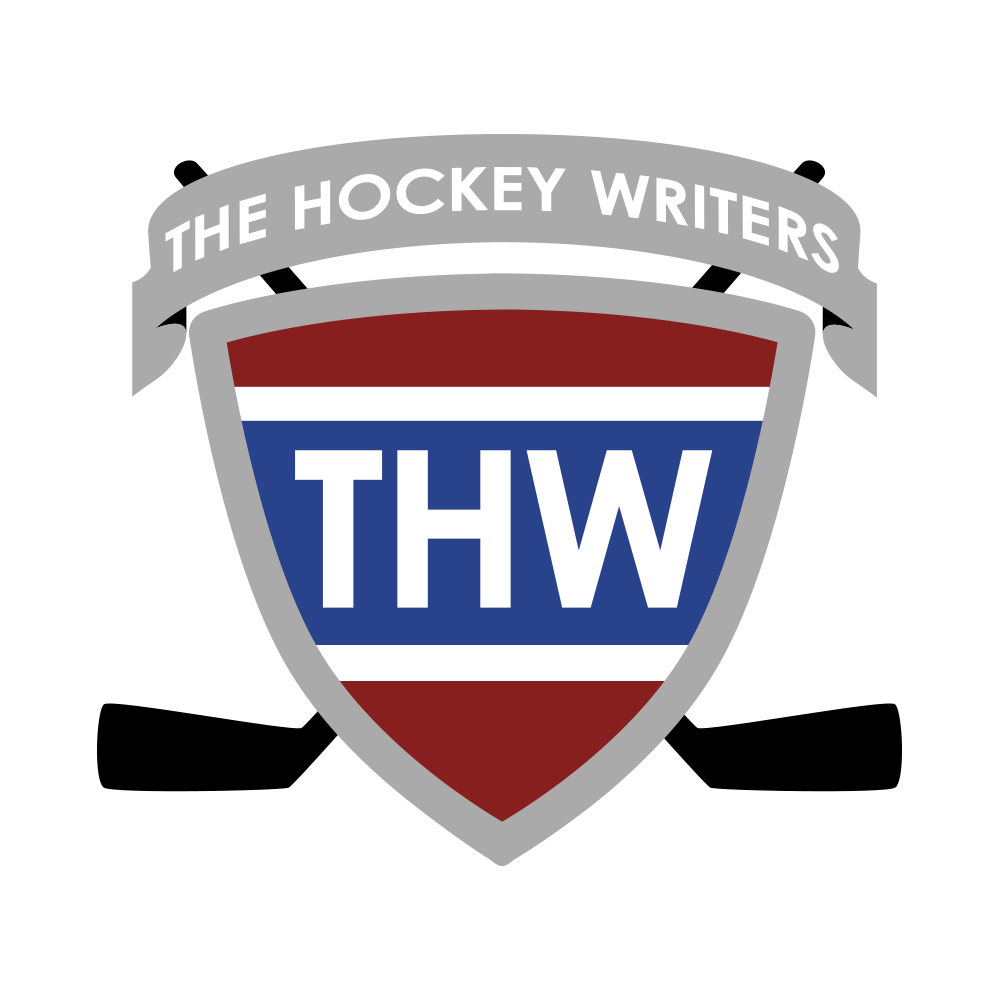 The Hockey Writers is:
1) A top-tier hockey media company delivering a top-notch, in-depth look at the NHL
2) A collective of some of the best hockey writers anywhere
3) A multimedia provider with daily podcasts and YouTube shows
4) Well-respected and widely-cited NHL prospect and draft resource