With Calvin de Haan now on the IR, the Islanders have recalled defenseman Ryan Pulock from Bridgeport ahead of their six-game road trip that begins Tuesday night in Minnesota. Pulock, a fan-favorite among the organization's prospects, will likely make his NHL debut against the Wild.
And hey: if not in your home arena, than what better place to enter the NHL fray than the State of Hockey itself?
De Haan's IR stint, it should be noted, is retroactive to Feb. 15, meaning he is eligible to return as soon as Feb. 23. He's not traveling with the team to Minnesota so he'll miss Tuesday's game, but it's hard to imagine he'll be sidelined much longer than that.
Still, what an exciting opportunity this is for Pulock – and what an indulgence it is for the fans.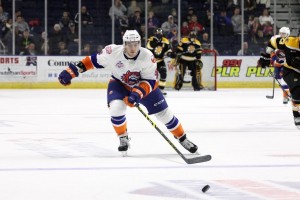 In Pulock, the organization's first-round pick in 2013 (15th overall), the Islanders may have their next star. Though he has struggled at times in his own zone – as most young defenseman do – Pulock has precocious talent on the offensive side of the puck. His shortcomings can be remedied; his gifts are of the kind that can't be taught.
Known for a booming slap shot – it's been clocked as fast as 105 mph – and a penchant for joining the rush, Pulock has racked up some impressive numbers in the AHL. He led all rookie defensemen with 17 goals last season, and was Bridgeport's leading scorer on the blueline this year at the time of his call-up.
But it's his growth defensively that precipitated his promotion to Brooklyn.
"He's improved his game in a lot of areas that we talked about coming out of training camp," coach Jack Capuano told the Isles Day-To-Day blog, after Pulock's call-up. "Everybody has to play without the puck. He has to play physical, he has to play down low hard. When you get to this level the difference for a defenseman is the ability to play in your own end."
Though fans have long been enamored of Pulock's offensive potential, Capuano's endorsement seems to push the 21-year-old's ceiling even higher. Indeed, if Pulock proves the coach right in the coming games – assuming he cracks the lineup – expectations may well go soaring through the roof.
Part of that optimism stems from the steady growth of the team's core. Of the Islanders' top-ten scorers right now, eight were drafted and developed by the organization. In fact, outside of Nick Leddy, Johnny Boychuk and the two goaltenders, the meat of this roster has come entirely from within. There's a precedent being set, and Pulock is the next in line.
But the fans' high hopes are also a response to an inconvenient truth: stalwart defenseman, Travis Hamonic, is almost certainly being traded this summer. The story's been talked about ad nauseam so we won't spend any time on it here, but Hamonic's looming departure is a bitter pill for these fans to swallow. Pulock can help wash it down.
For if the loss of Hamonic sheds a somber light on one horizon, the emergence of Pulock casts a lambent glow on the other. Neither event is guaranteed, obviously, but they seem tied to each other as if by design – at least Isles' fans have to hope so.
For now, though, Pulock is the latest rookie defenseman being summoned to Brooklyn for the Isles' playoff push. It was Scott Mayfield first, then Adam Pelech, and now Pulock, who has arrived with far more hype than the previous two. The surrounding buzz notwithstanding, he assumes the same role as those around him: help this team win games.
The more he does that, the longer he'll stick around. And, boy, the longer he sticks around, the giddier this fanbase is prone to grow.
Will Burchfield covers all things 'New York Islanders' for thehockeywriters.com. A 2014 graduate of Boston College, he has extensive writing experience both online and in print.