The Next Ones NHL Draft Rankings turn offensive. Hand-crafted especially for fantasy hockey junkies, the following rankings are based on a prospect's pure offensive potential.
You will quickly notice some of the undersized forwards and blueliners creep up the rankings in comparison to regular rankings. I have attempted to implement a healthy dose of realism as some of these diminutive players may have ranked even higher. As well, I have taken into account on that because of some prospects' solid all-around ability, they may get more ice time which may, in turn, translate in offensive output. For those who are hooked on hockey simulator based leagues, where defensive traits and goalie prospects are more valuable, you will want to pay more attention to the regular draft rankings (see most recent The Next Ones Draft Rankings).
Legend
Only a portion of the table displays by default; you can scroll over to see the rest of the player demographics and Prospect Profiler Notes or select "View full-size workbook" option, which is the icon in the bottom right hand corner, to view the full table.
The 1st column (Fantasy) is prospect's ranking in terms of offensive upside
The 2nd column (TN1) is The Next Ones February ranking of the prospect
The 3rd column (TSN) is Bob McKenzie's Mid-Season compilation rankings
The 4th column (NHL-CS) is players' rankings based on the combination of NHL Central Scouting Service's four separate rankings
NR = player was not ranked by the respective ranking
A link to Elite Prospects statistics for most of the players is also included (click on individual player name).
The table is searchable – CTRL/Command "F" on the table brings up the search feature.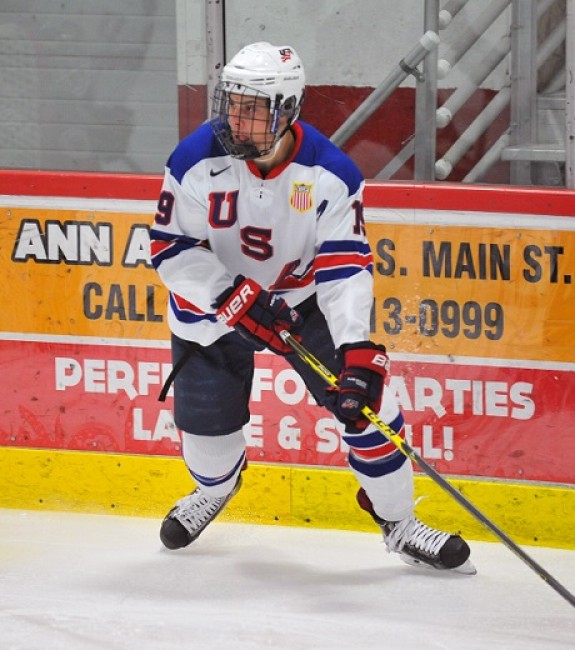 Direct LINK to the ranking tablet/spreadsheet
_________________________________________
Chris is THW's senior draft/prospect analyst and a Managing Editor. Watch for "The Next Ones" Prospect Profile series, exclusive rankings, mock drafts, as well as the annual THW NHL Entry Draft Guide. Follow @ChrisRalphYQ on Twitter as he infiltrates, dissects and analyzes all happenings of hockey prospects and the NHL entry draft. Email: cralph[at]thehockeywriters[dot]com