We are a little over two months from the beginning of the 2015-16 NHL season. For the Stanley Cup runner up Tampa Bay Lightning, this off-season has been relatively quiet.
Sure, they replaced veteran forward Brenden Morrow with younger veteran forward, Erik Condra. They lost a couple of restricted free agents from the organization in Mark Barberio and Carter Ashton. They re-signed a few of their free agents like Jonathan Marchessault, Mike Blunden, Mike Angelidis and Matt Taormina. They also re-signed Andrej Sustr to a two-year contract.
Perhaps for insurance purposes, they added a couple of players with a few years of NHL experience. First, they signed forward Jeff Tambellini who last played in the NHL in 2011 in Vancouver but had been playing in Europe for the last four seasons. Then, the team signed forward Tye McGinn who split time last season between San Jose and Arizona.
For the most part the Lightning team that made that Stanley Cup run last season remained intact. Expectations from the Lightning fans are sky high this year. The loss in the Cup Final left a bittersweet taste and for some, nothing short of a Stanley Cup championship will do.
For that very reason, the upcoming season will be one of pressure to meet those hopes. For three specific players, that pressure will be more intense than for most of their teammates.
Fall Guy – Matt Carle
There are a variety of reasons that Matt Carle is the target of disdain from many in the Lightning fan base. Here is a player that a couple of seasons ago was on the top defensive pairing. By the end of last season, it was a toss-up between Carle and Nikita Nesterov for the sixth and final defensive spot in the lineup.
How fast the fall has been for Carle. There is some evidence that he has lost a step or more. At times he seems flummoxed when opposing forwards pressure him in the Lightning zone. Looking at Carle's turnover ratio, for all players who played in at least 20 games, he was dead last on the team with 13 takeaways to his 41 giveaways.
It was clear that Carle had lost the confidence of his coach, Jon Cooper and saw his ice time fall from a regular season average of 20.29 minutes per game to a Stanley Cup Final average of 15.51 per game. Clearly the use of a seventh defensemen by Cooper affected Carle's ice time. Just to check that against Jason Garrison who during the regular season was the closest to Carle in average ice time. Garrison went from 20 minutes a game in the regular season to a 19.55 average in the Stanley Cup Final series.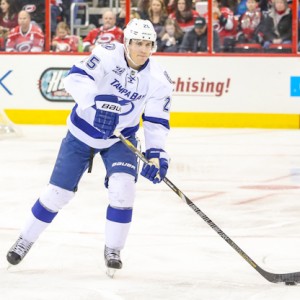 Without a doubt the minutes for the seventh defender were coming from Carle's minutes. If the coach has lost faith in Carle, how is the fan base not supposed to as well? In fact, throughout social media during the playoffs and into the summer, many of the Lightning faithful were targeting Carle as the point of their frustration.
The reality of the situation is that Carle has three more years on his contract with Tampa and has a No Movement Clause. Not only that, at $5.5 million dollars, he is the highest paid defensemen on the team. At 30 years of age, Carle is at an awkward point in his career. He is seeing his ice time dwindle. He has a fat contract that doesn't allow much flexibility to the team and the organization has some younger, faster defensemen coming up through the ranks.
This season will determine the future for Carle with the Lightning franchise. How does it look that your highest paid defender is being pushed at the fifth or sixth spot among blue liners by young guys making a fraction of what Carle is getting paid?
It will bode well for the team as well as for Carle for him to have a strong season. Because of the NMC in his contract, Carle will be a difficult player to move to another team. Steve Yzerman, Lightning GM, has a tough task that can be made even more challenging should Carle continue to fall from grace.
Young Gun – Jonathan Drouin
Of the top ten draft picks in the 2013 NHL Draft, six players have already played 100 or more NHL games. None are named Jonathan Drouin.
This highly touted playmaker was selected number three overall by the Lightning ahead of players such as Seth Jones, Sean Monahan and Elias Lindholm. All three of which have played well over 100 games in the league. Believe it or not, Jones who is a defensemen actually has 10 more assists and 10 more goals than Drouin.
Clearly, this isn't the start to his NHL career that Drouin or the team for that matter envisioned. This needs to change now. Perhaps the most telling stat when looking at those top ten draft picks from his class is to see that Drouin is number three in penalties despite being third from the bottom in NHL games played.
It is this propensity to be whistled with stupid penalties that led to a drop in his coach's confidence. During the playoffs, Drouin was a healthy scratch in 20 of the team's 26 games. Now, there are many people in Tampa that were calling for Drouin to be played but now that the dust has settled, one realizes that the coach felt more secure in playing a guy that the team did not re-sign (Morrow) than in playing Drouin.
For young Mr. Drouin, this season is shaping up to be his make or break year. There comes a point in every player's career where the mystique of potential has to be surpassed by the performance on the ice. The 2015-16 season is that point in time for Drouin.
No more looking at videos of Drouin with Halifax to see what he can do, no more glimpses of that potential every five or ten games. Night in and night out Drouin needs to show what warranted the franchise choosing him as the third best prospect in 2013.
There are a lot of Lightning fans that have anticipated Drouin lining up with captain Steven Stamkos for the next decade of scoring bliss. There is no doubt Drouin has the skills. He has the chops to feed an elite scorer like Stamkos.
The question becomes will Drouin show that with a consistent performance in the grind of an 82 game NHL regular season. Not to mention a post season that could and very well should exceed another 20 games?
Giant Czech – Andrej Sustr
If there were any Lightning fans that weren't directing their ire at Carle, they were saving their displeasure for Andrej Sustr.
At 24 years-old, Sustr is one of quite a few young defenders in the Tampa organization. At six feet eight inches, Sustr is one of the few NHL players that can actually look Zdeno Chara in the eye.
There are no reports of his wingspan but suffice it to say that Sustr can be in the defensive zone and knock the puck off a stick in the neutral zone with his enormous reach. But that isn't enough in the NHL. It certainly isn't enough on a team that many agree have just opened a Stanley Cup contending window.
There is an old adage in the NHL that a defensemen really doesn't begin to learn how to play in this league until they have at least 300 games under their belt. Sustr has played in a grand total of 117 regular season games. When you add the 29 playoff games, his total isn't even half of the magical 300.
It may not seem fair, but Sustr has to show this season that he belongs. On this team and in the NHL. He is not an offensive defenseman with blazing speed or a blistering shot. He is a defensive defensemen who must shut down opposing players.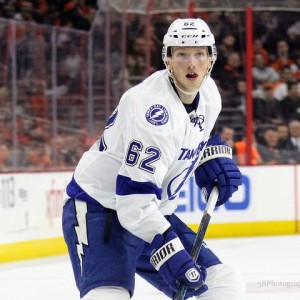 He has to reduce the 28 giveaways he had last season. Sustr also needs to improve his plus/minus stats this season. Of all the Lightning defensemen who played 20 or more games last season, Sustr's plus/minus per 60 minutes was the lowest. That is not the place you want to be if your specialty is defense.
I realize that many NHL observers and pundits scoff at the plus/minus stat saying it is not a true indication of an individual player, but as long as the teams in the league continue to keep the stat, it does serve some kind of purpose.
Make or Break
The spotlight from around the league will shine its light on Tampa and the Lightning throughout the upcoming season. For these three players, the heat from that light may be intense at times but it is imperative for their careers as well as the team's fortunes that Carle, Drouin and Sustr overcome that strain and have as close to career years as possible.