The St. Louis Blues have had a quality start to the 2013-2014 season, posting a 10-2-2 record over the first month of the season.  This great start can be attributed to Ken Hitchcock's first full training camp as head coach, but he isn't the only one responsible for that great record up to this point.  The Blues' organization has done a great job making sure every player that wears the Blue-note on their chest is ready to play the Blues (and Hitchcock's) style of play night in and night out, giving the team an amazing amount of consistency on the ice so far.  Here is a breakdown of why the Blues are a threat in every zone, every night, and why they need to make sure they continue to play this way throughout this season's campaign.
Blues 2013-2014 Regular Season Stats
Forwards & Defensemen
GOALIES
FORWARD, MARCH!
As you can see in the above stat sheet (courtesy of NHL.com) there are a plethora of Blues forwards with multiple points already in this early season.  In fact there are only 2 forwards (Magnus Paajarvi and Adam Cracknell) on the depth chart who have played in multiple games, and have yet to register at least a point.  This is great news for fans who have seen the scoring struggle of so many past years, and this is a promising sight for the rest of the Blues season.  Obviously Alexander Steen is leading the charge on the Blues top line, and in the entire NHL for that matter, a feat that is made even more impressive by the fact that the St. Louis club is one of only two teams with just 14 games on the season thus far.  Steen's line-mates David Backes and TJ Oshie have done a great job setting up plays in front and making sure they are in position to take advantage of all offensive opportunities as they arise.  Add in their leadership qualities on and off the ice and you can already see why the Blues are a force to be reckoned with.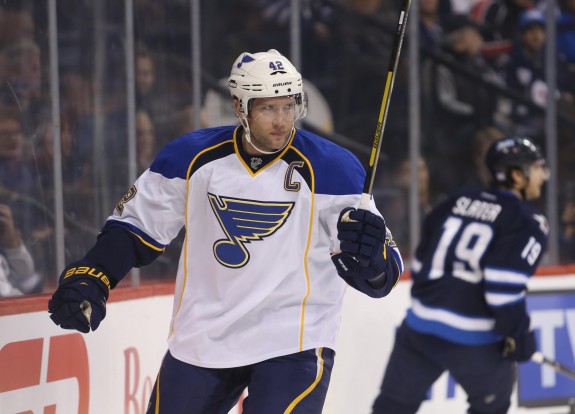 After the Blues top line it doesn't get much easier for opposing teams, as the next 2 lines are chock full of interchangeable talent waiting to strike at any given time.  So far this season Valdimir Sobotka has been one of the best face-off men in the league (no surprise to avid Blues fans), and he has shown his younger teammates how to play like a 'true blue'.  His typical line-mates are loving the puck possession they gain from his face-off prowess, and even though Chris Stewart is off to a slow start, the line as a whole is still flourishing thanks to crafty vet Derek Roy (4 goals and 4 assists so far this season).
One of the best things to watch on Blue-ice up to this point in the season has been the chemistry that Patrik Berglund, Jaden Schwartz, and Valdamir Tarasenko are displaying.  They are combining for some ridiculously creative plays that energize the entire team, and haunt opposing coaches and fans alike.  If they do have an off night, which is rare these days, look for the 4th line (2/3 of the old "CPR" line) to come through with energy, and even occasional scoring.  Ryan Reeves is looking more comfortable than ever before, and with the added depth of Adam Cracknell and Magnus Paajarvi or Maxim Lapierre, the Blues can hunt down any puck and ruffle any team's feathers at a moment's notice.
All of these lines are playing as cohesive units which has been a joy to watch, but they will need to remain focused for the long haul to ensure this success translates into Stanley Cup aspirations.  The ever-worrisome injury bug may or may not strike this season, but the Blues must prepare to battle adversity every game and win every battle to keep this scoring balance in tact.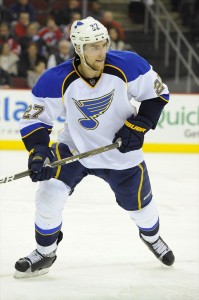 Defense Depth Chart is Looking D-Licious
There isn't much more you can say about the Blues team that wasn't said about the forward's play, but it's no surprise that the blue-line has been solid again this season.  Overall the Blues defense has combined for 37 points on the season, and owns 3 of the top 6 spots on the team's point leader chart so far.  Leading the way is previous Norris Trophy candidate Alex Pietrangelo and his defensive partner Jay Bowmeester, who add solidity to the back end with plenty of offensive power as well.  They have provided this year's team with plenty of shot blocks, great positional play in the zone, and an amazing transitional game that has already led to a bunch of goals and even more opportunities.
Following up on their lead on the Blues depth chart is Kevin Shattenkirk who is racking up assists like a boss this season, and who is partnered with long-time NHL-er and veteran leader Jordan Leopold.  Their play has proven that the team's top 4 rival the best in the league on most nights, and their won't budge and don't give an inch mentality has helped Jaroslav Halak and Brian Elliott focus on the puck more than ever before.  The back end doesn't let up after the top 4 however, as the stalwart paring of Barrett Jackman and Roman Polak are long time tough guys who make it hell for anyone wanting to get close to the Blues' net.  They've even been known to sporadically jump up into the play from time to time.
These defenders have a lot of support currently in Chicago (with the Wolves, the Blues AHL affiliate) and are all used to playing with consistency throughout the season, which gets fans grinning for things to come.  As long as they can stay active, and focus on the play as a whole instead of just the puck, look for the depth chart on the blue line to stay solid far into the playoffs.

Goaltending Glory
If you are on an opposing team and you do happen to break the puck out of your zone past the hard nose Blues fore-check, and you do happen to gain position in the Note's zone by one of the many hard checking defensemen, well then, it still doesn't get any easier.  Now you are facing one of two goaltenders who both combined for the Jennings Trophy just 2 seasons ago.  Both tenders currently have a shutout, and are saving over 90% of the shots they see which only spells success for the Blues.  They have also had very prolific off-seasons.  Off-seasons which saw Halak get into the best shape of his career, and one that saw Elliott find himself and his consistency.  The start of the season may have been a little rough on Ells, but he has shown his resiliency and has bounced back with a couple of solid games as of late.
As the above video shows (again thanks to NHL.com) he is regaining his sharpness in the net and concentrating on staying focused for a full 60 minutes.  This spells even more trouble for the opposition, and is the last reason why the Blues have the best depth chart in the league this season.  If this team can stay healthy and focused this will be one for the books, and could even see the Blues return to the Stanley Cup finals for the first time since 1970, and their 4th ever in team history.  There is a lot to be done between now and then, and breaking out of the Western Conference will be no small feat.  That's why fans should be happy with the first quarter of the season so far, and why they should be excited for what's to come.
Like what you've just read?  Follow me on Twitter: @pep30
Mike has covered the St. Louis Blues and Tampa Bay Lightning in depth for The Hockey Writers since 2013. He is also a contributing writer for KSDK News Channel 5, the St. Louis area NBC affiliate, and has been a credentialed media member of the Blues since 2014. Follow him on Twitter @pep30.