The St. Louis Blues are fortunate enough to have a line-up full of talented players with years of experience in the league, making for a solid group of leaders within the locker room as well. No doubt a key component to their success moving forward considering the immense amount of injuries they're currently dealing with.
However, the group of leadership isn't limited to players with a "C" or an "A" on their jerseys. The non-letter wearing leaders are arguably more influential because their leadership isn't steered by media attention and they don't lead out of obligation.
Vladimir Tarasenko
One of these is none other than the offensive dominating, 23-year-old Vladimir Tarasenko. Not only does he play in all of the most important offensive moments of games, he finds success in all of those moments as well.
Whether it's scoring a big goal or making an incredible pass, no. 91 leads by example and is a good role model for young players entering the Blues organization. Last season he even scored 73 points in 77 games to led St. Louis in scoring.
Tarasenko is a player that the opposition builds their defense around. That's not something many players can say and it's absolutely a fact that influences his leadership within the room.
Jay Bouwmeester
As a member of St. Louis' defense Jay Bouwmeester has proven his dedication to both the game and the organization throughout his four years as a Blue. Through his fourteen seasons as an NHL player, Bouwmeester has played for three organizations and participated in 925 games.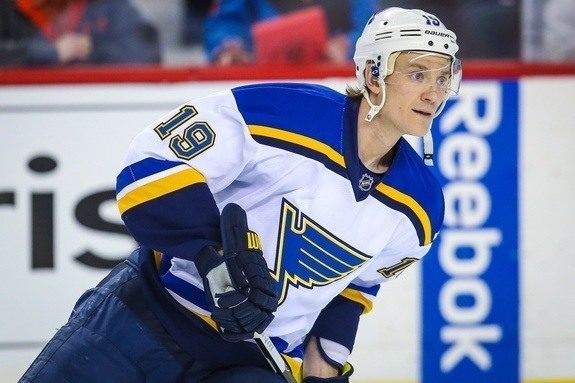 That experience alone, however, doesn't equate to leadership. Bouwmeester's ability to stay mentally tough during times of turmoil does. He also manages to contribute to scoring having already accumulated two assists this season, which shows the young d-men versatility.
Although he isn't a flashy defender, no. 19 is someone fellow Blues defensemen appreciate.
Brian Elliott
Despite not being the designated starter, 30-year-old Elliott is a key component of the Blues locker room. He's undefeated thus far this season and has proven that he isn't going to bow out despite the expectation that Jake Allen is transitioning to the organization's new starter.
Elliott controls the games in which he plays and he makes the entire team better through his dedication to defending the crease. Furthermore, he leads the team by increasing their confidence as they know he'll be there to back them up during times of defensive miscommunication.
Elliott stands as the veteran net minder and therefore is at the core of the team's defensive system. His play directly impacts every game he's active in and while that is rather pressure-filled, it's a fact that players respect.
Takeaway
This is by no means to say that the Blues don't have good leadership in captain David Backes and alternates Alexander Steen and Alex Pietrangelo. Rather, it's pointing out the other sources of it within the organization that often gets lost in translation.
Ultimately the lettered and non-letter wearing leaders all work together to help the Blues achieve, which is something everyone can be happy about.