It was the same old story for the 2005-06 St. Louis Blues Tuesday night. After attempting 80 shots — 29 on net, 26 blocked and 25 missed the net altogether — the Blues fell to the Washington Capitals, 4-1. Petr Cajanek couldn't get the puck to any of his teammates and Dean McAmmond was more vital in keeping the backup goalie awake on the bench than producing anything on the ice while Eric Brewer and Barret Jackman were ineffective on the penalty kill and all other facets of the game. Goalie Curtis Sanford could only watch his team fall apart as he gave up four goals on 22 shots.
Wait a minute… isn't it 2013-14? Let's try that again; replace the Cajaneks with Roys, McAmmonds with Otts, Brewers with Pietrangelos and Sanfords with Millers. Leave Jackman's name where it is.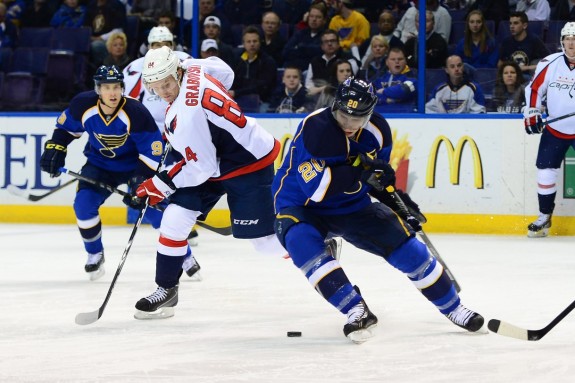 Yea, same tale as 2005-06 with a different cast of characters. It's like a broadway show that bombed and just tried to replace the C-crew with a B-crew.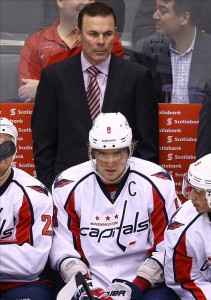 St. Louis lost its season-worst third game in a row. Capitals captain Alex Ovechkin tallied his 50th goal of the season, along with two assists, and center Nicklas Backstrom notched his 16th and 17th goals of the campaign in the dominating performance over the Blues.
Remember the aforementioned 26 blocked shots that the Capitals registered? The Blues countered with a measly six of their own.
This comes days after two straight losses to division rivals. On Saturday, the Blues dropped a big game to the Colorado Avalanche, 4-0. They followed that up with a 4-2 loss in Chicago to the Blackhawks, who entered the contest without superstars Patrick Kane and Jonathan Toews. By the way, the Blackhawks still generated 35 shots on goaltender Brian Elliott.
Just one week ago, head coach Ken Hitchcock's team held a seven-point lead over the Avalanche in the standings. Now, after a Colorado win against the Edmonton Oilers Tuesday evening, the Blues hold just a two-point lead in the Central Division.
So who is to blame?
"I think quite frankly," said Hitchcock after the drubbing, "I think we're half bought in, half not the things we need to do.
"Quite frankly, we need some players to play better."
Who is the man behind the helm likely talking about? Steve Ott has three assists and is a minus-11 in 20 games wearing the Bluenote. Derek Roy has tabbed one assist and is a minus-3 in his past 18 games. T.J. Oshie and David Backes are a combined minus-4 and have posted just one assist in their last five games. All eight defensemen have combined for two assists and are a minus-7 in five games during the month of April. Ryan Miller is running with a .843 in his past two games. This list goes on longer than Jordan Leopold's list of teams for which he's played.
Blame has been directed to the injury bug, as well. Vladimir Tarasenko was claimed in mid-March and the team just received leading scorer Alexander Steen back from a three-game absence.
Point blame to injuries if you must, but the Blackhawks are missing their two marquee forwards and they have posted a 3-0-0 record since Toews was sidelined on March 30.
Throw the franchise-best 52 wins out the window. Forget the five skaters who have amassed 20-or-more goals. The time is now and the team is floundering.
There is something much more painful than finishing dead last in a 30-team league. Try wrapping up an 82-game schedule as one of the top dogs only to bow out in the first round of the playoffs.
Unless something changes in a hurry, this is a dreadful scenario that could soon be lived out in the Gateway City.