Earlier in the month, I outlined what I thought was the best possible offseason gameplan for the Detroit Red Wings. Today, I want to focus on the minor league club because there are still many significant decisions to be made in terms of re-signings and who will join the Griffins from the CHL. I'll preface this real quick with who I think will be joining the big league club next year. I think Jurco unfortunately will be coming back down to Grand Rapids once the team gets healthy, but if Quincey does not re-sign with the Wings, look for either Ryan Sproul, Xavier Ouellet, or Adam Almquist to get the nod. I personally like Sproul, but after discussing with other Wings fans, most feel that Almquist will get the nod. Now on to the free agent analysis. All salary history is taken from CapGeek.
| Player | Position | 2013-2014 NHL Salary | Age | AHL 2013-2014 Games Played | Goals | Assists | Points | Plus/Minus | PIM | SOG |
| --- | --- | --- | --- | --- | --- | --- | --- | --- | --- | --- |
| Landon Ferraro | F | $685,000 | 22 | 66 | 15 | 15 | 30 | -1 | 48 | 180 |
| Max Nicastro | D | $625,000 | 24 | N/A | N/A | N/A | N/A | N/A | N/A | N/A |
| Adam Almquist | D | $604,167 | 23 | 69 | 4 | 48 | 52 | 9 | 56 | 125 |
| Andrej Nestrasil | F | $597,500 | 23 | 66 | 14 | 19 | 33 | 1 | 24 | 104 |
| Gleason Fournier | D | $597,500 | 22 | 24 | 0 | 2 | 2 | 4 | 4 | 18 |
| Mitch Callahan | F | $565,278 | 22 | 70 | 26 | 18 | 44 | 23 | 51 | 194 |
| Trevor Parkes | F | $554,167 | 22 | 32 | 5 | 3 | 8 | 5 | 23 | 46 |
| Willie Coetzee | F | $543,611 | 23 | N/A | N/A | N/A | N/A | N/A | N/A | N/A |
| Cory Emmerton | F | $533,333 | 25 | 49 | 15 | 28 | 43 | 16 | 14 | 101 |
These are the restricted free agents that the Wings' will have to decide whether or not to tender an offer to. It's clear that guys like Landon Ferraro, Adam Almquist, and Mitch Callahan will receive two-way contracts this summer. The tougher decisions are what to do with guys like Max Nicastro, Andrej Nestrasil, Gleason Fournier, Trevor Parkes, Willie Coetzee, and Cory Emmerton.
The Griffins' Restricted Free Agents
Cory Emmerton
In my offseason gameplan for the Detroit Red Wings, I mentioned that I don't believe Emmerton will be re-signed. It shocked me to realize this, but Emmerton was drafted nearly ten years ago back in the 2006 draft. He has yet to establish himself as a consistent forward that can produce at the NHL level. For his career, he has 12 goals in 121 games and has been passed by the solid and underappreciated Riley Sheahan, Landon Ferraro, Mattias Janmark, and Louis-Marc Aubry. Finally, the last reason why Emmerton will have to be let go is because of the AHL Veteran Rule. At the beginning of each season, the AHL examines the 18 forwards and defenseman that will suit up for a game. Of the 18 forwards and defenseman, only five are allowed to have played 320 or more professional games and an additional player is allowed to have played 260-319 games. Heading into the next AHL season, the Griffins will have eight players that have played at least 260 games, meaning that two of those players will have to go. Emmerton will have to be one of them.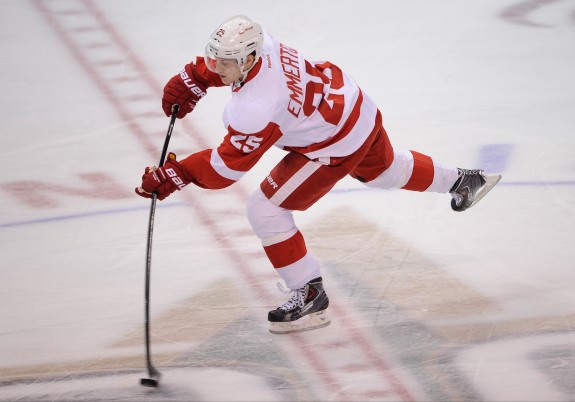 Max Nicastro 
Max Nicastro has not had the ideal start to his hockey career. In 2011-2012, he was dismissed from the Boston University hockey team after being charged with a criminal act. While the charges were ultimately dropped, he's never really found his form. During the 2012-2013 season, Nicastro struggled to crack the Griffins lineup, playing in just 25 regular season games and tallying one goal and two assists. This season, he has not appeared in a single game for the Griffins, spending a majority of his time in the ECHL with the Toledo Walleye. At 24 years of age, it's probably time to say goodbye to Max Nicastro as the Griffins are absolutely loaded on defense and it seems unlikely that Nicastro would ever crack the big club.
Andrej Nestrasil
Nestrasil is an interesting case for the Griffins. Nestrasil has a decent season going for him, scoring 14 goals and 19 assists in 66 games. Looking ahead though, Nestrasil is at 207 pro games played. If he were to sign a two-year contract, the last year of that deal would make him the only player the Griffins could have who has played between 260-319 career games. I'm not sure if Nestrasil is the guy the Griffins want to use that option on seeing as he too is another player that is unlikely to ever crack the big club. Hockey's Future currently projects Nestrasil to be a career 4th-line player and has him as the 6th best left winger in the Red Wings prospect pool. I'd suggest cutting ties with Nestrasil at this point.
Gleason Fournier
Fournier is a tough case. At 137 games played, the Griffins aren't worried about his games played total if they were to give him a two-year contract. However, he too has struggled to carve out a niche in the AHL, similar to Nicastro. Fournier is very talent offensively, but struggles mightily on defense, something that is not a good trait for a defenseman. Also, he's very undersized at just 186 lbs for a 6'0″ defenseman. He needs to hit the weight room and add at least 15 lbs to his frame. He also needs to be very mindful of his responsibilities as a defenseman. It doesn't matter if you put up 15 goals if your mistakes led to 20. I think that he can still learn the defensive game and would suggest giving him a two-year deal.
Trevor Parkes
Parkes is another guy where the Griffins aren't concerned about the number of games he's played as he's only at 135. However, Parkes has shown very limited offensive upside thus far in his AHL career, scoring just 10 goals and 15 assists in 112 AHL games. He's a very hard-working player, similar to Luke Glendening, but he simply does not have a lot of offensive ability. If he's going to score goals, it's by doing work in the dirty areas, crashing the net, and jamming in rebounds. There are plenty of players in the NHL that fit that description, but it remains to be seen if Parkes can make that jump. At this point in time, it is worth offering Parkes a two-year contract to evaluate him for just a bit longer.
Willie Coetzee
Coetzee has missed the entire 2013-2014 season with a knee injury. In his last full season, he played 64 games for the Walleye and scored 28 goals and 40 assists. However, his career totals sit at 11 goals and 16 assists in 89 games in the AHL. Coetzee definitely has a limited potential and at 23 years old, we may be nearing the peak of his abilities. His games played become a concern if a two-year contract is offered as he currently is at 189 games played. Weighing those two options, I'd recommend not giving Coetzee another contract. He's coming off a serious knee injury, has shown little potential for cracking the big club, and is 8th on the prospect depth chart at right wing according to Hockey's Future.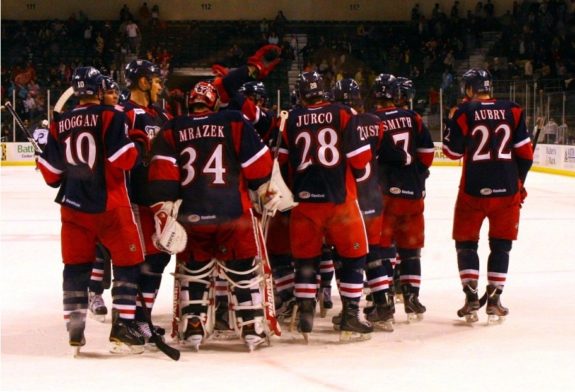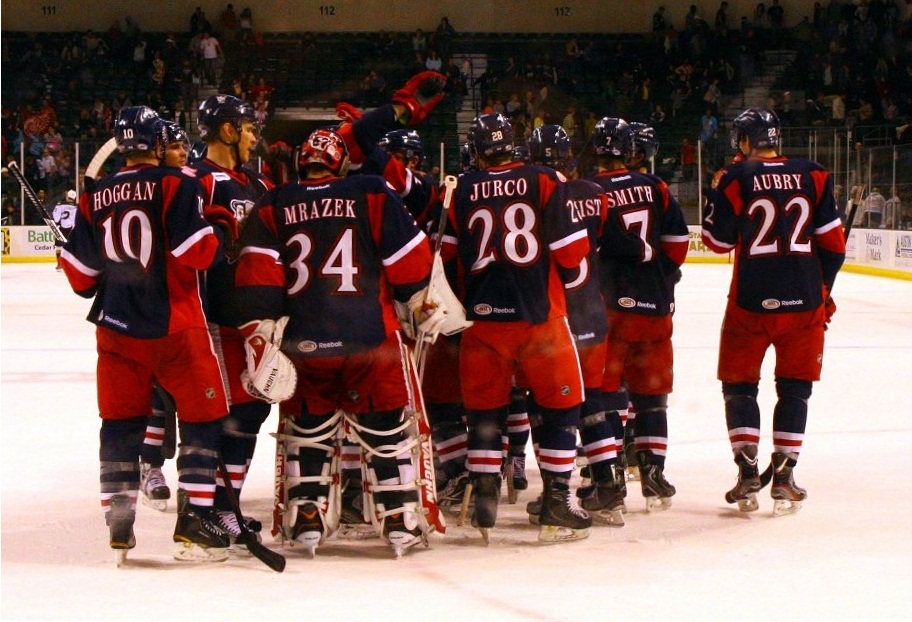 Other Free Agents
The other guys that are free agents are Brennan Evans, Louis-Marc Aubry, Triston Grant, and David McIntyre. Of these four free agents, only Louis-Marc Aubry is not considered an AHL veteran. It will be interesting to see who the Griffins choose to keep out of these players. I definitely think Aubry will be back on a two-year deal and if I had to take a guess out of the other guys, I'd imagine Evans comes back. The Griffins have an opportunity to shed a couple of the AHL veterans as they are getting ready to  have a few more join the ranks in the next couple of years so this seems like a prime opportunity to prepare for that.
Players To Join The Griffins From CHL
As most of you know, a player drafted out of the CHL has to have either played four years in the CHL or be 20 years of age by December 31st of the current season in order for them to play in the AHL. Of the Red Wings other prospects, who's eligible to join?
Anthony Mantha, F
Oh man, I cannot wait to see Mantha in Grand Rapids next season. Mantha will turn 20 on September 16th and therefore will be eligible to play for Grand Rapids. He's currently tearing up the QMJHL, scoring 57 goals and 63 assists in just 57 games. The AHL will be a big step up for him, but if the big forward can continue to score goals at a high rate, there's no way the Wings can leave him in Grand Rapids.
Andreas Athanasiou, F
The other razzle-dazzle winger for the Wings is Athanasiou. He will be 20 years old on August 6th and therefore is eligible to play in Grand Rapids. This man can dangle with the best of them and Griffins fans have to be excited to see him next year.
These two guys are the future first-line wingers and Griffins fans can't wait to see them get rolling. Imagine what Grand Rapids will look like next year with Tomas Jurco, Mantha, and Athanasiou all playing. It's going to be a fearsome sight as Red Wings continue to make the rest of the NHL jealous of their ability to scout and develop prospects.  The Griffins fans get to reap the benefits of watching them before they make the big jump and next season is going to be one for the ages.