CSS has come out with their latest rankings for the upcoming 2014 NHL Entry Draft taking place in Philadelphia this year. Surprising many, CSS has Kingston Frontenacs center Sam Bennett ahead of the pack. The once two horse race between Sam Reinhart of the Kootenay Ice and Aaron Ekblad of the Barrie Colts, has now morphed into a four horse race.
Leon Draisaitl is enjoying a strong season playing for the Prince Albert Raiders and has been bouncing around in the 2nd-5th selection range all year. Michael Dal Colle who started the year as a sure fire top 3 selection has fallen to 5th. You can view the latest rankings on NHL.com.
This years draft is quite top heavy in dependable forwards but weak in top end defenseman. Ekblad, Haydn Fleury, Roland McKeown and Julius Honka are the notable defenseman of this class.
The 2014 draft is deep in strong supporting cast players but is not as deep as the 2015 class coming next year that features Connor McDavid and Jack Eichel both of which could prove to become generational talents much like the 2004 class when Alexander Ovechkin and Evgeni Malkin went 1st and 2nd respectively.
Without further adieu, my 2014 NHL Mock Draft – April edition.
#1-10 2014 Mock Draft Selections
1. Buffalo Sabres – C Sam Reinhart
Tim Murray and the scouting staff take the most well-rounded forward in the draft. Despite Sam Bennett being at the top of the charts, Reinhart has been the guy talked about all year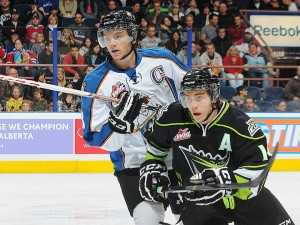 and gives the Sabres a tangible forward to compliment second-line center Cody Hodgson. Aaron Ekblad is going to be a great defenseman but Reinhart is a better fit based on the organizations depth chart and the fact the Sabres are the lowest scoring team in the league with 150 goals or 1.92 GPG. Long term, Reinhart and Hodgson make a tangible 1-2 punch at center for the Sabres.
Adam Kimelman's 2014 mock draft part II: 1. Buffalo – Sam Reinhart, C, Kootenay (WHL) Offensive skill and top… http://t.co/nlStaWJQf6

— JON K BRENT (@jonkbrent) April 4, 2014
2. Florida Panthers – C Sam Bennett
The standings have thrown a wrench in my earlier predictions. Dale Tallon and the Panthers already have a 1-2 punch in Barkov and Bjugstad. Bennett would over-populate that spot and naturally you'd think the Panthers move one of the three to the wing to play alongside a Jonathan Huberdeau.
"When we look at Sam Bennett we see a guy who could potentially have a Jonathan Toews type of career" –@NHLCentralScout's Dan Marr #NHLDraft

— NHL Public Relations (@PR_NHL) April 8, 2014
3. Edmonton Oilers – D Aaron Ekblad
Craig MacTavish helps complete the turn around of the Oilers weakest position. Ekblad has the potential to be a talented two way top pairing defenseman. The Oilers now walk into 2014-15 with youngsters like Ekblad, Nurse, Marinicin and Klefbom to go along with Ference and Petry. Finally the Oilers get a long lost top level defenseman they've been lacking since Chris Pronger in 2006.

4. NY Islanders – RW Leon Draisaitl

Garth Snow and the Islanders made that Thomas Vanek deal with Buffalo where they have the option to relinquish the 2014 or 2015 1st round pick. 2015 is going to be a deep draft but he can't pass on Draisaitl. The Isles are set with a 1-2 punch in John Tavares and Ryan Strome. Draisaitl gives them a player that's big and skilled. Draisaitl is a bit of a playmaker with great stick handling skills and has the potential to look really nice next to a healthy John Tavares and Kyle Okposo.
That bit on puck protection is bang on. That's how Draisaitl best utilizes his size. In 3 games I saw of Leon, that stood out.

— Bruce McCurdy (@BruceMcCurdy) April 8, 2014
5. Calgary Flames – C Michael Dal Colle
If Brian Burke is still running the show, I feel you can't go wrong with any of the next 4 picks. Calgary has holes all throughout the line up. Dal Colle being drafted lets them promote Sean Monahan to the 2nd line next year and fill Dal Colle in the 3rd line spot eventually letting the kids develop while they decide Mikael Backlund's fate.
If your team is picking top 5 in the draft and get Oshawa's Michael Dal Colle you've done well.

— Jeff Marek (@JeffMarek) December 8, 2013
6. Carolina Hurricanes – RW Nick Ritchie The Hurricanes are set at center with Eric & Jordan Staal. Jeff Skinner and Elias Lindholm are going to be some smaller skilled forwards long-term for the Ron Francis and co. What they don't have is a big rangy winger that can crash and bang. Ritchie fits what the Hurricanes are missing up front and what they lost when they move Tuomo Ruutu. Long term Ritchie can be a decent power forward playing next to either of the Staal's not named Jared.
Nick Ritchie and the @PetesOHLhockey complete the series comeback with a 2-1 game 7 OT win over Fronts http://t.co/sjMI5CaKwd #OHLPlayoffs — OntarioHockeyLeague (@OHLHockey) April 2, 2014

7. Winnipeg Jets – C/LW William Nylander
Kevin Cheveldayoff is set on defense. Organizationally the Jets have some holes up front. Arguably it'll depend on if the Jets move guys like Dustin Byfuglien and Tobias Enstrom. In which case drafting Haydn Fleury makes most sense. But if they dont, Nylander is the guy they grab. At some points of the year he was considered a sure-fire top 4 pick. He's fallen a bit but is still one of the best prospects coming out of Sweden let alone Europe. Nylander can play all 3 forward positions and has the potential to be a highly successful offensive force for the Jets.
NHL Central Scouting Top 2 European players are sons of former NHLers: Sami Kapanen's son Kasperi…and Michael Nylander's son William.

— John Shannon (@JSportsnet) April 8, 2014
8. Anaheim Ducks – RW Jake Virtanen This is the pick the Ducks got inexchange for Bobby Ryan from Ottawa. Ryan Getzlaf, Corey Perry, Emerson Etem, Nick Kerdiles, Kyle Palmieri, Devante Smith-Pelly and now Jake Virtanen. Bob Murray and the Ducks management team are building one of the premier Stanley Cup contenders and it's all based off of successfully finding players that play Duck hockey, in your face, high speed hockey. Virtanen fits the mold and could be one of the better snipers coming out of the draft based on the 45 goals he scored playing for the Calgary Hitmen this season. 9. Vancouver Canucks – LW Nikolaj Ehlers A Danish import playing in the QMJHL for Halifax, Ehlers had 49 goals and 104 points for 4th in the QMJHL. Ehlers has been great, the Canucks not so much this season. Fresh off of relieving Mike Gillis of his general manager duties, the Canucks are in a position to make a bold statement at this years draft. The Canucks could pull out another draft day deal like they did last year when they traded Cory Schneider to eventually draft Bo Horvat with the New Jersey Devils 9th overall selection. The Canucks have struggled to score goals this season and the supporting cast holds much of the blame. Ehlers along with Hunter Shinkaruk, Bo Horvat, Brenden Gaunce, Nicklas Jensen will all be there providing some size, quickness and breathe a breath of live into a sagnant secondary attack. Ehlers is an exciting player and has the potential to be a dazzler in Vancouver as a solid secondary scoring forward that can put up 20-25 goals at the NHL level.
A guy like Nick Ritchie, Nikolaj Ehlers, William Nylander, Julius Honka, and Haydn Fleury would be excellent choices at ninth overall. — Tom Zulewski (@T_Zulewski91) April 8, 2014
10. Nashville Predators – LW Brendan Perlini David Poile and the Predators haven't been the same since they saw homegrown superstar Ryan Suter walk away via free agency. Goal scoring has dried up and was one of the reasons next to the loss of Pekka Rinne for long stretches that cost them the seaosn. Perlini fits in as a solid winger who can play up and down the line up on the 2nd or 3rd lines as a speedster. As much as fans in Nashville suffered this season, a guy like Perlini is going to be very exciting to watch along side the other youngsters like Filip Forsberg in a few years.
#11-20 Draft Selections
11. Washington Capitals – D Haydn Fleury Finally another defenseman! Fleury is a big two-way defenseman, a bonafide top 4 defenseman that can help George McPhee's thin prospect group on the back-end. He has an NHL ready frame and it'll all come down to how things shake up in training camp, but along with Mike Green, John Carlson and Karl Alzner, Fleury can help form an intimidating group that has two high skilled offensive defenders and two rock solid shutdown type defenders. Madison Bowey will eventually join this group as well. The next focus will be to find scoring help up front that can be addressed via free agency. But the Caps can't afford long-term to pass on a player will Fleury's skill set.
Wrote this. RT @Keith_Leonard: Would Haydn Fleury be a good fit in DC? @TalkTheRed and I both say yes http://t.co/B1Jgl6zi0I #NHLDraft — Dave S (@BaltimoreDaveS) April 7, 2014

12. Toronto Maple Leafs – C Jared McCann
Toronto has had a disappointing year. McCann can help down the road as a two-way player with good hockey sense. A guy that does all the small things, he'll fit in well with Dave Nonis' core group in the future. He's got skills, he's got playmaking ability and he's got something the Leafs ran out of down the stretch, compete.
http://t.co/dTmaEKMf2A #15 Jared McCann @jaredmccann19 Total package… 2way energy & awareness. Offensive weapons are his difference maker.

— ISS Hockey (@ISShockey) March 29, 2014
13. Phoenix Coyotes – RW Kasperi Kapanen Dave Tippett has a great defense first system in Arizona, he'll need some dynamic offensive players though to add some offense to a team that has struggled to score. Phoenix can try to win every game 1-0 until the end of time, but eventually they'll need someone who can not only put up some points but can be a dependable two-way forward as well. Kapanen fits the bill at #13. It'll take a few years but Kapanen has the potential to be a dangerous player in the offensive zone.
#NHL top 3 draft prospects (Euros) Kasperi Kapanen, RW (Fin) William Nylander, C/RW (Swe) Kevin Fiala, LW (Swe) — Yahoo Sports NHL (@YahooSportsNHL) April 8, 2014
  14. Dallas Stars – RW Alex Tuch The Stars bring a lunch pail attitude to each game and they play a solid all around team game. Size on the forecheck is something that has made the Stars so successful this year. Alex Tuch is a 6'3 200lbs+ forward that plays a strong power forward game that can dominate skating up and down the wing playing with guys like Jamie Benn, Tyler Seguin and Valeri Nichushkin.
Guleph Storm draft selection Alex Tuch has committed to Boston College. Tuch is committed to play his next two years at the US-NTDP. — Sean Lafortune (@SeanLafortune) June 13, 2012
15. Columbus Blue Jackets – C Dylan Larkin Here's the thing, in my heart of hearts Roland McKeown is a great pick at this point in the draft based on players, but this mock draft is based on organizational needs. Jarmo Kekalainen will find Larkin to fit right in as another two-way player coming out of this draft. He's a depth guy that'll morph into a dependable second or third line checking line center. A product of the US-NDP, Larkin will spend a few years in college before turning pro.
U.S. NTDP U-18 forward and Michigan commit Dylan Larkin excited to play future team – http://t.co/SulGSLTiNL #GoBlue

— Michigan Hockey (@umichhockey) December 5, 2013
16. Philadelphia Flyers – D Roland McKeown Finally the Flyers get a solid all around top 4 defenseman. McKeown has a strong two-way ability and has been relied upon heavily in Kingston this season. He isn't overly weak in any area and can eventually become a solid minute-munching top 4 defenseman for Paul Holmgren and Craig Berube. Reliable in all three zones, he's the lynch pin of the Frontenacs defense. Expect a big year next season when he challenges for a spot on the Canadian WJC team. 17. Detroit Red Wings – LW Sonny Milano A smaller skill forward on his way to Boston College, Milano is a skill forward with high finesse puck skills and the ability to be a big game player. The Detroit Red Wings are in the need of both a defenseman and a forward. Julius Honka wouldn't be a bad selection either. Eventually Mike Babcock can slot Milano in a few years alongside Gus Nyquist, Joakim Andersson, Riley Sheahan and the rest of the kids.
Long Islander Sonny Milano 16th among North American skaters in NHL Cent. Scouting final ranking of draft eligibles. So possible 1st rounder

— Mark Herrmann (@markpherrmann) April 8, 2014
18. NY Rangers – D Julius Honka
Have to think the Rangers take a defenseman this year to meet some organizational needs. With the selection of Honka, Glen Sather adds a smaller offensive defender similiar to the Kimmo Timonen mold. Honka likes to jump in the rush and sometimes looks like a forward. Although his defense game will need work, Honka can eventually morph into a second pair defender that excels in transition and on the powerplay. The smooth skating Finnish native has 16 goals and 56 points as a powerplay specialist for the Swift Current Broncos.

19. Minnesota Wild – LW David Pastrnak
Minnesota Wild fans get ready, Pastrnak is coming to town! A flashy offensive player that can figure into the Wild's secondary attack, he's got some finish to go along with some great speed. A highly elusive player think Teuvo Teravainen but bigger. Pastrnak is currently playing in Sweden's Allsvenskan league for Sodertalje as a teenager in a men's league. The Czech forward has 24 points in 36 games this season. Chuck Fletcher has done a great job growing the talent in the pipeline and a dangerous shifty forward like Pastrnak is just the tip of the ice berg.
Draft eligible David Pastrnak scored the most points of any U18 player in the SHL-2 going back to 1971 http://t.co/1WaYPkzZoM

— Corey Pronman (@coreypronman) March 21, 2014
20. Tampa Bay Lightning – LW Ivan Barbashev The highest Russian to go in the draft, Barbashev gives Steve Yzerman a skilled Russian forward that has dedicated himself to adjusting to the North American game as he's played for the Moncton Wildcats for the past two seasons already. He's a skilled playmaker that does have some consistency issues but fits well into the Jon Cooper's system. Long term as a secondary scorer he might be able to morph into a decent set up man if he develops correctly.
http://t.co/dTmaEKMf2A #20 Ivan Barbashev @Barbashev2295 Physicality & versatility w/ elite puck skills & vision to be an all-around threat.

— ISS Hockey (@ISShockey) April 3, 2014
#21-30 Draft Selections
21. Los Angeles Kings – RW Josh Ho-Sang
The biggest slider in this years draft is Ho-Sang. He's a very talented player in the right system. A bit of an anomaly, he's an exciting player that is still learning how to utilize his linemates. Almost like a Linus Omark but with a better attitude. Ho-Sang can be a huge coo for Dean Lombardi and the Kings at the draft. Could possibly be one of the best puckhandlers in his draft class. Ho-Sang had 32 goals and 85 points this season. The biggest shocker though? Ho-Sang has been slapped with a 15 game suspension for a questionable "hit" that resulted in a broken leg of London knights defenseman Zach Bell in the playoffs.

22. Montreal Canadiens – RW Nikolay Goldobin
Marc Bergevin gets his guy this year in the form of Goldobin, a responsible player for a nose for the net. Like Barbashev, this is his second season in North America and he's turning into a responsible player. Goldobin possesses a quick wrist shot and has a very strong hockey sense and finds his way into open ice. Imagine a decent sniper to go along with the playmaking skills of Alex Galchenyuk.
Nikolay Goldobin: 2014 NHL Top Prospect ☛ ☛ http://t.co/Z1JnVRmS4U could he be the steal in this years NHL Entry Draft? #WinnipegHockeyTalk

— Winnipeg Hockey Talk (@WpgHockTalk) March 29, 2014
23. Chicago Blackhawks – C Nick Schmaltz
Not to be confused with his brother Jordan, a 2012 St. Louis Blues 1st round selection, Nick is a playmaker destined to join his brother at the University of North Dakota next season after he wraps up his year in the USHL for Green Bay. With 17 goals and 61 points, he averaged 1.15 PPG. He could eventually fit into the Blackhawks picture as a second line center behind Jonathan Toews.
USA F Nick Schmaltz is pacing all Hlinka scorers with 5 goals, 8 points- making a nice statement to open his draft season.

— Kirk Luedeke (@kluedeke29) August 9, 2013
24. Pittsburgh Penguins – C Adrian Kempe
The Penguins really need a forward, there really weak in the prospect pool up front. That's where Kempe fits in. In Kempe the Penguins grab a valuable energy forward who factors in as a solid addition up front. A bull in a china shop, Kempe doesn't shy away from the physical play, is heavy on the forecheck and digs around the net. The best addition the Penguins can make from an organizational standpoint by adding a great role player in the 6'2 190lbs Swede playing for MODO. Kempe was promoted after being wearing the "A" for the MODO juniors.
http://t.co/dTmaEKMf2A #23 Adrian Kempe @adriankempe Tenacious size & mentality on the forecheck… strong net drive, scoring touch & shot.

— ISS Hockey (@ISShockey) April 6, 2014
25. San Jose Sharks – G Thatcher Demko
The top goalie in this year's draft, Doug Wilson and the Sharks get a potential starting goalie and at the very least a reliable backup in Demko. A late birth date made him ineligible for last year's draft. At 6'3 195lbs, Demko will eventually fill out to be an ideal sized NHL goalie. The Boston College standout covers the bottom of the net well and makes himself quite big in the net challenging shooters well.

26. Colorado Avalanche – C Conner Bleackley
The Avalanche are filled with character players and strong youthful leadership group. The Red Deer Rebel captain fits right in on character alone. A player that leads by example, whether Bleackley turns into a top 6 center or not, he'll fit well into the Avalanche's long term plans as their third line center and play the two-way checking role he's done so well for the Rebels this season. Don't write him off offensively either, he's been a leader on the ice this season with 29 goals and 68 points.
http://t.co/dTmaEKMf2A #22 Conner Bleackley @Bleacks9 Strong mix of skill, work ethic & size for the next level… Leadership & character.

— ISS Hockey (@ISShockey) April 5, 2014
27. Anaheim Ducks – RW Jakub Vrana
Vrana has had a tough draft year. At this time last year he was a top 10 pick but has fallen after a rough year. He's played well mind you on the Swedish junior team he plays for in Linkoping where he has 25 points in 24 games, but at the pro level he's struggled unlike fellow Czech native David Pastrnak who is also playing in the Swedish Elite League. A bounceback year next year will help Vrana, as will a full season in a scoring role on the SEL Linkoping team. Again the Ducks get another solid player they can turn into something, Vrana projects as a possible second line scorer. Don't believe me? Ask Chris our very own Chris Ralph.
NHL Draft War Room: Jakub Vrana http://t.co/ruq2sSKtW4 #THW

— The Hockey Writers (@TheHockeyWriter) March 21, 2014
28. St. Louis Blues – LW Nikita Scherbak
The Blues need to replenish the prospect pool after having so many graduates in the past few seasons. Scherbak is a step in the right direction. He had 26 goals and 69 points for the Saskatoon Blades this season. He's not your prototypical Russian and actually builds his game around the forecheck and is defensively responsible. He's quick and has a decent shot to go along with his gritty style.
@NHL 2014 Draft Profile – Nikita Scherbak http://t.co/xdf2NtmDMT @bladeshockey

— The WHL (@TheWHL) March 27, 2014
29. Boston Bruins – RW Anton Karlsson
A natural leader, Karlsson has worn a letter for the past two seasons for Sweden at the Ivan Hlinka tournaments. At 6'2 194lbs, Karlsson skates very well and has a good playmaking skill set to go along with his soft hands. Don't count him out as a perimeter player, when Karlsson gets his feet going he's difficult to stop.
http://t.co/dTmaEKMf2A #25 Anton Karlsson @Antonkarlsson61 Excellent character, aggressive speed & physical game… Versatile impact player.

— ISS Hockey (@ISShockey) April 8, 2014
30. New Jersey Devils -D Jack Glover
At 6'3 195lbs, Glover plays like ex-Devil Paul Martin. He plays a very quite game and plays a well rounded two-way game and isn't afraid to get in your face as much as he can quarterback a powerplay. His best asset is his first pass on the breakout which will help the Devils transition game.
Incoming #Gophers D Jack Glover sneaks in at #30 on @FCHockey's December Top 30 2014 NHL Draft rankings http://t.co/3mByPOHLca

— Nate Wells (@gopherstate) December 4, 2013