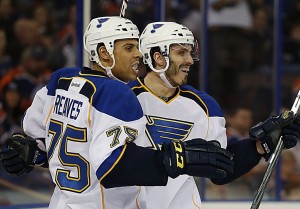 About a week ago, I penned a piece in which I detailed the single biggest strength and weakness of the eight Eastern Conference teams currently in position for a playoff spot. To paraphrase myself (granted, I'm just a guy with a long-since receded hairline who has watched hockey for over 35 years), every team has strengths and weaknesses, some of which are blatantly obvious and others far more subtle.
Strengths and weaknesses
The top teams overcome capitalize on their strengths, overcome their weaknesses and win in spite of them, perhaps (in a counter-intuitive, Friedrich Nietzsche sort of way) because of them. The very notion is a bit of a head-scratcher, but then again, so was Nietzsche. Word has it he ended up contracting syphilis and going bonkers. At least he went out with a bang.
In any event, it's time to pivot westward. As of this writing, seven teams have clinched in the Western conference, with only Dallas and Phoenix still alive for the final slot. As with my last piece, I'm stopping at eight in order to conserve bandwidth. Secondly, I'm only listing what I believe to be the single biggest strength and weakness of each team. There's little doubt that some of these can be debated, and as with the other article, I encourage it. Although I see the Western Conference teams more often than those back east, that doesn't mean true fans of each team won't have better ideas of what the strengths and weaknesses really are. If so, feel free to post in the comments section below.
Now that I've made the requisite disclaimers, the following are the greatest strength and biggest weaknesses of the top eight Western conference teams.
St. Louis Blues
The Blues have had a fantastic regular season and have a chance to break the team record of 114 points set in 1999-2000. Led by five players with 50 or more points (Alexander Steen and T.J. Oshie each have 60), St. Louis swung a blockbuster deal at the trade deadline to acquire Ryan Miller from the Buffalo Sabres. The rich get richer.
Greatest strength: offensive efficiency. The Blues are fourth in the NHL in 5×5 scoring, and fifth in scoring overall at 3.00 goals per game.
Biggest weakness: puck possession. It's all relative when you're talking about one of the league's best teams, but St. Louis isn't particularly physical (17th in hits) nor do they put the puck on net very often (22nd). As mentioned above, there is no question their offense is one of the league's most efficient. How that translates itself to playoff success when checking and defenses are tighter is the million-dollar question.
Anaheim Ducks
Oy vey. As a Kings fan, it pains me to see the Quacks this high up in the standings. Having said that, I'm hoping against hope that the teams manage to meet in the playoffs. I'll be the only guy in Seattle booing at his television set.
Greatest strength: offense. This one is easy. The Ducks have the league's second-best offense, a hair below Chicago at 3.19 goals per game.
Biggest weakness: special teams. Also easy, as the mallards are just 22nd on the power play and 18th on the penalty kill. That's a surprise, considering how good both the offense and defense has been all year. Frickin' Ducks.
Colorado Avalanche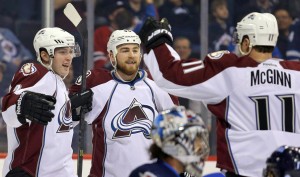 The Avs have sorta-kinda been a feel good story this year, roaring back to life after missing the playoffs for three straight seasons. They aren't as bad as Detroit, but man, I used to loathe them when Forsberg and Sakic were irritating the heck out of me, years ago. Today's version just doesn't generate the same feelings of utter revulsion.
Greatest strength: offensive depth. Colorado may well finish the season with six 20+ goal scores, and five players with 60 or more points. By comparison, my Kings should have three and two, respectively.
Biggest weakness: defense. The Avs surrender the 21st most shots in the league, and as a result, allow 2.61 goals per game — 14th in the NHL.
San Jose Sharks
The Sharks get older and older every year, and somehow continue to defy Father Time. Too bad they have a playoff history straight out of Mother Goose. Just kidding, Sharks fans. Joe Thornton, Patrick Marleau, Joe Pavelski, Logan Couture and company are locked and loaded for another run this year.
Greatest strength: puck possession. The Sharks lead the league in shots per game, are at the very top in faceoff winning percentage, and have one of the best contingent of centers in the NHL, led by the big horse himself, Jumbo Joe.
Biggest weakness: physicality. The Sharks have top-end skill players, but don't lay the body down much. As a result, they are a lowly 27th in the league in hits. As discussed in my previous article, that could cause real problems when facing a big, strong team like the Kings.
Chicago Blackhawks
Greatest strength: puck possession. It's eerie, and more than a little weird. Other than having superior team speed, the Blackhawks are the Sharks this year, all the way down to the high faceoff winning percentage, high shot totals, and strong overall offensive numbers.
Biggest weakness: physicality. Once again, San Jose = Chicago. The Blackhawks are dead last in the league in hits. A series between San Jose and Chicago wouldn't be physical, but it sure as heck would be fun to watch.
Los Angeles Kings
Believe me, I know all about the ledger card for Los Angeles this year. With the exception of 2012-13, it's the same one the Kings have had for four years running now, except back then, at least Dustin Brown could score.
Greatest strength: defense. The Kings have a terrific defense and give up the third-fewest shots per game, along with being number one in goals against at 2.05 per game. Jonathan Quick has returned to form, and the Kings throw the body around with aplomb.
Biggest weakness: offense. Jeff Carter, Anze Kopitar, Marian Gaborik, Mike Richards, Dustin Brown. Those names alone should provide the Kings at least an average offense, but sadly, they do not. As of today, Los Angeles is 27th overall with 2.39 goals scored per game.
Minnesota Wild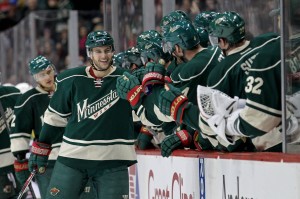 The Wild returned to the playoffs last year after missing them for four straight seasons. Jason Pominville leads Minnesota with 29 goals and 57 points, and as of this writing, the Wild has 96 points.
Greatest strength: defense. Remember that weird Chicago/San Jose symmetry I just pointed out? It's the same with L.A. and Minnesota. The Wild hold opponents to just 2.36 goals per game, sixth best in the NHL.
Biggest weakness: offense. Here we go again. Like the Kings, offense has been a perpetual problem in the hinterlands of Minnesota. Maybe it's just too cold to score
.
Dallas Stars
Yet another team I used to intensely dislike, but now I have no problem with. I must be getting old. The Stars haven't made the playoffs since 2008, but are in position to do so this year if they can ace out the Coyotes.
Greatest strength: Veteran leadership. Although the Stars have a number of younger players, they also have a number of grandpas as well: Ray Whitney, Tyler Seguin, Rich Peverley, Erik Cole and others. This fact likely explains how the Stars have been able to close out the season strong.
Biggest weakness: defense. Dallas gives up 2.76 goals per game. That ain't good, and doesn't bode well for their chances come playoff time.
Agree or disagree? Comment below, or send me a message on Twitter to @mclaughlinwalt.