Vladimir Tarasenko is an elite sniper. For the past three years in St. Louis, he has consistently scored over 30 goals a season. He's also contributed at least 30 assists in each of those years as well. At only 25-years-old he's in the prime of his career and should be for the next five or six seasons, a length of time that the Blues have him locked up for.
The question is, have we seen all that the Russian right winger can do? Or is the very best yet to come?
Past Performance
Before we look at what kind of player Tarasenko could be during the 2017-18 season, we need to look deeper at his past. Tarasenko entered the league during the shortened season of 2012-13, playing in 38 games for St. Louis and scoring eight goals and 19 points. Not bad for a rookie in a short season, but not quite the level of scoring that we've grown to expect from him in the past few years. He missed a good chunk of the 2013-14 season after a hand injury that required surgery and as a result only played 64 games, scoring 21 goals and 43 points.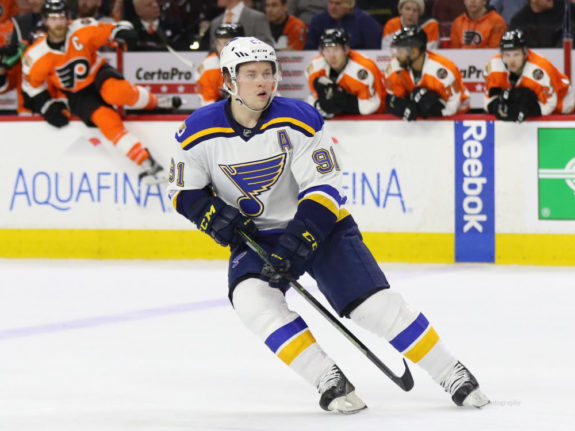 It wasn't until the 2014-15 season that the Tarasenko we recognize today came into being. In 77 games, he scored a total of 37 goals and 73 points. In the past two seasons, he's reached that level again, with 74 points in 2015-16 and 75 points last season.
What this tells us is that for the past three seasons Tarasenko has been incredibly consistent. Scoring almost the same high point totals year after year is not easy to do in the NHL. However, it also shows that Tarasenko hasn't taken many steps forward in terms of production since 2014-15. That's not a reason to panic. Over 70 points a season is hard enough to achieve once, never mind three years in a row. It's simply that he seems to have reached his peak in the past three seasons.
Hope for the Future
Just because Tarasenko has stagnated in terms of points the past couple of seasons does not mean that this year won't be better. On paper, the Blues have more firepower up front now than they have in quite some time.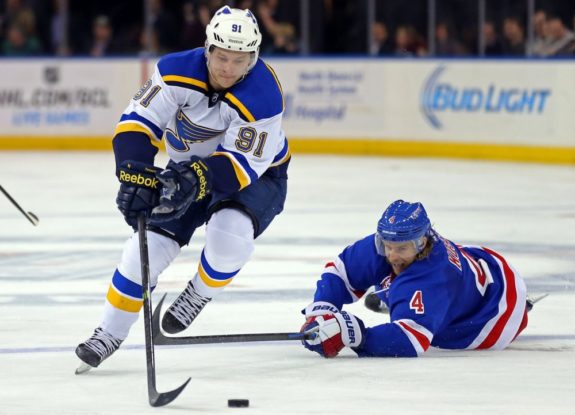 The trade to get Brayden Schenn at the draft means that Tarasenko will finally have another young skilled player to help him on the power play. Schenn scored 25 goals and 55 points as part of a Philadelphia Flyers team that failed to qualify for the playoffs last season. Playing with someone like Tarasenko will help both Schenn and the Russian sniper reach new point totals, so everybody wins here.
Prediction
Tarasenko has proven over the past three seasons that he is one of the league's most elite players. Everybody needs some help though.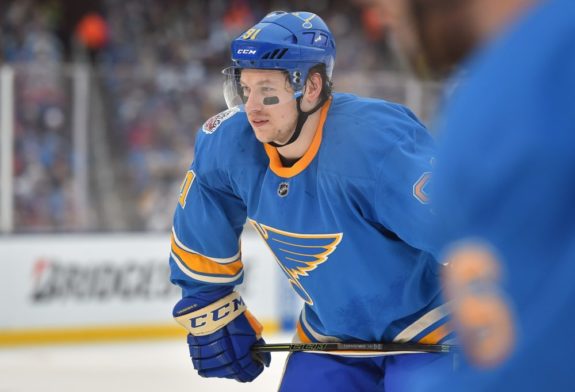 With Paul Stastny in the final year of his contract with the Blues, and possibly a trade option this season, Tarasenko will need a new stable power play partner and Schenn fits the bill perfectly. With Schenn's skills combined with those of Tarasenko it's not hard to see the star winger scoring upwards of 40 goals and 80 points in 2017-18. That would be a massive boost for the Blues' offense, and for Tarasenko's career.
Of course, this is assuming that both Tarasenko and Schenn are healthy this season. If either one goes down with a serious injury the production of the other, not the mention the whole team, will also drop. Looking at it on paper right now though, it does appear that Tarasenko is set to make some new career highs.
Journalism graduate of Loyalist College and former intern of The Hockey News.