As the season creeps closer and opportunities like the Young Stars Tournament and rookie camp close, fans are starting to get a glimpse at what the Edmonton Oilers main roster is going to look like. Only a few changes to the core are expected, but there is a bit of change thanks to injury and a significant trade. With that comes the potential for surprise players to step up.
It's inevitable not to try and predict how returning players will fare and how newbies will fit into the system. There's likely no way to predict every surprise but which 2017-18 roster player has the ability to surprise the most?
Kailer Yamamoto
The 18-year-old right winger wouldn't likely stand a chance to make the Oilers roster in any other year, but this year an opportunity exists at right wing that might not normally. Without a top-line right-winger to speak of, there is a chance someone unexpected could come into Oilers camp, impress and land themselves a job. Could that someone be the newly drafted Kailer Yamamoto?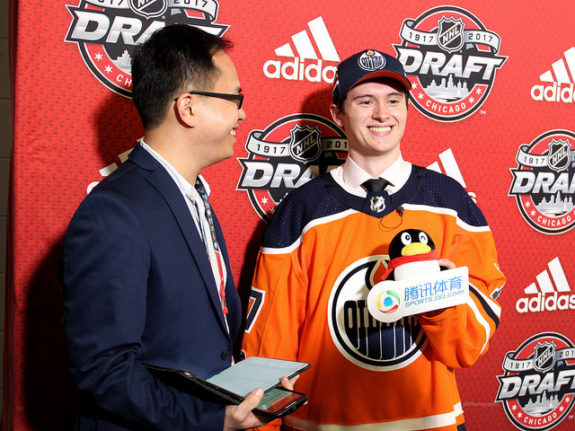 Yamamoto had a reputation as being undersized but dynamic. At the Young Stars Tournament, he showed glimpses of that reputation. He was in on a ton of scoring chances, was all over the puck and showed an ability to make plays under high duress.
He's a longer-shot to make the roster, but if he has a strong nine-game showing to start the season, could he stick?
Jesse Puljujarvi
He didn't produce like some might have expected last season, but there is no denying that Puljujarvi is going to be given every opportunity to succeed in Edmonton this season and he's got speed, skill and the talent to make an impact.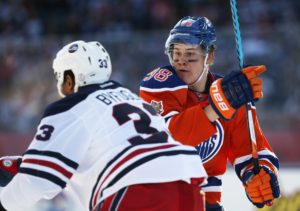 People have to remember that as a rookie Puljujarvi was only 18 years old and played a nearly full season in the AHL. In 39 games he scored 28 points and since 2005-06 that ranks him fourth among 18-year-olds for points per game (PPG) and behind players like David Pastrnak and William Nylander. That's some pretty distinct company.
In Edmonton, what Puljujarvi has the potential to do is not far off of what Leon Draisaitl did. Draisaitl started his rookie season with the Oilers and struggled. He scored 9 points in 38 games and was sent to Kelowna where he played extremely well. When he was recalled to Edmonton, he put up 51 points in 72 games.
Could Puljujarvi be the next Draisaitl? That's a stretch. But, as third (Draisaitl) and fourth-overall (Puljujarvi) draft selections in their respective drafts, stranger things have happened.
Jussi Jokinen
Jussi Jokinen is no spring chicken. An NHL veteran of approximately 15 seasons, Jokinen not only has the ability to come in and mentor a youngster like Puljujarvi (thus being a more silent impact player for the Oilers) but he has the skill to put up some numbers in the proper situation.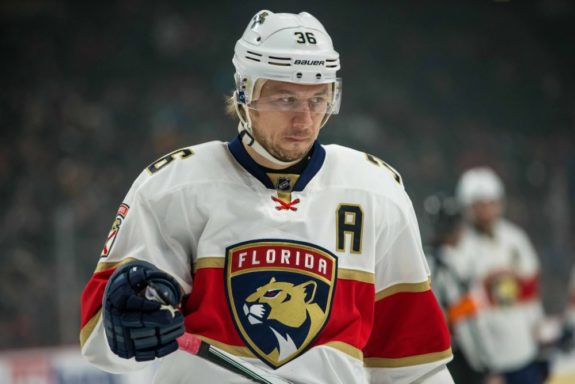 This is a player, who in his last three seasons prior to 2016-17, scored 161 points in 243 games. That's a .66 PPG pace for a player in his 30's. It's unfair to suggest that his game has regressed to the point he can't offer offense and if he's playing with the likes of Ryan-Nugent Hopkins and Puljujarvi, who's to say he doesn't get 50 points?
Jokinen appears to be slotted in the bottom-six to start the year, but a betting man should understand there are very good odds he doesn't stay there all season.
Matt Benning
There is a huge opportunity ahead for second-year defenseman Matt Benning. Thrust into the NHL as a rookie out of college, Benning handled every assignment better than most expected he might. By the end of the season, he was being riddled with tons of responsibility and handled it like an NHL veteran. Without Andrej Sekera to start the season, Benning may get the first crack at proving he has the goods to be a top-four defender in the pros and take another giant leap forward.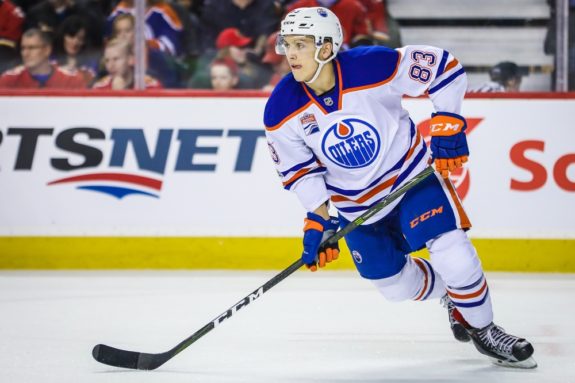 Benning has the goods. A solid skater, tough on the puck and the man, effective in the breakout and an excellent passer and shooter, Benning might not actually be a huge surprise if he succeeds. What might comes as a surprise is how much he contributes.
If his progression on the blue line continues at the same pace it appeared to last season, Benning gives the Oilers an extremely low-cost and productive top-four blue line and allows the Oilers to consider moves to really go for it as the playoffs creep up. Six or seven goals and 30 points are not out of the question.
When asked about the prospect of the Oilers signing an NHL veteran defender in the absence of Sekera, TSN's Craig Button said of Benning:
Get him out there and let him play. I mean, where are you gong to find a player like Matt Benning? Michael Stone is not better than Matt Benning. Karl Alzner is not better than Matt Benning. I want Matt Benning in my line-up and I want him playing big minutes.
Darnell Nurse
Like Benning, Darnell Nurse has a chance to step up and cement his spot on the Oilers blue line as a potential star. He might have done so last year if it weren't for an unfortunate injury that kept him out of 38 games. Still, in 44 games he had five goals and 11 points, good for a .25 PPG pace. That's 21 points and potentially double-digit goals.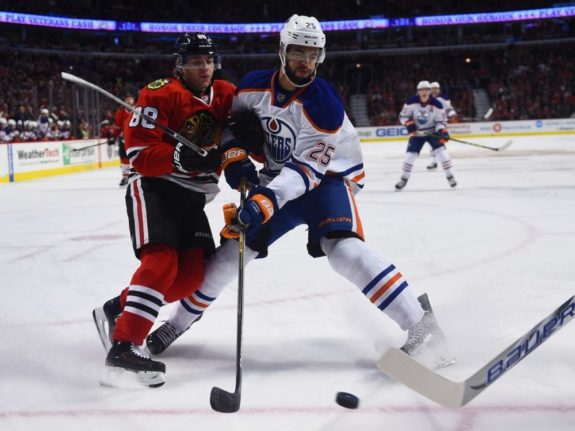 He's big, he's mean and he skates faster than almost anyone on the team not named Connor McDavid. One year stronger and one year smarter, Nurse could start the season on a roll and never stop. If Benning gets the first crack at the open top four blue line spot, Nurse surely gets the second.
Button also laid down some wise advice when it came to Nurse's game:
I mean Darnell is a big time competitor. He's a player that doesn't shy away from the challenges. Yeah, he's a young defenceman. He's going to be 22. Get him in there! Get him playing! Don't start telling me what he can't do. Show me what he can do and put him in those spots.
Anton Slepyshev
Yes, he's banged up to start the season but his injury is reportedly not serious. There are high hopes that Slepyshev will enter this season ready to assume the role of a top-six forward. His play towards the end of the season and his production in the playoffs have provided signs there's a real player there.
Slepyshev injures ankle, won't be ready for camp – Article – TSN: https://t.co/9is3EDG5Q7 pic.twitter.com/BnaQyf6jsR

— TSN (@TSN_Sports) September 8, 2017
With prime opportunities at the wing of either Draisaitl or McDavid, what is the ceiling for a player like Slepyshev? Could he surprise and get 20 goals? Those are lofty expectations, but there may not be a better pure shooter at forward for the Oilers.
Ryan Strome
Ryan Strome will be under a lot of pressure to deliver this season. Many are pegging him as the de facto top-line right-winger to replace Jordan Eberle, but that's not a sure thing even though it appears he's going to start the season there.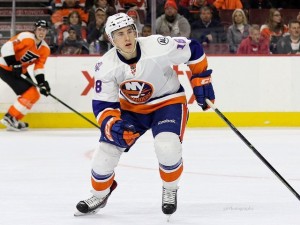 Strome is not the offensive weapon Eberle was, but he brings a completely different element to the game than Eberle did. A more gritty player, Strome is excited about a new opportunity to reignite his offense and if he clicks with McDavid, he could be dangerous. A one time 17-goal scorer and 50-point player, could he surprise and reach those totals again? Better yet, could he surpass them?
Drake Caggiula
If you ask Oilers Now host Bob Stauffer, Drake Caggiula has the ability to be the surprise of the season. When posting his predictions for the 2017-18 campaign, Stauffer suggested Caggiula had the potential to pot 23 goals and 47 points.
In 2016-17, Caggiula finished the season with seven goals and 18 points in 60 games. To jump from that to 47 points would be astounding, but the way Caggiula came on to end the year and the chemistry it looked like he'd started to have with McDavid means he may get some prime playing time.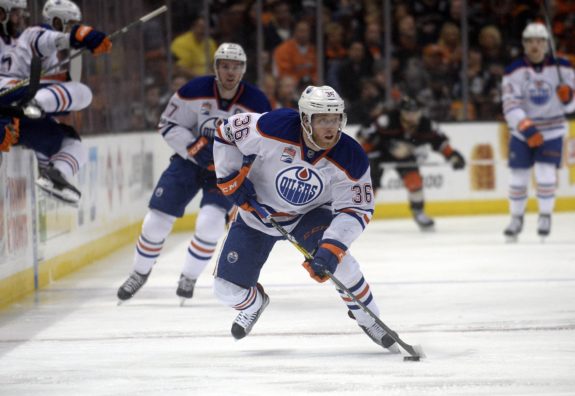 A lightning fast but sandpaper type player, Caggiula offers you a weapon on the power play and he's moveable up and down the lineup. TSN's Ryan Rishaug suggested Caggiula is slotted in to start the season on the second line with Draisaitl. Not a bad consolation prize if he doesn't start alongside McDavid.
Rishaug suggests the key for Caggiula is that he get off to a hot start, buries some of the chances he missed in the playoffs and stays healthy. If he does, Rishaug believes the 20-goal projections are not unrealistic. The key word here is "potential." The Edmonton Oilers believe he has boat loads of it.
Long Shots
While it's not likely either of these players make an impact on the big club, it would be unfair to rule out potential surprises by hopefuls Yohann Auvitu and Ethan Bear. Both are aspiring defenders for the Oilers and while they have two different styles may both see a little time with the Oilers in 2017-18.
Bear is a long-shot but he does provide a gift for offense and a booming shot from the point. His ability on the power play make him a potential weapon a la Brad Hunt or Marc-Andre Bergeron with a much higher upside and all-around game.
Jim Parsons is a senior THW freelance writer, part-time journalist and audio/video host who lives, eats, sleeps and breathes NHL news and rumors, while also writing features on the Edmonton Oilers. He's been a trusted source for five-plus years at The Hockey Writers, but more than that, he's on a mission to keep readers up to date with the latest NHL rumors and trade talk. Jim is a daily must for readers who want to be "in the know."
Other content contributions include: NHLtradetalk.com, The Sportster and hosting weekly video casts, THW News and Rumors Rundown, plus Oilers Overtime.
For interview requests or to provide content info, follow Jim on Twitter or his social media accounts. They appear under his photo on articles like this one.