The St. Louis Blues entered the weekend facing a home-and-away back-to-back series with their division rival, the Nashville Predators, a test that would tell them whether their recent resurgence was real or a mirage. They left Nashville on Sunday with four points in hand, a newfound confidence and the certainty that their superstar winger, Vladimir Tarasenko, was back in peak form.
For a player who was at the center of serious trade rumors earlier in the season, the turnaround has been a much needed revival that has firmly re-entrenched him in the harts of the fans and, presumably, the plans of the front office.
Tarasenko Dominates the Predators
Make no mistake, the Blues would not have won these games without the efforts of Tarasenko. In Saturday's home game against Nashville, he scored a trademark goal, unleashing a wicked wrist shot from the slot and beating reigning Vezina Trophy winner Pekka Rinne off the post. It was the kind of hallmark goal he has become famous for, and left fans salivating for more.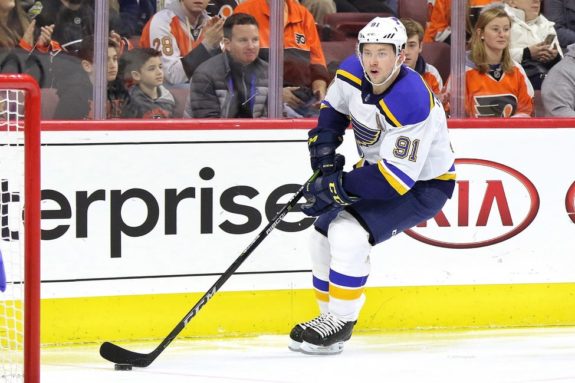 Beyond the goal he scored, Tarasenko contributed with his all-around game. He was third among forwards in minutes, second in shots on goal (four) and led the team in takeaways, with three. Though not known for his defensive game, he contributed all over the ice and was rightly praised for it. After the game, he told NHL.com "I'm proud of our work today," and he had every reason to be. But Saturday's effort was just a teaser for the main event.
In Sunday's tilt, Tarasenko was a one-man show for the Blues. He collected his first hat trick since 2016, scored his 200th career goal and won the game with a beautiful move in overtime. It was a terrific three-goal effort, one in which he single-handedly willed his team to victory. After the game, Tarasenko shared his thoughts on the win:
[The Predators] play really hard, they have really good team, and they're really competitive. It's an emotional game, and it's a big two points for us.
It was certainly a big two points to the Blues, who have propelled themselves from the bottom of the NHL standings in early January to the first wild card spot in the Western Conference after Sunday's victory. But it had deeper significance than that: Sunday's victory cemented the resurgence that Tarasenko has been building for some time.
New Tarasenko, New Blues
Dec. 2018 may have been the worst month of Tarasenko's career. Mired in trade rumors, the Russian scored just two points, both goals, in 11 games. He was a minus-11 and collected 14 of his 20 penalty minutes on the season. Because of his poor play, he averaged just 17:36 time on ice per game, a season-low for him. It's no surprise that the team struggled during December as a whole, with a record of just 6-6-1 and a goal differential of minus-15.
But as soon as the New Year rolled in, so did a new Tarasenko. Since Jan. 1, he has 19 points, including 11 goals, in 16 games and is a plus-nine. He averaged 19:25 in January, a season-high, and is well over 18:00 per-game during February. He entered Sunday with a seven-game point streak and extended it with his first hat trick in over two years.
Vladimir Tarasenko has nine points (four goals, five assists) in a seven-game point streak and 14 points (seven goals, seven assists) in his last 12 games. #stlblues pic.twitter.com/8vZkKst5fW

— St. Louis Blues (@StLouisBlues) February 10, 2019
There are good indicators in Tarasenko's season-long numbers, as well. According to Natural Stat Trick, he's created 72 high-danger scoring chances on the season, which brings him close to his total for the past two seasons, 74 in 2017-18 and 78 in 2016-17. He has a relative Corsi for percentage of 5.0 percent, his highest such number since his sophomore season. And his individual point percentage, an indicator of what percentage of points scored by the Blues while he was on the ice involved him, is 73.21 percent, which is close to his career high.
All signs point to Tarasenko's drought being well behind him. It looks like the Blues once again have a superstar on their hands, the kind of difference-maker they want him to be. It is a sight for sore eyes in St. Louis, and his turnaround will be critical to their success going forward.
The O'Reilly Factor
The fact that Tarasenko has returned to form is great news for the Blues. The better news is that, for the first time in his career, he isn't solely bearing the weight of the Blues' offensive production as the team's only star player. Ryan O'Reilly has helped Tarasenko tremendously, particularly as they've recently been linemates (along with Brayden Schenn), and as O'Reilly has been a point-per-game player this season, he's eased the pressure on Tarasenko to produce.
That's a recipe for success, and it's been a major factor in the Blues' resurgence. A streaking Blues team with a red-hot Tarasenko is not to be trifled with, and if they continue in this peak form, they could be a force come playoff time.