On a cold December night in 1995, a young St. Louis Blues fan scurries into the Kiel Center to catch his beloved team face off with the Calgary Flames. The 10-year-old boy and his father are hopeful to beat through the crowd and get to their seats by the first puck drop. They're running late thanks to the father working until 5 o'clock and having to drive from Chesterfield to St. Charles to pick the boy up from school, before battling the horrendous traffic on Interstate 40 to reach downtown St. Louis.
Although it's 7 o'clock on the dot and the puck could drop at any minute (not to mention the blistering minus-3 windchill), the boy stops near the entrance because he has to continue his tradition for every home game: pick up a copy of the Game Night Revue. He thumbs from page to page throughout the game, reading the clever anecdotes and finding useful information at every page turn. Picking up the Game Night Revue was as much a part superstition as it was tradition. If the Blues were to beat the Flames that fateful night, it was due in large part to the boy holding this nonaffiliated Blues magazine in his hands.
How do I know this story? That boy was me.
There were multiple reasons that I took to Game Night Revue: the referee statistics, the top-11 lists and the past fights information all stood out as reasons to never miss an issue. The aspect that truly stood out, though? The humor.
"Comedy is a big part of it," said a former GNR contributor, now known as Hitch's Hat on Twitter. "You can bore people to death with stats, which is a big part of the game. But you have to break it up with comedy. It has stats; it has unique perspectives. It's a good thorough paper for any fan."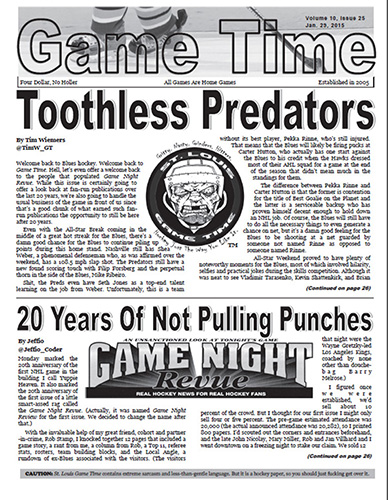 The Beginning of a Tradition
The paper has gone through some changes throughout its history, which reached the 20-year plateau on Jan. 26. On that date in 1995, Jeff Collins, affectionately known as Jeffio in the fan-run newspaper's community, sold his first few copies of Game Night Revue. The total sales number was not exactly what he expected.
"First game, I sold 12 copies and I ordered 800 of them," said Jeffio, who has been going to Blues games since the 1967-68 inaugural season. "The 800 was a projection of the percentage of the crowd. I figured that about 4 percent would buy a copy … I guess I was wrong."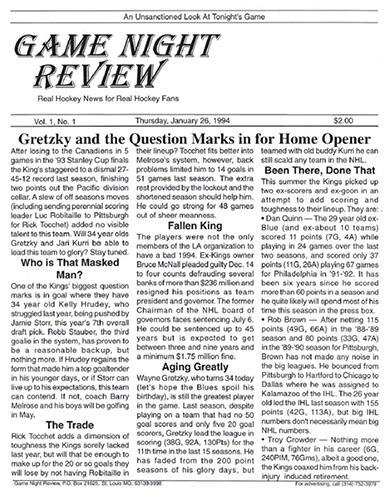 The roots of GNR began in rival Chicago. Jeffio attended a game at Chicago Stadium, the former home of the Blackhawks, and purchased a copy of a fan-organized publication that expressed strong views and didn't hold back any punches. The concept was sold in the same general location Jeffio began selling his paper in Missouri: just outside the arena.
Jeffio, a computer programmer by day, started his research on how it could be done. He made the dream a reality during the first game of the lockout-shortened 1994-95 NHL season.
Despite his unsuccessful venture his first time out, he stuck with it and saw success as the season progressed.
"By the end of that season, I was selling about 300," he said with a smile.
Jeffio and his crew bought commercial space on 590 KFNS am radio, but couldn't afford to do much else in terms of advertising. He made it work with his limited resources, distributing papers every season. It was a daunting task as GNR dominated his free time, but he continued because it was his passion.
The 2004-05 full season lockout breathed fresh air into Jeffio. All of a sudden, he had time to relax and enjoy the simpler joys in life.
"The lockout reminded me what else there is to do when you're not working two jobs," he said. "I had a good run but it was time to hang them up. My partner and great friend Rob Stamp had kids getting older and couldn't do it anymore, so he stopped. I contemplated it and, ultimately, decided to end it."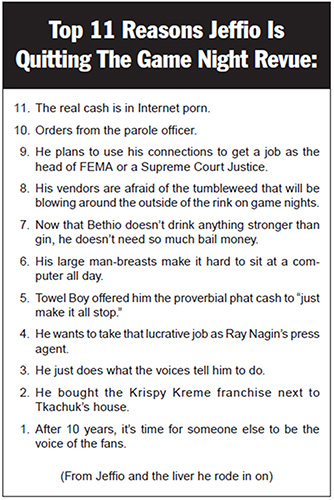 St. Louis Game Time is Born
A few years prior, the newspaper creator came in contact with another die-hard Blues fan. Sean Gallagher had been writing GNR's front page for a few years and jumped at the chance to take over Jeffio's vision. He contacted his friend, who had but one request for Gallagher.
"I wanted him to do it," said Jeffio, "I offered to help him out. The only thing I said was to change the name of it. Game Night Revue is mine."
Gallagher decided to use the name St. Louis Game Time, which is still the paper's name as of today. The Game Time leader did not have experience in the field, similar to his predecessor, and had little time to prepare coming out of the lockout.
"Just before the very first preseason game, (Jeffio) called and said that he wasn't going to do it," Gallagher said. "So, it was now or never for me. I started from scratch, got Microsoft Publisher and started playing around with it. It took a couple of months for me to get a good grasp of it. We didn't release our first issue until November (2005)."
Unlike the newspaper's creator, Gallagher faced a challenge that sports publications fear: a rebuilding franchise.
The Blues came out of the lockout without powerhouse defensemen Chris Pronger and Al MacInnis, as well as superstar forward Pavol Demitra. They also posted a huge question mark in goal as a slew of netminders found time in the crease that season.
The late start to Game Time's first issue may have been a drawback, as well. The Blues started the season 2-8-3 and attendance was on a steady decline for home games. The contest that featured the redesigned publication's release saw attendance plummet to 13,211 — well under the 19,150 sell out number — and it was against the rival Detroit Red Wings.
Gallagher recalls the first person who bought the paper.
"I used the headline, 'Satan Has A Hockey Team,' because Detroit was always kicking our butts back then," he said. "I realize that was a bad headline instantly, because the first person who bought it started frantically flipping through it, thinking he just bought some type of religious propaganda. I remember that distinctly."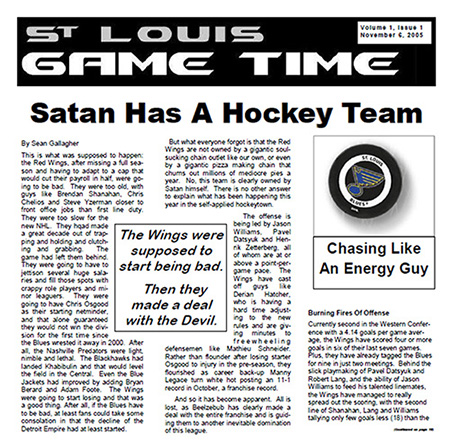 Despite the mix-up, Gallagher and his team rolled on. He recalls fans giving him praise because the team was difficult to watch on the ice, yet Game Time provided readers something interesting to do in the event of a blowout game for the visiting team.
"That solidified my resolve to do it," he said. "It quickly stops being about what you like and what you want to do and very much about how people are counting on it. They expect it, they like it."
Although the team was a hard sell for the organization, the paper continued to sell to the niche market that attended games.
Dan Doke, who started with GNR in 2001 and continued to work with Game Time through the lockout, recalls his favorite memory coming under Gallagher's reign. In October 2009, the Blues and Red Wings traveled to Stockholm, Sweden, as part of the NHL Premiere series. Doke, a season ticket holder, joined the team as part of a Blues promotion. He enjoyed eating a 90-minute lunch with young stars Erik Johnson and David Perron. He was there for the entire trip, including the charter to Stockholm.
"There were about 100 people in the trip and a lot of individuals purchased outside of the Blues to go to the games," he said. "I was the only Game Time person there. I was the only person who was not a member of the media that was blogging about my experiences. I got to talk about all the stuff I was doing behind the scenes that people didn't know about. Nobody else was writing about all of these events. That was really special to me."
Gallagher ran the paper until another lockout-shortened season. From October 2012 to January 2013, the time in which the Game Time crew would have normally been cranking out new editions, the NHL was in the midst of another labor battle. This forced Gallagher to focus on the rest of his life and, much like Jeffio before him, gave him perspective on the important things in life. He decided to step away from Game Time and hand the reins over to current editor-in-chief, Brad Lee.
"I have three kids," Gallagher said. "When I started writing with Game Night Revue, they were really young. Seven years later, they were older and much more active, so it was a lot harder to make the time to do the paper.
"Brad and others jumped up and took control and it was amazing. It wasn't hard to leave it because I knew I was leaving it in very capable hands."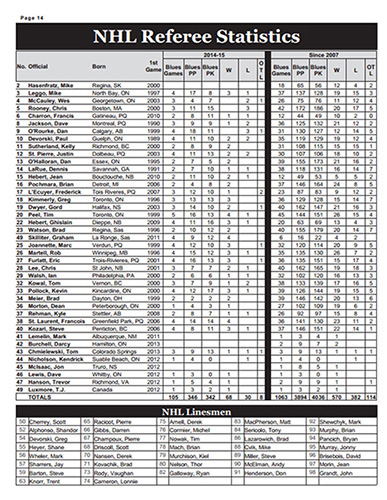 Continuing the Dream
Lee started writing for Game Time about every third edition, but was writing the front page by the 2006-07 season. The transition from writer to the head honcho was no easy task.
He agreed to do the paper about 10 days before the season started and met with Gallagher on a Saturday afternoon to learn how to design each edition. A week later, the Game Time crew printed their first issue post-2012 lockout.
"We had a small amount of copies printed to sell and Gallagher had to meet us down there with more," he said amidst laughter. "It was that last minute."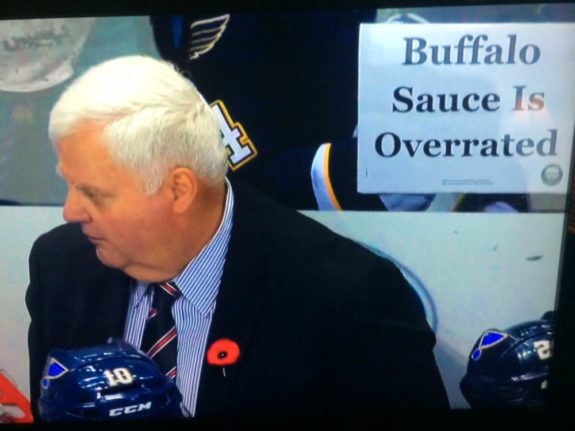 Lee, father of two, says the most challenging part for him is finding the humor that fits not just his personality, but a wide spectrum of Blues fans.
"Gallagher used to call it comedy for one," he said. "I would write jokes to make him laugh, but that obviously had to change once he left. I sit in front of my laptop and write these quirky jokes and try to be funny and, one day, I realized that if I can make myself chuckle, it's probably funny. It's become my measuring stick."
Comedy has spilled over to the web, as well. During Gallagher's years, the Game Time crew had to create a website, Twitter account and Facebook page in accordance with the social media boom (Gallagher says that you can probably still find a "God-awful" MySpace page somewhere).
With social media came the desire for more coverage from readers and fans, so new avenues were being explored. In the summer of 2013, Game Time contributors Tyler Atwood and CrossCheckRaise, as he is known on Twitter, started a Blues podcast titled Beyond Checkerdome.
"Jeffio started this paper 20 years ago and he had no idea what the future held," said Lee. "After Game Night Revue ended, we started Game Time and it spawned a website. We attracted new writers there and those people started Beyond Checkerdome. Those people, and others, have started Twitter handles and gathered their own following. It's cool you have this family tree that started on Jan. 26, 1995 with Jeffio, and from there you can draw all of these Blues fans from the hockey community that now have their own voice because of Game Time."
Fan-Run or Fan-Driven?
The writers, the leads and even the name of the paper has changed over time, but one thing has remained constant: the dedication and passion. Not just by the staff, but by the readers, as well.
"Without our readers, we wouldn't do it," said Lee. "The commitment that people make to buy the paper is amazing. There's a lot of nights it's cold or raining and people just want to get in the building, yet they stop to buy the paper."
Game Time even has fans — ok, at least one fan — outside of St. Louis. Sam Fels, Chicago, is a fellow fan-run newspaper producer. The Committed Indian runs every Blackhawks home game and can be bought outside of the United Center. Fels has been in contact with Game Time over the years and the two publications help each other with queries and ideas for promotion. He can't help but take shots when given the opportunity, though.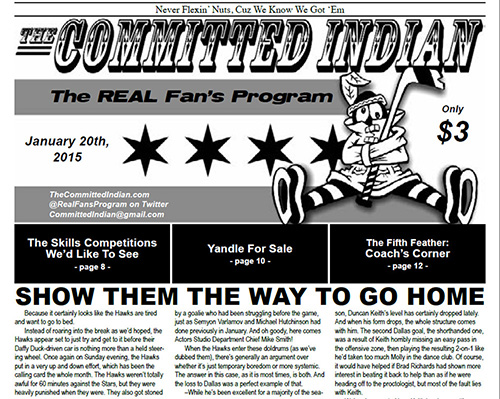 "There's a kinship with the Game Time guys," he said. "We like to think each of us represents the best of both fan bases. There's obviously a lot of derogatory comments going both ways and when Blackhawks fans start badmouthing Blues fans, I point to the Game Time guys and say, 'Well, these guys aren't that bad. They still smell, but they're good people.'"
The St. Louis Blues don't seem to notice the stench. Game Time officially celebrated its 20 years of service on Jan. 29 when the Blues hosted the Nashville Predators. In the middle of the first period, the Blues in-game promotions team placed a congratulatory image on the scoreboard to Game Time for reaching the milestone. It was the first time that the organization publicly acknowledged the periodical.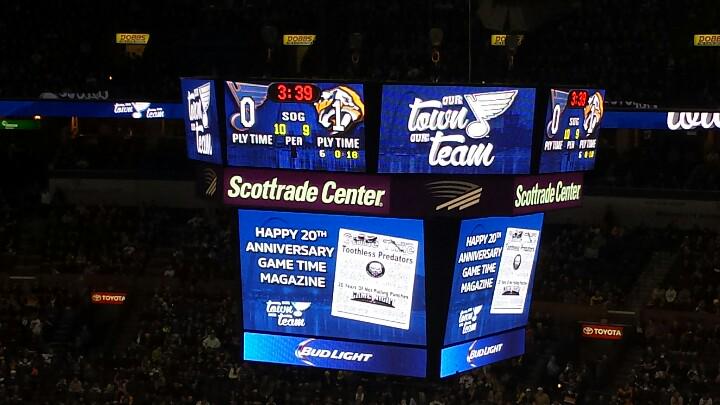 One night later, Lee and the rest of his crew held a watch party at Hot Shots Manchester for the Blues and Hurricanes matchup in Raleigh, North Carolina. The attendees were thrilled when a familiar face walked through the door to join the party — Blues owner Tom Stillman.
"It was pretty special that the Blues recognized us and very exciting that they are acknowledging our accomplishments," said writer Doke, who still contributes to the Building Blocks page. "They don't meddle with us. they don't keep us from saying anything they don't want us to say. They let us say whatever we want to say."
Lee felt the same, attributing the callout on the scoreboard to likely being Stillman's contribution.
"(Both occurrences) illustrate that the Blues, of all the sports teams in St. Louis, are the closest organization to the fans," Lee said after meeting with the Blues' chairman and governor. "Stillman started out as a fan, then became a minority owner and now he's in charge of it all. You can have a conversation with him and it's like you're having a conversation with someone who's sitting in the seats at the game. He feels what you feel and he thinks what you think."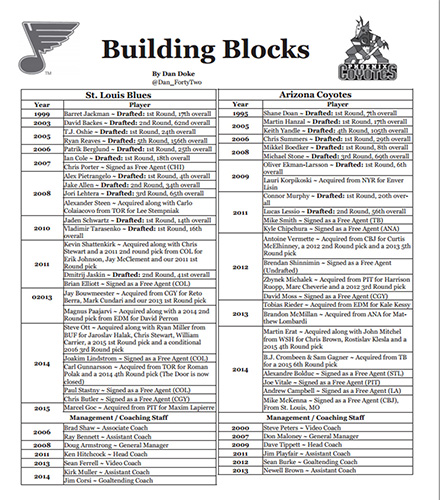 Stillman and the Blues brass has alerted Lee and the Game Time crew that the organization has gauged the fans' perspective through reading the newspaper. Whether the Blues are on a hot winning streak or coming off a tough loss, there is a good chance that someone within the organization has thumbed through the pages of Game Time to investigate the concerns of knowledgeable fans.
They're not the only ones. Over the past 20 years, fans have referred to the publication, whether it was Game Night Revue or St. Louis Game Time, to enjoy a laugh, acquire insight or simply read something that is completely unique from the writing they are seeing in the mainstream papers and on the web.
That includes not only the site you are currently reading, but a column from the team's beat writer.
Jeremy Rutherford, a long-time reporter for the St. Louis Post Dispatch, writes a Morning Skate blog for the team, while also contributing the game-to-game articles. Despite his position with the organization, he credits the paper for providing subscribers a service that even he can't supply his readers.
"My job is kind of day-to-day, nuts and bolts, who's playing and who's injured," he said. "I don't have the chance to get into a lot of the things that the fans are talking about – the rivalries, the fan favorites and all that. When I see the Game Time magazine, it's apparent how much people care for this team. For a lot of people, hockey runs their lives and for Game Time to be there and document it all for them, it's remarkable. It's the best tradition."
The Future of Game Time
Game Time contributor Chris Gift probably said it best. In the Jan. 29 edition, he wrote, "(Game Time) is hard to describe, yet easy to understand once you're a part of it."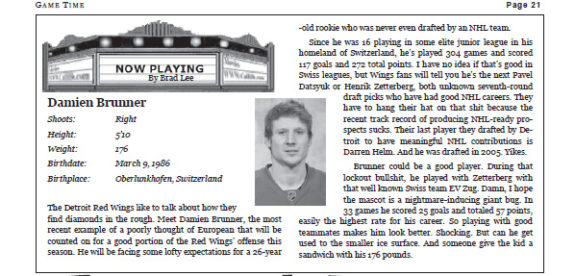 Those Blues fans that are a part of it hope that Game Time continues to grow and sticks around for the foreseeable future. One of those people is the franchise's owner.
"The Blues organization congratulates St. Louis Game Time on its 20th anniversary," Stillman told me recently. "Over the years, St. Louis Game Time's staff members have provided humorous, irreverent, and insightful coverage, and we salute their dedication and hard work.  Here's to 20 more years of Game Time!"
What does the future hold for the not-so mainstream paper? The editor laughs at the question as hard as he laughs at one of the jokes on his laptop.
"I'm committed season to season," Lee said. "Everything that has happened, including the 20-year anniversary paper and our little paper making the scoreboard, excites me about the near future. I am 100 percent committed to finishing out this season and I want to do next season. After that, I'm not making any promises."
Somewhere in Scottrade Center during any home game, there is a young boy reading a Game Time at stoppages and intermission. That boy expects to continue his tradition for the next game. And the next game. And the game after that.
I hope for that boy's sake, Game Time continues to be a presence at the corner of 14th Street and Clark Avenue.
This post can also be read at InsideSTL.com.