When Head Coach Paul MacLean was relieved of his duties back on December 8th after an 11-11-5-0 start, GM Bryan Murray decided it was time to go in a new direction.  Enter Dave Cameron taking over the Head Coaching duties after serving MacLean as an Assistant since 2011.  There comes a time with every organization where a change is needed.  Besides, as the old saying goes, "Coaches are hired to be fired".  Since the modification behind the bench, not much has changed on the score sheet for the Sens, their goals for and against are very similar with Cameron as well as their record.
Under MacLean, Ottawa had scored 70 goals and allowed 74 in 27 games, while under the new boss they have scored 75 goals and allowed 76 in 26 games, while holding a 10-11-5 record.  With that being said, there has been a minor increase in goals per game and a minor increase in goals against.  Nothing substantial that states much of a change in what the club is currently capable of doing on the ice.  Lets take a brief look at the good and the bad of what currently is, the Ottawa Senators.
Need More Production
They have not been getting enough production needed from their top 6 this season.  At the start of the year, everyone knew that players such as Kyle Turris, Bobby Ryan, and Erik Karlsson would be relied upon to provide the offense after Jason Spezza was dealt to Dallas.  Although all three of those mentioned players have had respectable seasons, none are at the level they are capable of being at.  This is not entirely just on them however, Ottawa has not received much offense from Milan Michalek or newcomer David Legwand, which makes it easy for the opposition to key in on the productive players each night.
Michalek, who potted 35 goals during the 2011-12 season, has mustered just 29 over the past 3 seasons.  With two more years remaining on his contract which has a cap hit of 4 million per season, Ottawa has some decisions to make.  In regards to Legwand, his cap hit is lower at 3.5 million and has just one year remaining on his deal but his 7 goals and 21 points put him on pace for his lowest scoring season since he put up 38 points during the 2009-10 season with Nasvhille.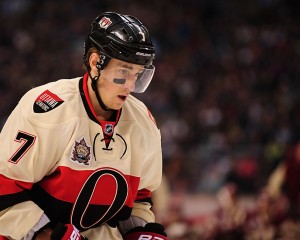 Bright Spots
One main sign of consistency has been the goaltending of Craig Anderson, although only having a 13-11-7 record, his .927 SV% is 3rd best in the NHL.  He rarely shows weakness between the pipes and makes Ottawa that much better when he starts.  Backup Robin Lehner has been mediocre at best and in order for Ottawa to be given a chance every night they will need him to pick up his play as Anderson can't start every game. Lehner's play recently has been better so Ottawa can only hope the consistency continues and their are no set backs.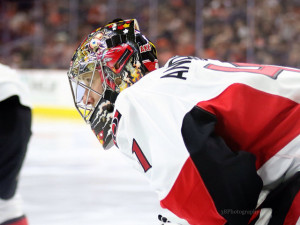 There are some other positives coming out of this mediocre season in the Nations Capital, as youngsters like Mika Zibanajed, Mark Stone, Mike Hoffman, and Codi Ceci are improving every game and becoming young leaders.  2013 1st round pick Curtis Lazar is getting a lot of ice time at the age of 20 and showing flashes of what is to come.  Lazar was loaned to Team Canada in December where he would help them win Gold at the World Junior Championships.  His 5 goals were tied for the tournament lead with teammates Connor McDavid and Max Domi.
A Year Or Two Away
In the pipeline Ottawa has some interesting prospects working their way up from their AHL affiliate in Binghamton.  Forwards Matt Puempel, Shane Prince, and Ryan Dzingel are all under 22 years old and contributing on a nightly basis.  2012 7th round defenseman Mikhael Wikstrand is having a very strong season with Frolunda of the Swedish League and could contend for a roster spot as early as next season.  Junior prospects Nicholas Paul, Chris Driedger, and Ben Harpur are being looked at very closely as being stalwarts with the Sens in the near future.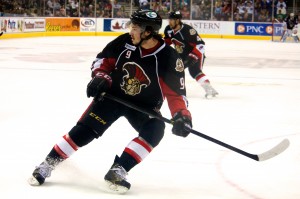 Not Far Off
The Sens are struggling at the moment but have a number of prospects who will be making the push for roster spots which will make next years training camp very interesting.  The current veterans will have to watch out for the up and comers as their jobs will be on the line.  With this being said, the cupboard is far from empty for the pesky sens, although they may not find an answer this season, they have many pieces in place that will help solve the puzzle sooner rather than later.
The Ottawa ON native covers the Ottawa Senators and is a graduate of the two-year Sports Administration program from Durham College. He has acted as Director of Hockey Operations for the Arnprior Packers of the Eastern Ontario Junior Hockey League.
He is currently the Head Athletic Trainer for the Battlefords North Stars of the Canadian Junior Hockey League but states hockey writing as his biggest hobby.