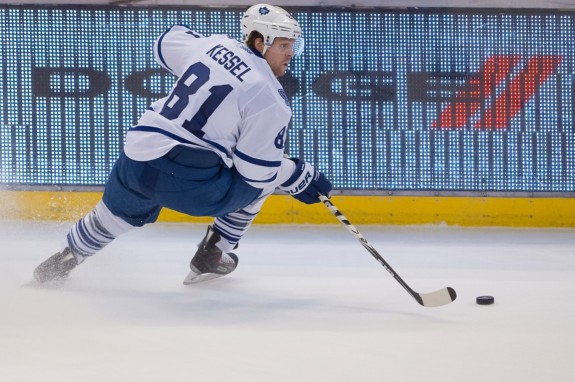 The trade deadline is just a couple of weeks away, and playoff teams are scrambling to find the missing piece(s) for their team that will put them into Stanley Cup consideration.
Meanwhile, non-playoff teams are looking to deal those valuable pieces to see what kind of prospects and picks they can get to start rebuilding for the future.
On Thursday, The Score posted an article that said reports claim Toronto Maple Leafs president Brendan Shanahan approved a major overhaul of the team and the article included that Phil Kessel and Dion Phaneuf are not in the team's future plans and the plan is to trade both of them before the March 2 deadline.
If this turns out to be true, Toronto's phones could be ringing off the hook from teams looking to land at least one of these players, as well as any other Maple Leafs who Shanahan might want to deal.
How Much for Phil Kessel?
An interesting proposition was brought up David Malinowski, a hockey analytics researcher who also has contributed to the SB Nation sites Winging It In Motown and Maize n Brew.
Hypothetical: Detroit gets Cody Franson and Phil Kessel for Pulkinnen, Kindl, Lashoff, Ouellet, Mantha, and a first. Would you do it?

— David Malinowski (@dmmm14) February 12, 2015
This is an interesting trade proposal, because not only do the Detroit Red Wings get Franson and a prolific goal scorer in Kessel, but they get rid of Brian Lashoff and Jakub Kindl, which would help Alexey Marchenko get into the starting lineup and gives players like Ryan Sproul and Nick Jensen an opportunity to see playing time when there are injuries.
Obviously, the downside is the Red Wings would have to give up two of their top-three prospects in Teemu Pulkkinen and Anthony Mantha and a top defensive prospect in Xavier Ouellet. But, that's the nature of trading; you have to give a little to get a little, or in this case, give up a lot to get a lot.
Of course, whether Toronto would even want a deal that includes Kindl and Lashoff is an entirely different subject. Malinowski is all for the trade and tweeted out what the Red Wings lines would look like should they make that trade.
Here's your potential roster in that trade: Kessel-Datsyuk-Abdelkader, Nyquist-Zetterberg-Tatar, Weiss-Sheahan-Helm, Miller-Glendening-Jurco — David Malinowski (@dmmm14) February 12, 2015
Your D: Ericsson-Kronwall, Franson-DeKeyser, Smith/Marchenko-Quincy

— David Malinowski (@dmmm14) February 12, 2015
Is It Worth It?
It's a very solid lineup for sure. Kessel on the top line with Pavel Datsyuk and Justin Abdelkader is a dream lineup, and the possibility of Henrik Zetterberg taking Abdelkader's spot on the wing only makes the line that more dangerous.
But is it worth giving up Pulkkinen, one of the Red Wings' few right-handed shooters who has an amazing slap shot, and Anthony Mantha, who could develop into a Kessel-type player in the coming years?
I'm torn on this deal, because adding Kessel and Franson immediately makes the Red Wings Stanley Cup contenders, but Kessel has an $8 million cap hit until his contract expires after the 2020-21 season, and Franson is an unrestricted free agent after this season, meaning there is no guarantee he even is on the Red Wings in 2015-16.
However, Kessel is an elite player who has been in the top 10 in scoring the past three seasons. These kind of players don't come around all that often. Also, Franson takes care of the Red Wings' need for a right-handed defenseman, and the addition of Marchenko would give the Red Wings two right-handed defensemen.
Malinowski decided to add an addendum to his earlier trade proposal.
Toronto would have to throw in probably a high-level prospect to sweeten the deal, but that's a nuts lineup. Right on par with the 2008 team

— David Malinowski (@dmmm14) February 12, 2015
If Toronto throws in a high-level prospect and Franson is committed to the Red Wings after this season, I would take the deal. The Red Wings are giving up a lot in prospects, but to be able to shore up the defensive corp and add a multiple 30-goal scorer, it's a great deal for the Red Wings. Throwing in a prospect like Stuart Percy or Frederik Gauthier only makes it better for Detroit.
Of course, would the Maple Leafs want to make a deal like this? Would they want to see Kessel four to five times per year after getting rid of him? A lot of owners and general managers don't like to trade within the division for that very reason.
With Ken Holland's trading history, the odds of a deal like this being made are slim to none, but it's an interesting proposition nonetheless.
Subscribe to our Red Wings stories to get email updates every time a new story is published.
Tom Mitsos is a Detroit Red Wings and Grand Rapids Griffins staff writer for The Hockey Writers. You can follow him on Twitter @tom_mitsos.