In the recent past I've submitted that you could build a championship team using players in the NHL who have played for only 3 junior organizations. We've got the offence covered with players from the London Knights, and the defence is being supplied by the Kelowna Rockets. Despite having what I believe is a dominant team, there are still going to be scoring chances generated by the opposition. No problem, we have the crease covered courtesy of the Red Deer Rebels.
Red Deer has only been in the WHL a short period of time in the grand scheme of things, but it's been a relatively successful legacy thus far. They have league championship, and most importantly, a Memorial Cup Championship, both earned in 2001. And though they always seem to be in the thick of things come playoff time, what they really have a knack for is producing NHL goalies.
Cam Ward G 1st Round (25th) 2002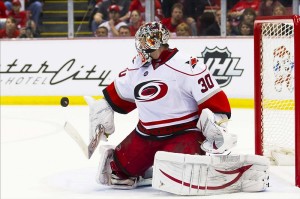 Players have started off quickly in their NHL careers before, but few have had the type of career Cam Ward has had. Not many goalies get comparisons to Patrick Roy after their first full year in the league, but by the time the 2006 season had ended, that was exactly what happened. After he had played 3 NHL seasons, he had pretty much accomplished everything possible.
He's relatively big at 6'1", but has the agility and lateral movement of a smaller goalie. He has great reflexes and what I like most about his play is despite being a big 'keeper, he doesn't' give up on the puck. He concedes nothing until the puck is in the net, and as a result, he's provided us with a plethora of highlight reel saves. He had 4 great years in Red Deer and never had a goals against average higher than 2.27.
He began his NHL career in 05/06 as Martin Gerber's backup but managed to get 28 games in. He showed he had all the tools and the poise of a big league goalie, but didn't put up spectacular numbers in his first season. It would seem he was saving that for the playoffs.
With Gerber having struggles in the first round and down 2 games to none against Montreal, Ward got the call and never looked back. He was sensational and not only beat the Canadiens, he beat everybody else too. 1 Stanley Cup, 1 Conn Smythe Trophy, 1 World Championship Gold, 1 World Championship Silver, 10th goalie in NHL history to be credited with a goal.

James Reimer G 4th Round (99th)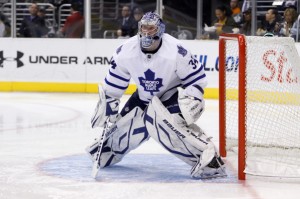 Reimer is a lesson in perseverance, one of the key attributes that has made him a starting goaltender in the NHL. Anyone's journey to the big leagues is a long one, but Reimer has had to fight seemingly every step of the way.
He made the Red Deer Rebels after being cut from the team on 2 previous occasions, and only recorded one winning season in his 3 years with the organization. Just as he appeared to be gaining momentum, during the 2006 season he broke his hand and the injury cost him a chance to make the IIHF Under-18 team.
Far from certain to find a spot in an NHL crease, he didn't even attend the draft, preferring instead not to get his hopes up. But in fact the Leafs came calling and signed him to the league minimum contract. He attended training camp twice but was returned to Red Deer on both occasions. Adopting the attitude to never give up is vital for a goaltender, and his mental strength carried him during a time when his team didn't exactly overwhelm him with the idea he would one day be a starter.
Next up were a couple years going back and forth between the ECHL and the AHL, all the while developing like the Leafs had hoped. He became a solid butterfly goaltender, with good reflexes and a well developed work ethic. The one thing that didn't change during this whole period was his attitude and personality. You could look a long time before finding an athlete as genuinely decent as Reimer in professional sports, as sadly his kind of personality is rare.
After finally getting a good look with the Leafs, he quickly became a fan favourite. That wasn't a surprise, nor was the seemingly constant battle to earn respect from then-coach Ron Wilson. But the talent is there, even if the gratitude isn't, and there is a lot more to come from this goaltender. Ironically, the best thing the Leafs could probably do to help Reimer get to the next level is trade him to an organization that will appreciate him. With Reimer, it's not his abilities alone that make him someone you want on your team, it's the strength of character that comes with it.

Darcy Kuemper G 6th Round (161st )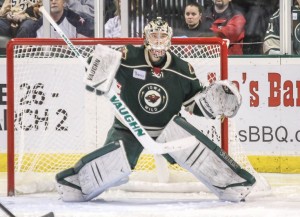 This late round gem is quickly rising up the ladder in the hockey world, and on a team where solid goaltending has been a staple. It all began during his career with the Rebels, where he was awarded the Del Wilson Trophy as the WHL's top goaltender during his final year in junior.
He's big, fast and agile and has accomplished a lot to get noticed on a team with goaltenders like Josh Harding and Niklas Backstrom on it.
In fact, he was impressive enough with his 12-8-4 record last season to be rewarded with a 2 year, 1 way deal worth $2.5 million dollars. And now Minnesota heads into the coming season with Backstrom and Kuemper as their 2 main goalies, as Harding will be rehabilitating an injured foot he suffered in the offseason.
His body of work, though brief thus far, has been noteworthy, and he's making the Wild scouting staff look a group of psychics. He has potential to spare, and should be on everyone's list of players to watch this year.

So there you have it, a championship calibre team comprised of only London Knights on offence, Kelowna Rockets on defence and Red Deer Rebels in goal. It would seem prudent for NHL teams to pay closer attention to these junior teams and what they produce as the years go on.