With Pittsburgh's overtime win last Wednesday, they have now grabbed a three games to one advantage that will be difficult for them to lose. Of the 82 situations in Stanley Cup Quarterfinals history that started with a three games to one lead, only seven have failed to win the series. However, the Penguins have lost the shot attempt battle in the last two games and have started to see their power play production dry up. However, Pittsburgh has had two things go their way to build such an advantage.
Is Matt Murray A Future Star?
Among the most shocking trends that is going on this entire postseason is seeing 21-year old Matt Murray not only stonewall a potent Capitals offense, but he is also outperforming Vezina Trophy favorite Braden Holtby. Despite the Penguins outscoring the Capitals 11-8 this series, Washington actually has the upper hand in corsica.hockey's expected goals 10.73-10.33. That means that Murray has given up 2.73 goals less than he should be this series, with 2.33 of that expected goal difference coming from the last two games alone.
There is no doubt that the six-foot, five-inch goaltender has been a complete buzz kill to any of Washington's plans this postseason and if things keep going Pittsburgh's way, he will be added to the mantle of playoff goaltenders that have made lives miserable in the Nation's Capital. However, Murray's performances have actually not been that much of a surprise for those that have followed him since he was drafted in the third round in the 2012 draft.

As you can see on the chart above, Murray did start on the wrong foot in his draft year by being one of the worst starting goaltenders in the OHL that year. As a result, three of his four better OHL colleagues that were in his age group were drafted ahead of him. What has made Murray the first member of that OHL cohort to play postseason hockey in the NHL is his rapid improvement each year. After being a below average goaltender in his first couple of years at junior level, Murray became one the best in the OHL in 2014 and followed that up with an AHL rookie of the year performance in 2015. As a result, InGoal magazine rated the Thunder Bay, Ontario native as the fifth best goaltender prospect coming into the 2015-16 season. With Marc-Andre Fleury and Jeff Zatkoff suffering injuries throughout the regular and postseason, Murray has taken advantage of his opportunities and has now become a bona-fide option as a starting goaltender at the NHL level.
However, his path to the NHL was not easier than his counterparts. Let's take his opposing netminder Holtby as an example.

Despite being only a fourth round pick in the 2008 draft, you could argue that Holtby was overlooked as a prospect from the WHL's Saskatoon Blades. Already an above average goaltender, Holtby immediately moved to the minor leagues just after his 20th birthday and has only had minor bumps along the way since. His 2013-14 season came when there was more toxicity in Washington than any other time since Alex Ovechkin has joined the team thanks to the coaching of Adam Oates. With the famous Mitch Korn as his goaltender coach since that fateful season, Holtby's career trajectory was back on track and he still has more years ahead of him no matter how this postseason ends.
Meanwhile, the greatest goaltender of his era has also shown that his worst seasons could be the best for others.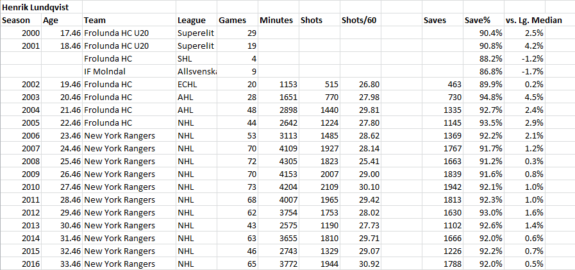 The only time Henrik Lundqvist ever struggled in any season was his age-18 season when he was just learning how to play against grown men at the formally named Swedish Elite League (now known as the Swedish Hockey League). Even if it wasn't until the 2005-06 season that Lundqvist made his NHL debut, everything culminated for him 2005. With so many NHL goaltenders plying their trade in Sweden to keep themselves in shape during a lockout season, Lundqvist ruled them all and lead the league in save percentage at 22 years old. The rest is pretty much history.
While Murray may not have the same start to his career as Holtby's and Lundqvist's, his numbers in his last year in juniors and throughout the entirety of his AHL career prove that he deserves plenty of respect in the NHL community. Whether he'll continue to garner that respect within the Penguins organization, especially when Fluery returns from his concussion is anyone's guess. Either way, Matt Murray is making Mike Sullivan think long and hard as to who he wants in goal for the Pittsburgh Penguins long-term and opposing general managers will be ready if Sullivan still considers him a backup.
Barry Trotz's Strength is Also His Weakness
http://gty.im/527448870
As much as Murray is another goaltender that is in Washington's nightmares, Barry Trotz has made things easy for him at times this series. First, he has finally decided to place his struggling young center, Evgeny Kuznetsov, on the top line with Alex Ovechkin and T.J. Oshie for Game 5. When those three have played 178 minutes of even strength ice time together in the regular season, the top line's puck possession has been an incredible 55.6-percent in their favor while outscoring the opposition 10-6. Meanwhile, the top line struggled to get to 51-percent with Backstrom player center there for 620 even strength minutes. Yes, Trotz has used that top line as the go-to shutdown line all season long, but since the Capitals have only scored more than two goals in a game once in their last seven playoff contests, ingenuity and not tried and trusted conservatism is required to put up the most threatening offense possible.
Speaking of conservatism, replacing Nate Schmidt with Mike Weber for Game 4 because of one costly pass that led to the Penguins' third goal in Game 3 is the ultimate definition of that. Yes, Schmidt is still considered a young defensemen and you could argue that Weber brings a crease-clearing toughness that is missing as a result of Brooks Orpik's suspension from his Game 2 on Olli Maata. Still, Nate Schmidt is simply a better player than Mike Weber in all facets of hockey, no matter what style of play is needed. In the regular season, Schmidt has had a relative puck possession of +0.25-percent while he was on the ice. Only fellow member of Trotz's doghouse, Dmitry Orlov, has been better while playing more than half the regular season for the Capitals at +3.18-percent. Meanwhile, Mike Weber is the team's worst defenseman in relative puck possession at -7.17-percent.
http://gty.im/516904160
As I have already written last season, Trotz simply doesn't have complete trust in young players. He will not be the first or the last head coach to ever have veteran leadership and experience on the top of his priority list to building the foundations of a hockey team. Still, veteran players get old and become lesser known versions of what they used to be. Eventually, those veterans have to be replaced by someone fresher and livelier. If it means said young player makes tons of mistakes, that is understandable. Kuznetsov, Schmidt, Orlov and even Tom Wilson and Andre Burakovsky have all dealt with such growing pains throughout the last two years. If you have to bench any of them to make sure they learn from their mistakes, that actually is understandable too, but only if it occurs in the less pressure packed regular season. Now that we're into the postseason, roster decisions, injuries and suspensions become exponentially magnified.
Surely enough, Mike Weber's stick deflected Pittsburgh's last shot from the point that lead to the overtime winner by Patric Hornqvist. Despite all that, Weber actually played decently in only his 10 minutes of ice time in Game 4. While he was on the ice, Washington had 15 shot attempts go in their favor and allowed 14 attempts the other way. Those are certainly not numbers that will have completely altered a hockey game. However, two of those shot attempts did effect Game 4 as a result of Weber's blocked shot and stick deflection and it's even more perplexing that such a big decision was made if he was only going to be used for just 10 minutes in a bottom pairing role.
In the end, there will be much bigger reasons why the Pittsburgh Penguins will win this series if they end up doing so. However, decisions such as the Mike Weber-Nate Schmidt swap are ones that will be tattooed in the memory of many Capitals fans as Barry Trotz's and the current crop of Capitals players' tenure continues.
Ben covers the Washington Capitals at the hockey writers. He has been blogging about the NHL since March 2013. Follow him @DCSportsDork