When the final horn sounded in Philadelphia's Wells Fargo Center last Sunday, the relief of the players and fans could not have been more obvious. After leading the series three games to none, Washington was finally able to close out its series with the Flyers in six games. It was a weird series full of controversy and interesting data analysis.
However, Game 6 was won by the team that deserved it the most. The Capitals not only won it with a mostly uneventful 1-0 game, but their defense finally outmatched Michael Neuvirth's incredible goaltending. They did so by out-attempting the Flyers at score-adjusted even strength 43.0 to 34.7, as well as gained five power play opportunities versus Philadelphia's three. Unless something miraculous was to happen, that is the formula required to win a hockey game in 2016.
For the Capitals however, there was "something miraculous" that happened in Game 5, when Neuvirth stopped all 44 shots against him. On the other end, Philadelphia put up the least shots on goal in team history with 11 and happened to score on two of them. One of them was an inadvertent deflection by Capital Taylor Chorney just as a penalty kill was about to end for Washington and the other was an empty net goal by Pierre Edouard-Bellemare. While most teams would treat such playoff games as an utter fluke, Capitals fans don't have that luxury.
Washington's Historical Problem with Opposing Goaltenders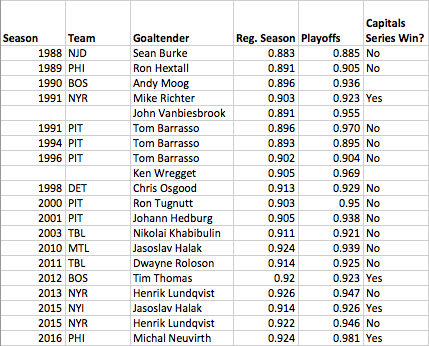 As you will see from the table above, there have been 20 occasions since 1988 when goaltenders from 18 different opposing teams have improved their save percentage against the Capitals in the playoffs, as compared to their performance in the regular season. Of those 18 playoff match-ups, when such an improvement has occurred, Washington only won four of them.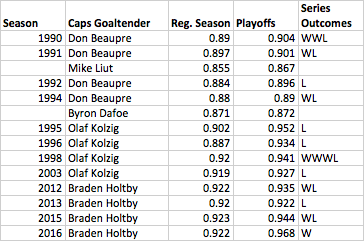 In comparison, the Capitals have had 14 different occasions since 1988 when goaltenders have improved their respective save percentages from the regular season to the postseason. Their win-loss record in playoff series, however, was only 10-11.
Interestingly, since Alexander Ovechkin made his NHL playoff debut in 2008, the Capitals have gone 3-3 in playoff series when their own goaltender improves from the regular season, while they were able to attain a 3-4 series record when the opposing goaltender improves his performance in the postseason. While that is still a losing record, this proves that Washington is in a different and better era than the one their teams of yesteryear were in, including the one from the famous 1998 Stanley Cup run. Still, there were 20 years of Capitals playoff history before Ovechkin ever played his, so another 12 years of improved Capitals playoff performances will be required for fans to forget the nightmares that were Jaroslav Halak, or Henrik Lundqvist, or Nikolai Khabibulin, or, you get the idea.
Are the Flyers a decaying offense?
http://gty.im/523840128
While the highlight of the series was to see Washington overcome one of the hottest goaltenders in recent memory in Neuvirth, it should also be a statement for just how immortal Neuvirth had to be for Philadelphia to win a playoff game, let alone the series.
It is telling how anemic Philadelphia's goal scoring was if the only players to put a goal in the back of the net were Bellemare, Ryan White, Shayne Ghostisbehere and Andrew MacDonald; two fourth line forwards (with one becoming an unrestricted free agent this summer) and two defensemen that scored in last three games of the series. Along with that, goaltender Braden Holtby went on to have as many points in the series as top line forward Claude Giroux.
Where does Philadelphia go from here? There are plenty of young prospects that are starting to make a name for themselves at the NHL level and salary cap space is finally becoming more available than it has been in years. However, the Flyers will hope to stay younger while their best forwards are beginning to move away from the prime years of their career.
Giroux will be 29 years old next January while Matt Read will be the same age in June. Wayne Simmonds will be 28 coming into next season while Jakub Voracek, Michael Raffl and Sam Gagner will be 27. The only top tier forwards the Flyers will have that will still be deemed young and productive will be Brayden Schenn (turning 25 in August) and Sean Couturier (24 in December). While Couturier was unfortunate to miss the rest of the series do to a shoulder sprain in Game 1, the rest of the Flyers forwards are wondering what happened to themselves when they were tearing up the NHL in 2012.
Back then, their 260 total goals were tied for second with Boston and behind league leaders Pittsburgh with 273. That same Flyers team would beat those Penguins in the playoffs by matching them strength for strength in a nutty six game series. However, those days seem to be gone as Philadelphia has dropped to 210 goals, which is only good enough for 22nd best in the NHL. While their 7.3 shooting percentage was below the league average this season, there might be some telling signs that Philadelphia's best forwards are just not crashing the net like they used to.
Sportingcharts.com has collected data from each NHL player's location and which type of shot they have used since the 2009-10 season. Of Philadelphia's best forwards, Giroux, Simmonds, Schenn, Gagner and Voracek have been in the league since 2012 and have been consistently counted upon to play top-six forward minutes for each season. Of those five forwards, two groups seems to have been made for how each of these forwards project in the near future.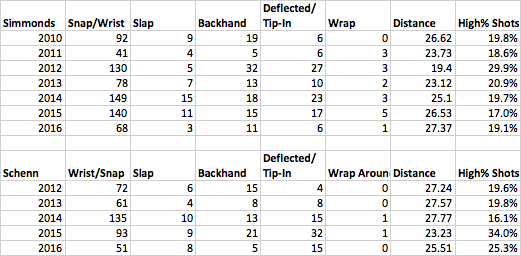 The first group is that of Wayne Simmonds and Brayden Schenn. Both finished first and second on the team in goal scoring and both shot well over 14-percent shooting during the regular season. The reason for such production is simply a willingness to stand in high traffic areas in front of the crease under all situations. This can be shown clearly from their continuation to shoot at distances under 30 feet and their use of high percentage shots (also known as backhand, deflection and tip-in shots).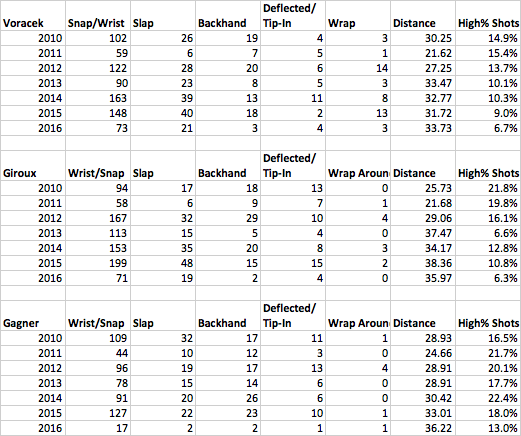 Meanwhile, the rest of the experienced goal scoring forwards are painting a more grim picture. While Gagner is willing to use his backhand shot more often than his colleagues, he continues the same trend as Giroux and Voracek to attack from much further away from the net. To go along with that, both Voracek and Giroux are now using over 85-percent of their shots from wrist, snap or slap shots. Attempts like that can decrease a shot's chances of going into the net by as much as 10-percent in comparison to backhand or deflected shots. While there were rumors that Voracek played most of this season unhealthy due to a broken foot that he suffered at the end of February, one has to wonder how Giroux and his 172-pound frame can adjust as he gets older.
So as general manager Ron Hextall builds on Philadelphia's bright future, he is also not without a team that has more than it's fair share of weaknesses and potential decaying assets. Is that something head coach Dave Hakstol can fix with a full offseason to come or will there have to be moves made this summer?
Ben covers the Washington Capitals at the hockey writers. He has been blogging about the NHL since March 2013. Follow him @DCSportsDork