The Anaheim Ducks have struggled to impose their will against the Nashville Predators. Much has been made about their checkered Game 7 history, and although that narrative's merit is dubious at best, Bruce Boudreau and his men would probably be very pleased with putting an end to that noise. It's almost unfair that Anaheim's reward for an excellent regular season is a one-game showdown against an irreverent Predators team, but that's life in the NHL's new seeding system. They can help their chances in that game quite a bit if they make the following adjustments to their game:
1. Stretch The Ice
Nashville has been laying waste to Anaheim's defense with an ultra agressive forecheck that entails two forwards playing deep in the zone with the third forward staying tight on his man: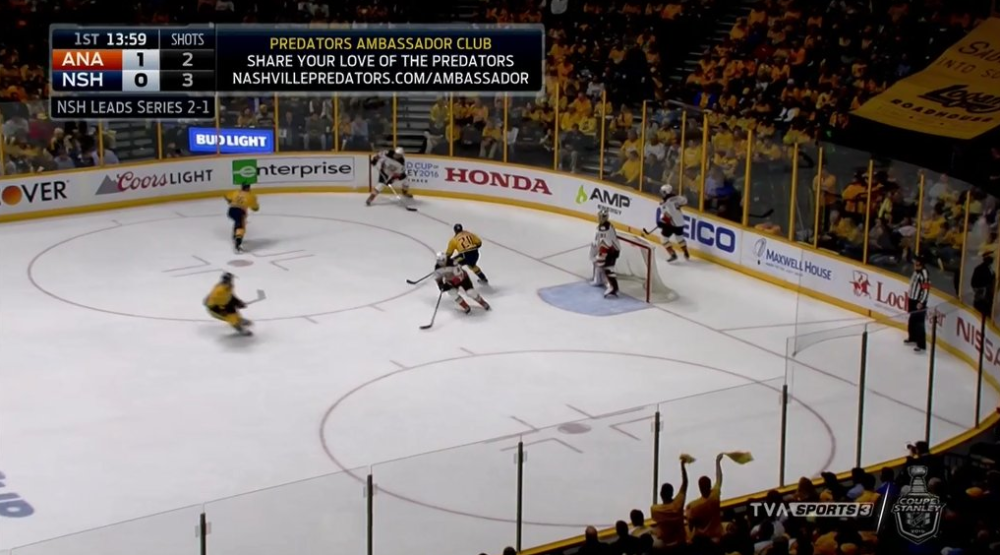 It's been so aggressive, in fact, that the Preds have nearly injured themselves with missed body checks. The Anaheim local broadcast catches a lot of flack on social media for constantly talking about the referees, but Brian Hayward was on the money when he said that Nashville's forwards were trying to put the Ducks' defensemen out of the game. The tactic has forced Anaheim to dump the puck out far more often than they'd like. A simple counter that Bruce Boudreau could try is to make greater use of the stretch pass, forcing Nashville's forwards to sag off a bit. The stretch passes themselves may not directly lead to scoring chances, but they'd at least unclog the ice a bit.
2. Quicker Pace
http://gty.im/522084322
The Ducks have seemed content with weathering the Nashville storm for roughly two-thirds of the game. This trend was on full display in Game 6, where Anaheim went from recording only 13 first period shot attempts at even strength to 22 in the third period. Part of that upward trend is due to the fact that they had to ramp up the offense since they trailed on the scoreboard. Had they been aggressive from the start however, maybe they wouldn't have trailed in the first place. The Ducks have the playmaking and shooting skills to play with greater pace; it's time they use it.
3. Get To The Net
http://gty.im/522084534
This may seem like an obvious point, especially in a winner-take-all Game 7. Don't worry though, there's some science to it. Anaheim's shot attempt rates, both for and against, have remained almost identical to their regular season rates. That tells us, to some degree at least, that the playoff Ducks aren't playing as bad as some are making them out to. However, there's an important kicker: Anaheim's average shot distance has spiked from 32.81 feet away from the net in the regular season to 36.04 feet away in the playoffs. A difference of roughly three feet may not sound like much, but in a series as close as this one, it could make the difference between the Ducks getting set for a Friday night showdown at Honda Center with the rival San Jose Sharks and another summer of endless "what-if's".
Felix Sicard is the Anaheim Ducks' Lead Writer for The Hockey Writers. Now in his third season of covering the team, he writes previews and recaps for all Ducks' home games, as well as weekly analysis pieces.
In addition to covering the Ducks at THW, Felix co-hosts SB Nation's Anaheim Calling: The Podcast, as well as hosting The Garage Hockey Podcast.
For consistent Ducks' content, be sure to check out his Twitter @Felix_Sicard.