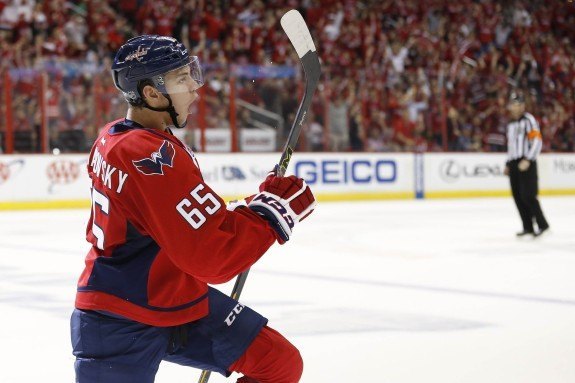 The Future is Now
Throughout the playoffs, Evgeny Kuznetsov and Andre Burakovsky have stepped up and played major parts in many of the victories for the Washington Capitals. Now, the boys in red are one victory away from only their third conference finals in it's forty year history and the first this entire city, let alone this hockey team, has seen since 1998.
As Capitals fans, this is the stuff we have been waiting for all year, let alone all playoffs. It's been the secret weapon that Barry Trotz, for some reason, decided not to employ or experiment all year long, despite differing opinions and facts that this could work with a bit of patience. Some outside of the Capitals eco-system said last summer that the team needed to rebuild after they missed the playoffs for the first time in the Alex Ovechkin era. In some ways, the Capitals are doing that right now and getting better at the same time.
With the help of fantastic draft classes by now assistant General Manager Ross Mahoney and his scouting staff since 2006, Washington has been able to hit on their first round picks better than the vast majority of teams in the NHL. Along with that, they have been able to deliver a handful of draft classes that have more than exceeded league average. 2006 produced Nicklas Backstrom, Semyon Varlamov, Michal Neuvirth and Mathieu Perreault. 2008 produced John Carlson and Braden Holtby. 2009 produced Marcus Johansson, Dmitry Orlov and Cody Eakin. 2010 produced Evgeny Kuznetsov and Philipp Grubauer. 2012 and 2013 have the potential to continue such that strong tradition.
In those two draft classes, two are already wearing Capitals sweaters in pressure-packed playoff games. One of them is Tom Wilson, a potential big bodied goalscorer that is among the zillions to be compared to Cam Neely and Milan Lucic, solely because he averaged more than a point per game in juniors and had plenty of fighting majors as well. However, Trotz all season has placed him on the fourth line or as a temporary option as the top line right wing without any other role in between. Now, it seems like all Tom Wilson is doing now a days is trying to become the next Colton Orr instead of the next Lucic. The other is Andre Burakovsky, who at 20, is already a fantastic skater, great at controlling the puck and by some measures is probably Washington's third best offensive player. That is critical to realize, especially when you consider how bad the Capitals have been at times this season at generating shot attempts and seeing a handful of veteran forwards on the current roster decay and/or look like they'll never be themselves again.
Too Much Adult Swim
If it wasn't for Ville Leino, Brooks Laich's six-year, $27 million extension is looking more and more like one of the worst contracts given out during the summer of 2011, but not because of his own fault. His constant barrage of injuries the last four years have prevented him from finding the consistency in goal scoring and skating speed that he used to have during his days when Bruce Boudreau was the head coach. Jason Chimera is now looking like a one-trick pony where he can out-skate anyone to just solely prevent icing calls and despite visually providing good chemistry with Kuznetsov and Johansson on the second line, his continuation of being the worst possession forward on the team is continuing in the postseason. Troy Brouwer is looking more and more like an invisible player for 82 games that Mike Milbury and company complain to Alex Ovechkin about for one game. Barely averaging 10 shot attempts per 60 minutes at even strength isn't acceptable for a third line forward on a cup contender, let alone the second line forward role he was given the vast majority of the season. That is why he is down to the third line with Jay Beagle and Burakovsky and, at least, has been providing better puck possession in the Rangers series.
It took Eric Fehr's surgically repaired shoulders to be squished by Kyle Okposo in game three for Trotz to finally implement Burakovsky into the lineup and for Kuznetsov's skill to shine through. But when things got going, boy does it look gorgeous.
Game five and game seven of round one will never be taken away from the hearts and minds of Capitals fans everywhere and neither will game four. These are glimpses to a time where not only can Washington stay relevant as a a cup contender while Ovechkin is at his prime, but also build a new corps and stay cheap while the salary cap struggles to increase the same as other major professional sports have. No matter what happens out of this series, whether they make it into the conference finals and beyond or crash in seven in this round, seeing the under-22 year old forwards produce for Washington is, by far, the most important step for the long term future of Barry Trotz, Alex Ovechkin and their legacies as potential champions.
But wait, there's more
As if Trotz has more headaches with his current roster, there will be more youngsters that will more than prove that they deserve to be a full time NHL player in Washington within the next year or so. Here are five prospects that could be coming to Washington soon. If you want to look at the rest of Washington's prospect pool, take a look at how they were performing by NHL translations as of last February.
Madison Bowey
A 2013 second round pick, Bowey's stock and accolades are exponentially growing by the minute. For two year, he has been the captain of the Kelowna Rockets, a proverbial factory for grooming some of the best defenseman in the NHL. After winning a gold medal for Canada and playing top pairing minutes for them at this year's World Junior Championships, he is now one round away from a WHL Championship and an appearance to the Memorial Cup tournament. For all those dreading when and/or if Mike Green leaves Washington during free agency, Bowey should be the bright light at the end of that dark tunnel.
Connor Carrick
Along with Bowey, Carrick is another puck moving defenseman that has proven his worth at the international and junior level. Now, he is taking care of business at the AHL level in Hershey where he is improving his two-way game. Scouts worry about his size and skating ability at the NHL level, but with 34 NHL games under his belt, Carrick should be able to make a smoother transition next time around under Trotz than he did under Adam Oates.
Riley Barber
Barber is, by far, the most exciting in a short list of promising forward prospects that have yet to don a Capitals sweater. After three years at Miami of Ohio, Barber continued to average a point per game and captained the United States at the 2014 World Juniors. Now 22, Barber signed on his first professional contract and will be a fun player to watch in Hershey next season.
Jakub Vrana
While we wait for Barber to play at the AHL level, Jakub Vrana is playing there for the first time and they are all playoff games no less. Still, Vrana has made huge improvements and has performed well in only his second full season of professional hockey in Sweden. There are still aspects of his game to work on, such as bulking up his 185 pound frame, but otherwise, this could be another in a long line of highly skilled forwards drafted in the first round that turned into successful mainstays with the hockey team.
Tyler Lewington
While the first four players mentioned have been recognizable in the Capitals blogosphere, Lewington is just starting to build up a reputation. Being a seventh round pick will do that to someone, but Lewington has completed his final season with Medicine Hat as the team's captain and has lead the team for three straight seasons in penalty minutes. If you are fond of "heart and soul" type of players, Lewington is your guy, but don't ignore the fact that his point production has gone up every year to reach a respectable translation at the NHL level. If Lewington does not make the team, he, along with Patrick Wey and Christian Djoos round out a deep group of young defenseman that, if needed, could be used as part of a package to corral a major contributor to the Capitals via trade.
Ben covers the Washington Capitals at the hockey writers. He has been blogging about the NHL since March 2013. Follow him @DCSportsDork