On Friday, the Stars announced Dave Strader as the new voice of the Dallas Stars. However before he begins with the Stars, Strader has some work to finish. Strader will be calling Game 6 of the Stanley Cup Final, for the 19th straight season.
If you are a Stars fan who cringes at the thought of Toews or Kane hoisting another Cup or if you are too nervous to watch former Stars captain Brenden Morrow attempt to win that elusive Cup, don't watch, listen to Strader's call on SiriusXM instead.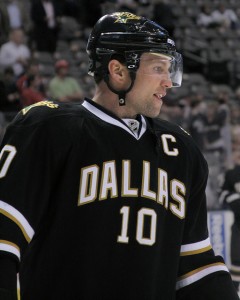 Strader won't give you sexy catch phrases or drop one too many "meanwhiles" on your ears (sorry Doc, you're still the best), but he is a well-respected, knowledgeable hockey man. He is NBC Sports' #2 NHL play-by-play broadcaster behind the great Mike "Doc" Emrick. I have always considered Strader one of the more underrated NHL broadcasters.
Ralph and Razor to Strader edge Razor?
Strader has the unenviable task of replacing a legend. Up until now Dallas fans have known only one voice of the Stars, Ralph Strangis. At the conclusion of the Stars 2014-15 season Strangis decided to explore other opportunities. It was an amicable departure but still left Stars fans feeling an unfamiliar void.
One of the attractions of the Stars job for Strader is the ability to work with Stars analyst Daryl "Razor" Reaugh.  On Sunday morning, Strader was a guest on 1310AM The Ticket's "Stars Sunday" show with Owen Newkirk and Josh Bogorad. Strader on the move to DFW, "It's a great challenge to come into a market like this with Ralph leaving and I've enjoyed working with Razor several times covering national games."
Judging by Razor's welcome tweet I'd say they are off to a great start.
This is an ACTUAL on-air brain fart.
Welcome @TheVoiceDS! (And good luck. lol) #fabrezeulous pic.twitter.com/5jYlZNNiIS

— Daryl Reaugh (@Razor5Hole) June 12, 2015
Strader, 60, also talked about covering a team vs. being a national broadcaster. "A certain passion comes with following a team. One thing you miss, the interesting stories, who is going to make the team, etc. Another thing you miss is you don't see the whole league as a national broadcaster. For instance this year we covered the Anaheim-Calgary playoff series. Prior to that I didn't see Calgary since 2011."
Another Red Wings to Stars connection
Strader is another former Detroit Red Wings employee. It seems like Dallas is becoming a hub for Detroit transplants with hockey resumes. Is it fair for us to ask for Datsyuk or Zetterberg next? Okay okay, we'll settle for Mrazek or Nyquist.
Strader, originally from Glen Falls, New York, started out covering the Adirondack Red Wings of the American Hockey League in the late 70's. The Red Wings promoted him to the big club in 1985 and he worked with former Red Wing Mickey Redmond until 1996.
In 1996 ESPN's #1 hockey broadcaster Tom Mees died in a tragic pool drowning.  ESPN hired Strader to fill their vacant NHL play-by-play broadcaster position.
He also covered the Florida Panthers from 2005-07 and the Phoenix Coyotes from 2007-2011. Strader left the Coyotes in 2011 for another national broadcasting assignment with NBC Sports.
Tonight after anthem singer Jim Cornelison nails the last note, turn off the television volume and give the our new Stars broadcaster a listen via SiriusXM.  Who knows, maybe next season Strader's 20th consecutive Stanley Cup Final call will involve a team wearing victory green.
I have a Bachelor of Arts Degree is Sociology from Bridgewater State College. I have covered amateur hockey prospects with Texas roots for the scoutingreport.org, and I am a Dallas Stars writer for The Hockey Writers. I can be reached via Twitter @EdTexmass09.