The annual NHL Awards are just days away, and the Nashville Predators are hoping to come away with a couple trophies by the end of the night on June 24. Pekka Rinne is a finalist for the Vezina Trophy (goaltender of the year), and Peter Laviolette is up for the Jack Adams Award (head coach of the year).
Since Carey Price of the Montreal Canadiens is a sure bet to win the Vezina, Laviolette is the Predators' only hope for an award in 2014-15.
The other finalists for the Jack Adams are Bob Hartley of the Calgary Flames and Alain Vigneault of the New York Rangers. Laviolette is among worthy coaches, but he should win the hardware.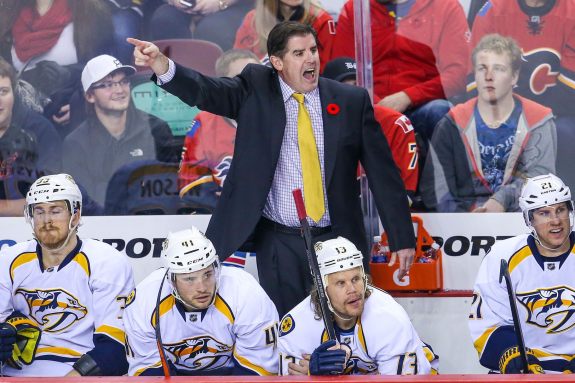 Laviolette saw immediate improvement in his first year as head coach of the Predators. Nashville had nine more wins and sixteen more points this season than in 2013-14 and clinched a playoff berth for the first time in three years.
To see such immediate success is not an easy task for any first year coach, but with a completely new system in Nashville, it was particularly difficult for Laviolette.
Before Laviolette, the only bench boss the Predators ever knew was Barry Trotz, who coached the team for fifteen seasons starting with the 1998-99 inaugural campaign. Trotz's system was not flashy nor entertaining, but it worked. Its primary focus was hard-nosed forechecking with a stress on defensive play.
However, after missing the playoffs for two straight years, general manager David Poile let Trotz go and hired Laviolette to revamp the Predators' identity with his up-tempo, offensive-minded style of play.
To assure there were no growing pains to begin the season, Laviolette relentlessly skated the team during training camp.
If there were troubles in adjusting, they were unrecognizable. Nashville got off to a fast start tying franchise records for the fewest games to ten wins (15) and twenty wins (30) and setting franchise records for the fewest games to thirty wins (43) and forty wins (60).
In addition, Nashville increased its goals per game from 2.61 to 2.76, which ranked third in the NHL, and shots per game to 31.9, up from 29.0. In five-on-five situations, Nashville saw a +56 goal differential from this season to last.
Players who were unable to reach their potential under Trotz's offensively-challenged system began to produce more under Laviolette. Colin Wilson had a career year in goals (20), points (42) and +/- (+19) last season. Viktor Stalberg, when not injured, began to play up to expectations. According to War-on-Ice.com, Stalberg ranked third in points per sixty minutes on the team at 2.08.
Laviolette's system, which allows defensemen to skate with the puck from end-to-end is perfect for a team like Nashville loaded with puck-moving defenders. Roman Josi, who thrived in this system, had 55 points (15 goals, 40 assists) in 80 games, which ranked fifth among all NHL defensemen. Seth Jones and Ryan Ellis had career highs in goals (8 and 9, respectively).
Other than winning the Stanley Cup, there may not have been a more ideal scenario in Laviolette's first year with the Predators. There is nothing but a bright future ahead for the franchise, which is why Laviolette should win coach of the year.
Subscribe to our Predators stories to get email updates every time a new story is published.
Colin Fitts is a Nashville Predators staff writer for The Hockey Writers. You can follow him on Twitter, @FittsTHW.