The Hockey Writers Nashville Predators staff writer Colin Fitts will evaluate the performance of each player on the 2014-15 Predators roster every weekday in alphabetical order. You can follow Colin on Twitter, @FittsTHW.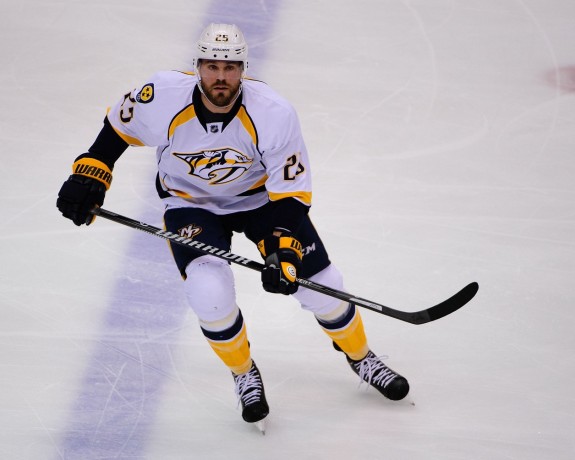 Viktor Stalberg
Position: Left wing
Age: 29
Height/Weight: 6-foot-3, 209 lbs
Stat Line: 25 GP, 2 G, 8 A, 10 PTS, 0 +/-, 18 PIM, 54 hits, 10 blocked shots, 11:53 AVG TOI
Playoffs Stat Line: 6 GP, 1 G, 2 A, 3 PTS, +1 +/-, 0 PIM, 31 hits, 5 blocked shots, 14:08 AVG TOI
*Points at Home vs Away: Home – 2 G, 3 A | Away – 1 G, 5 A
*Giveaway/Takeaway Correlation: 5 giveaways, 7 takeaways
Contract Status: 2 years remaining on a 4-year, $12 million contract ($3 million cap hit in 2014-15)
Highlight of the Year: After being scoreless for 358 days, Stalberg tallied a game-winner in a 2-1 win over the Los Angeles Kings on March 15. Though the goal may not have been pretty, it was an important goal for Stalberg's confidence.

Strengths: Stalberg is one of the fastest skaters in the NHL and is relentless on the forecheck. His style of play was perfect for head coach Peter Laviolette's system, which is all about speed. Last season was set to be his best since joining the Predators in 2013-14, but injuries prevented that. Stalberg ranked third in points per sixty minutes (2.08), according to War-on-Ice.com. In the playoffs against Stalberg's former team the Chicago Blackhawks, he turned into a physical force and a playmaker, which is what the Predators have expected of him the past two years.
Weaknesses: Injuries. Stalberg missed 21 games last season due to lower-body injuries. The most severe injury occurred in Milwaukee with the Preds' AHL affiliate and kept him out of seventeen games between Nov. 8 and Dec. 16.
What to Expect Next Season: If Stalberg can manage to stay healthy for the entirety of next season, look for him to have 30-points.
Subscribe to our Predators stories to get email updates every time a new story is published.