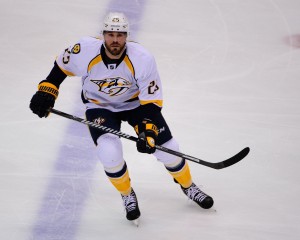 The situation was going to be perfect. Viktor Stalberg was going to play with the Milwaukee Admirals on conditioning assignment to prepare him physically for his return to the Nashville Predators' lineup. Stalberg played in five games with the Predators after suffering a lower-body injury in training camp but has been pointless thus far. In Milwaukee on assignment, the 28-year-old was credited with a goal and two assists in four games.
In the final game of Stalberg's conditioning assignment, he suffered another lower-body injury in a 4-0 win over the Grand Rapids Griffins on Friday night. The dirty hit was made by notorious minor league goon Brennan Evans. The 6-foot-3, 220lbs defenseman stuck his leg out, making knee-on-knee contact with Stalberg.
Milwaukee head coach Dean Evason called Stalberg's injury is "not good".
"I don't know exactly what they're saying it is, but it's his knee. It's not good. It's unfortunate, obviously. He was leaving us tomorrow. He will still leave us and go to Nashville to have it evaluated.
"It is disappointing because tonight was his best game. He was flying and doing all the right things to get him back in the NHL lineup in Nashville. It's a shame because that's what he came here for and that's what we were trying to do for him. It's disappointing for sure."
Since being signed by the Predators in the summer of 2013, Stalberg has seen nothing but bad fortune. Last season, the native of Stockholm, Sweden sat out four games each with a shoulder sprain and upper-body injury. In 70 games, Stalberg totaled just 18 points (8 goals, 10 assists) and a -14 rating, a considerable scoring decrease compared to his previous two seasons in Chicago. He amassed 43 points in 79 games during the 2011-12 season and 23 points in 47 games of 2012-13. To do the easy math, his point production dropped to approximately half of what he was previously scoring.
Whether it was Stalberg not buying into Trotz's system (different from previous head coach Joel Quenneville's) or Trotz not effectively using the winger, things were not working out for number 25 in the Music City. Often times, Stalberg could be seen on the offensively-challenged team's fourth line alongside Rich Clune and Paul Gaustad, which was a waste of his talents. Under Trotz, his average time on ice decreased from 14:07 in Chicago to 12:35 last season.
Once again, the fragile glass figure will be placed on injured reserve.
Colin Fitts is a Nashville Predators staff writer and is a credentialed media member of the Chicago Wolves. From Nashville, Tennessee, Colin majors in journalism and public relations at Columbia College Chicago. Follow him on Twitter, @FittsTHW. Email: 22fitts [at] gmail [dot] com.