Offense is a wonderful thing in the game of hockey. When everything is flowing, it can be magical at times. When things are not going well, it can seem like a road with no end in sight. This is the path that the Florida Panthers are on, and they seem to be headed nowhere fast.
Heading into their game against the Calgary Flames on Saturday afternoon (which will be viewed in over 12 countries around the world), the Panthers have scored the fewest goals in the NHL up to this point, tallying only 16 goals in 11 contests. What's more alarming for the Panthers is that nothing evident in recent play has indicated that the numbers will pick up any time soon.
Who's at fault?
When an entire team's offense is struggling, you usually look to one person: the head coach. Gerard Gallant is in his first year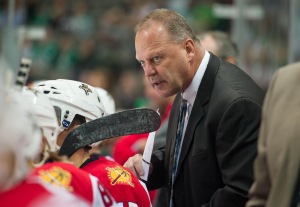 as bench boss of the Panthers, and although the defense has excelled past expectations going into the season, the goals have yet to come. It's tough to put the blame on a coach when there's an influx of new personnel up front, and the fact that he's not the one playing the games. It has to come down to the players not performing up to a certain standard.
Chances are being created, openings are there, but shots are either wide of the net or into the goaltender's chest. To use the old cliché, it's obvious that players are "squeezing their sticks too hard". On top of all of this, the Panthers have been averaging (give or take) about 3 goal-posts a game since the start of the season. If you remove their 4-3 overtime victory against Avalanche, the Cats have 12 goals in 10 games and have only scored 2 goals a total of four times this season. I feel like I've said this a lot this season already, but those numbers are alarming.
What needs to happen?
Going into this season, it was obvious that if the Panthers wanted to be successful this season their younger players would have to take their next step on the road to being full-time, successful NHLers. At the 11 game mark, the trio of Nick Bjugstad, Alexander Barkov and Jonathan Huberdeau have accumulated 5 total points in a combined 28 games played. After successful rookie seasons from both Barkov and Bjugstad, this season has started extremely slow. Both are only 19 and 22 respectively, but even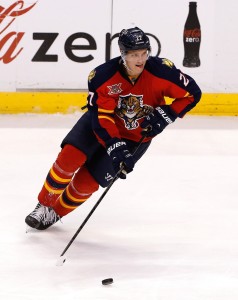 despite their age and NHL experience their current play leaves much to desire. Huberdeau's struggles have been documented quite often over the last year or so and expectations for him to return to form are still there. Without these three clicking, it will be tough for the Panthers to get their offense rolling.
Role players such as Scottie Upshall, Tomas Kopecky and Sean Bergenheim also need to increase their offensive production. Although not seen as prototypical goal-scorers, players like these that contribute offense from your lower lines are essential to maintaining consistent success throughout the course of an NHL season. Only Brad Boyes and Jussi Jokinen have contributed somewhat consistently through the first 11 games, both notching 6 points during that span. Rookie defenseman Aaron Ekblad sits third on the team in scoring with 4 points, which is something you can spin as either a positive or a negative.
Without the veterans contributing and the prospects struggling to take the next step in their careers, the offense of the Florida Panthers will likely remain stagnant. Whether it's something the coaches need to work on or an issue of chemistry within the locker, but one has to imagine that General Manager Dale Tallon is scouting the league looking for someone to help this group in the goal scoring department.