Leading up to July 1st and the beginning of the NHL's Free Agency period, I'll be doing a series of articles called "Should He Stay or Should He Go" analyzing some of Montreal's impending unrestricted free agents, and restricted free agents. I'll be doing so by predicting what it would take to sign each player, and whether that price would be worth it for the Canadiens. First up is newly acquired winger Thomas Vanek.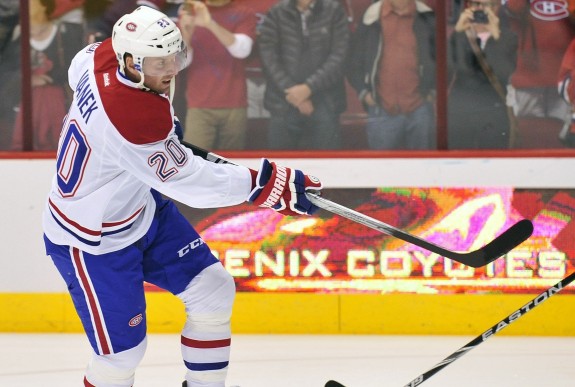 As I touched upon last week, when Marc Bergevin acquired Thomas Vanek minutes before the NHL's trade deadline on March 5th, the hockey world was stunned. This is largely because of the relatively cheap price it cost to acquire him, as Islanders GM Garth Snow traded a 1st round pick, a 2nd round pick and Matt Moulson just months earlier to bring Vanek to Long Island.
Trading for Vanek is undoubtedly an excellent decision for the Canadiens this season, and it's already paying dividends for them. After a slow start in his first three games, Vanek has finally found some chemistry playing alongside Max Pacioretty and David Desharnais on Montreal's top line, resulting in him scoring a hat trick against Colorado this past Tuesday.
There are some questions about holding onto Vanek beyond this season though. How much would it cost exactly to retain the Austrian sniper? Would it be worth it to re-sign him long term? After doing some digging, I've come up with an answer.
What it Would Cost to Re-Sign Thomas Vanek Long Term
Elite goal scorers don't grow on trees, which is why they typically break the bank when they hit unrestricted free agency. The case is no different with Thomas Vanek. Although he is on the other side of 30 years old, he won't be short of viable suitors come July.
How much is Vanek worth though exactly? He signed his last deal in 2007 for 7 years and 50 million dollars (an offer sheet with the Edmonton Oilers, which was promptly matched by then Sabres GM Darcy Regier), which some viewed at the time as too much money. Upon further review though, I'd say the contract was fair for both Vanek and Buffalo. He scored over 30 goals three times (including a 40 goal campaign during the 2008-09 season), and never scored less than 20.
Because of his natural goal scoring ability, the New York Islanders offered him an identical contract before they moved him at the deadline, one that he ultimately rejected. Does this mean Vanek wants even more money than his last contract? Perhaps, but I think a big reason why he rejected Garth Snow's offer was because he wants to test the open market this summer. At the end of the day, I think Vanek's contract will end up being worth a similar amount to his last deal, and perhaps a bit more.
Can Vanek Produce Well Into His 30's?
Signing any player to a 7 year contract worth over $50 million is a scary thing, but that is especially true when that player has already celebrated his 30th birthday. As talented as Vanek currently is, there is no question that his production will slip somewhat throughout the duration of his next contract. The question is, by how much?
Certain players have managed to continue to produce well into their 30's, while others have completely fallen off a cliff. On the one hand, you have players like Marty St. Louis, who is 38 years old and coming off of a season in which he won the Art Ross Trophy. On the other hand, you can look at players like Dany Heatley, who was once a point per game player, but now at 33 his production has dropped by more than half.
You could argue that the reason why players like St. Louis have remained elite players for as long as they have is due to the fact that they are "special" talents, but the same could have been said about Heatley just over five years ago. When it comes to predicting how a player is going to hold up on the back nine of his career, there is simply no way to do it.
If Vanek was showing signs of slowing down then that could give a hint as to how well he'll transition into the next part of his career, but he hasn't done that. With 58 points in 67 games he's had a very solid season, and has performed well in comparison to what he's done over the past few years.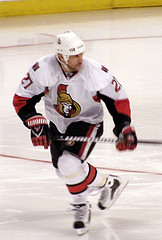 If I was to come up with a comparable for Vanek as to how well he'll transition into the back half of his career, I'd look at former Canadiens' winger, Alex Kovalev. Like Vanek, Kovalev was strictly an offensive player that relied on his immense skill to score, and consistently scored around 70 points each season before turning 30.
Hopefully in Vanek's case his production can last as long as Kovalev's did. When Montreal acquired AK27 at the trade deadline in 2004, he was far from young at 31 years old, but he continued to be put up solid numbers throughout his 5 seasons with the Canadiens. He had at least 60 points 3 times, and was nearly a point per game player for the Habs each time they made the playoffs during his time there, scoring 31 points in 33 games. Kovalev's production finally took a dip at the age of 36 after he left the Canadiens via free agency to sign with the Ottawa Senators.
There's no telling if Vanek will be another Kovalev or another Dany Heatley. If he can stay healthy though, I think it's safe to say he will hover around the 60 point range throughout the first 6 to 7 years of his next contract based on his talent alone.
Should the Canadiens Re-Sign Him?
According to Cap Geek, the Canadiens are projected to have just over $27 million in cap space to spend this summer on free agents. Before Marc Bergevin even thinks about signing Vanek, it's almost a sure thing that he'll take care of P.K. Subban and Andrei Markov's contracts first, as they are integral pieces of Montreal's defence. Assuming Subban and Markov cost Montreal a combined $14 million, the Habs would be left with approximately $13 million to spend on Vanek and 5-6 other players, as they already have 15 skaters signed through next season. It would be a bit of a tight squeeze, but Bergevin would be able to get away with offering Vanek a 7 year contract worth over $50 million without going over the salary cap. It would just mean that he would be strapped for cap space if the Canadiens wanted to make any additional moves in the immediate future.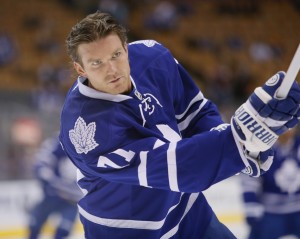 Would giving Vanek that huge contract be worth it long term though? Many GM's around the NHL often regret giving out long term contracts with high cap hits to unrestricted free agents within a few years (just look at David Clarkson's contract, which was signed less than 12 months ago for example). I think Vanek's a bit of a different animal though, as he's not a one year wonder, and he's proven throughout his entire career that he can score goals as well as almost anybody across the league. Usually I'm of the mindset that the best path to take when putting together a Stanley Cup contender is to build through the draft, but in the case of Vanek I think it would be smart to re-sign him.
Is giving out a 7 year contract with a cap hit of over $7 million a risk? Absolutely, because it could blow up right in Montreal's face. Again though, I go back to a guy like Alex Kovalev. He was somebody who couldn't score as well as Vanek, and he put up big numbers in Montreal up until he was 36 years old. At the end of this potential deal, Vanek would only be 37 years old, so he could definitely remain productive until at least the final two years of his contract.
So what is Marc Bergevin waiting for? He should be able to come to an agreement with Vanek's agent no problem right? Unfortunately, this isn't the case, as one more question needs to be answered.
Does Vanek Want to Play in Montreal?
Ever since Vanek arrived in Montreal, he's been repeatedly asked if he would be willing to re-sign with the Canadiens long term. His responses haven't been reassuring to say the least.
Vanek was then asked if it could convince him to re-sign with #Habs. He sighed.

— Аrpon Basu (@ArponBasu) March 19, 2014
Thomas Vanek on signing with the #Habs : "I'm not sure right now… but never say never." #GoHabsGo #allhabs

— All Habs (Canadiens) (@All_Habs) March 5, 2014
He's also been on the record as to saying he wants to test the free agent market this summer. I certainly don't blame him, because check out the other free agents forwards that are available. Beyond Matt Moulson, it gets ugly pretty quick which means the price for Vanek could rise even higher than I predicted. Would somebody be willing to give Vanek $8 million per season? I definitely wouldn't rule it out, but if that's the case I don't see Montreal staying in the hunt for him. I can't see Marc Bergevin giving out two long term contracts of $8 million per year in the same summer (as P.K. Subban is likely to get a contract of that value).
Where He'll End Up: Minnesota
There's no doubt in my mind that Montreal should try to re-sign Vanek, but I see him going elsewhere. Usually when a ton of teams are vying for a free agent's services during the off season, it's hard to predict where that player will end up. However, in Vanek's case, it's not overly difficult. Like many others, I'm predicting Thomas Vanek signs a 7 year, 52.5 million dollar deal with the Minnesota Wild.
The biggest reason why I think Vanek will decide to play for the Wild is his familiarity with Minnesota. After a season in which there was nothing but uncertainty for him and his family, going back to a place that he knows has to be the most attractive option for him. He played his college hockey at the University of Minnesota (where he won an NCAA championship), and his wife is from the Minnesota area (and happy wife equals happy life, right?). Along with his familiarity with Minnesota, the Wild are also on the verge of becoming Stanley Cup contenders as their roster has a solid mix of veterans (Zach Parise, Ryan Suter) and young players (Charlie Coyle, Jonas Brodin, Mikael Granlund), which is certainly appealing for a player that has never won a Cup before. The nail in the coffin is that Jason Pominville, his former teammate and pal from his time in Buffalo, plays for the Wild and is signed there throughout 2019.
Minnesota should have no issue paying Vanek big money either, as the declining Dany Heatley and his $7.5 million cap hit is set to come off their books this summer. They've got $24 million in projected cap space and they've already got 15 players signed to their roster. Unless GM Chuck Fletcher decides he'd rather keep Matt Moulson over Vanek, the money should be there to lock up Vanek to a long term contract.
Losing Vanek will be disappointing for the Canadiens and their fans, but the fact that he even got to play for Montreal is a gift in itself, as I never thought I would get to see him wear the CH. Luckily for Marc Bergevin and company, Montreal has a deep prospect pool that should help the team continue to grow offensively over the next few years, which will hopefully fill the void left by Vanek.
What's your take on Thomas Vanek? Am I wrong in thinking he won't re-sign with the Canadiens? Let me know in the comments below, or hit me up on Twitter: @jordanparhar. If you have any questions, or topics you'd like me to touch upon in a future article, feel free to email me at: truculenttalk@yahoo.ca.