The roller coaster ride, otherwise known as the Chicago Blackhawks season, has now added a twist that would make a Hollywood producer giddy. Patrick Kane's knee injury, suffered in last week's 4-0 triumph over St. Louis, leaves the Hawks without their star forward for the remainder of the regular season. So why are the Blackhawks taking this monumental blow to their production in stride?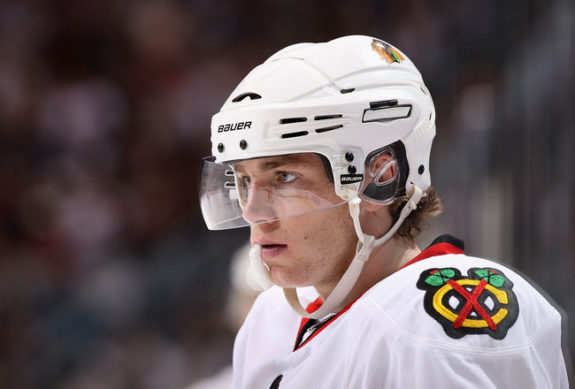 Blackhawks Taking Control Of Opportunity
After slipping to third place in the Central Division, the Blackhawks appeared to be in disarray no more than two weeks ago. The Hawks sputtered, dropping four of their first seven after returning from the Olympic break. But after dealing the Blues their first regulation loss against a division opponent, the Blackhawks have used contributions from the entire roster to climb within four points of first place.
"They know when to turn the temperature up," said Blues head coach Ken Hitchcock. "They're getting ready. This is March. This isn't December and January or the middle of the season. They're cranking it up to another level."
The Blackhawks win last night shows the importance of role players. The whole organization fulfilled their roles, from stars to grinders

— Dan Church (@dchurch73) June 25, 2013
But with Kane out for the Blackhawks' remaining 12 games, the Hawks will need contributions from the entire team if they want to continue their winning ways and recapture first place. Duncan Keith, a likely Norris Trophy candidate, sees the silver lining.
"He brings so many things to the table offensively for us," said Keith. "When you get guys like that out with an injury, you have to look at the positives from it, and the only positives come from other guys getting opportunities to play more minutes and develop their game a little bit more and get confidence going into the playoffs."
Ringing true to Keith's words, it's been the other guys who have stepped up when opportunity has knocked.
Andrew Shaw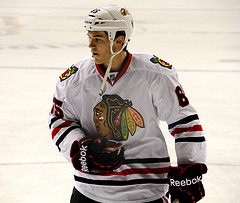 Although Kane assisted Duncan Keith's first period goal against St. Louis, it was the unsung heros who slammed the door shut in Chicago's statement win against St. Louis. Andrew Shaw's typical gritty style tipped the scales early, leaving his fingerprints all over Chicago's first two goals. Shaw's reckless abandon to safety, which often leaves him in front of the net, accounted for the Blackhawks' first two goals, as well as momentum that would be carried through for the rest of the contest.
"It just shows the character our team has," said Shaw. "We love the game, we love to play, you hate losing games. I know after last night (a 3-2 overtime loss to Philadelphia) a lot of guys were down and we brought that momentum and anger into tonight's game. It worked well for us."
Shaw not only screened Blues goalie Ryan Miller on Duncan Keith's blast from the point, he also re-directed a slap shot from Nick Leddy for his 18th goal of the season. The Blackhawks agitator ended the game with a total time on ice of 17:26, along with two minutes in the penalty box.
Ben Smith
Perhaps nobody will benefit more in Kane's absence than right winger Ben Smith. In just his first full season with the Blackhawks, Smith has given the Blackhawks 10 goals and 12 assists, along with three points in Chicago's last four games. The 25-year-old native of Winston-Salem has focused on nothing more than the opportunity at hand, adding a goal and his highest amount of regulation minutes (18:15) in his team's defeat of St. Louis.
"On this team it's tough to get those opportunities; there are so many good players," claimed Smith. "You never know with guys out with injuries and coming back, but all you can control is how you handle them. I'm just trying to do my best with them."
Duncan Keith praising Ben Smith. "He's had a great year all year but especially the last couple of weeks he's been good for us." #Blackhawks

— Tracey Myers (@Tramyers_NHL) March 22, 2014
Marcus Kruger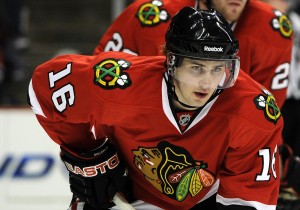 While Marcus Kruger's third period goal against St. Louis may have been dismissed as just an insurance goal that placed the icing on St. Louis' miserable night, it was certainly more than that for the former fifth round draft pick. Kruger's seventh goal on the season didn't just lament Joel Quenneville's 700th career win, but snapped a five game scoreless streak. Kruger's goal against the Blues also gave him 27 points on the season, a career high.
"Things have been working very well for Kruger this season as he has solidified the middle of the Hawks' fourth line that often is assigned with shutting down opponents' top lines. He has also been a bright spot on what has been a troubling penalty kill." — Chicago Tribune
Despite a minus-one rating in two of Chicago's last three games, Kruger's plus-10 rating on the season is due in large part to his defensive quality. Before a minus-one effort in last week's overtime loss to the Flyers, the 23-year-old Swede last turned in a negative rating on January 14th against Colorado. Defense and scoring aside, Kruger has been equally valuable in the faceoff circle. In 71 games with the Hawks, Kruger's 57.2 faceoff win percentage is sixth in the entire NHL.
"The overall position and also the mindset going into the faceoff. Of course, when it works for you, you get some confidence and you're feeling good about taking draws," Kruger explained. "You really want to be on your toes. It's important if you're playing in your own end and maybe their top line; you don't want them to get puck possession right away in your own zone. I try to take pride in that job."
The Usual Suspects
The Blackhawks wouldn't be the Blackhawks, however, without the rest of their accomplished stars. Captain Jonathan Toews has continued playing consistently, netting the game-winning goal against Carolina last week while on the penalty kill. It was Toews' third short handed goal of the season, tying him for third best in the league in that category.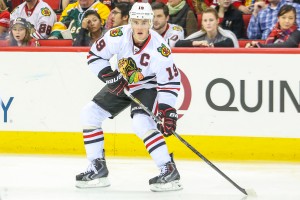 "I think now, I'm just trying to create more chances, thinking more like a goal scorer and going to those areas where I know pucks will be kind of just sitting there," said Toews. "It was frustrating there for a while before the Olympics where it felt like I wasn't getting the chances. Finally I would and sometimes you try to make the best of that one opportunity and it doesn't go in."
If Toews is thinking more like an offensive-minded player, the results certainly show. In Chicago's last 10 games, Captain Serious has recorded 11 points with a three point effort against Pittsburgh, and a two point game against Columbus.
Not be outdone, Patrick Sharp finds himself tied with the idle Patrick Kane for the team lead in points, tallying his 69th point on a goal in last week's victory over the Hurricanes. With 12 games to play, Sharp has already exceeded his career best in points, and sits just six goals behind his career best year in goals (36 in 2007-08).
"He makes it look easy. It's something we expect from him," said teammate Jonathan Toews. "He's a talented goal scorer, no doubt about it. It's good to see him get to 30 tonight; he's been trying to get it for a while. He's been playing really well the last couple of games. Hopefully he keeps filling the net."
Complimenting Toews and Sharp, the list goes on and on. Duncan Keith added a second 50 assist season to his quest for his second Norris Trophy. Corey Crawford is 5-1-0 in his last six starts, adding his second shutout of the season against St. Louis during that stretch. And Marian Hossa notched four points in his first two games back since missing 15 days due to an injury of his own.
Blackhawks Taking Advantage Of Kane's Absence
Now that Kane has been placed on IR, GM Stan Bowman avoided having to manipulate the salary cap to bring their top prospect, Teuvo Teravainen, to the roster. Before's Kane's injury, Bowman was facing the challenge of creating enough cap space to add Teravainen with the likelihood of backup goalie Antti Raanta being sent down to AHL Rockford.
"The problem now becomes how to fit his salary under the NHL Salary Cap. The Blackhawks have $52,489.00 in cap space available according to www.CapGeek.com . Teravainen's cap hit is $925,000.00 for the 2013-14 season, so obviously the Blackhawks will need to move salary to accommodate him barring the need for an emergency call up due to a long term injury. The only way that I can see the Blackhawks being able to do this would be to reassign goaltender Antti Raanta to the Rockford IceHogs and recall Jason LaBarbera." — SB Nation
#Blackhawks have slightly more than $800K in cap space with Khabibulin on LTIR. Only real option to gain more cap space is to move salary.

— CapGeek (@capgeek) March 4, 2014
With Kane on IR for the remainder of the season, Bowman and the Blackhawks have avoided this previous predicament, which keeps Raanta and his 12-3-4 record as Crawford's understudy. With Brandon Saad returning from a minor injury, and Bryan Bickell showing signs of coming to life, Joel Quenneville's squad appears to be finding their game at the right time. That's not to say their recent success has the Blackhawks taking Kane's injury loosely.
"Certainly he's a special player and we'll have to work our way through it, knowing what he brings to our team," said Quenneville. "It's definitely a huge loss for us, but we've been fortunate as far as not getting hit too hard. You're going to get tested at some point."
Patrick Kane certainly is a special player. And with the team moving on without him, the Hawks will surely be tested. The team is currently firing on all cylinders from top to bottom, which is enough to have the Blackhawks taking Patrick Kane's injury in stride.