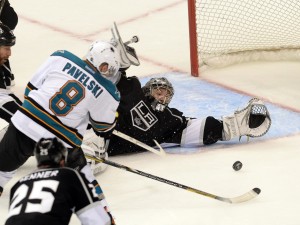 Those of you looking for a glimpse into a hockey writer's mind, be aware that when we're sober, we're a strange dichotomy of creativity and symbolic patterning. If he wasn't always running around just a bit too late to prevent yet another ritualistic murder, Robert Langdon would undoubtedly understand.
Sometimes our work falls in the category of factual data, such as this piece about the Stadium Series game in Los Angeles last January. In other cases, we perpetuate rumors. Another subset of articles are exhortations or opinions, and still others scrawling are in the category of player profiles.
No matter which category our work falls within, and despite the fact that we generally strive to remain as neutral as possible, occasionally what comes out of all the keyboard tapping is pure, unadulterated adulation. So that there's no confusion, I'm confessing right here and now: after yesterday afternoon's 4-0 victory at the Staples Center over the Florida Panthers, this Sunday evening piece is going to sound a hell of a lot like fanboy blathering about Jonathan Quick.
Quick stopped everything he saw — and a few that he didn't
Obviously, the Panthers aren't exactly the second coming of the 1976-77 Montreal Canadiens. However, they aren't bereft of talent, either. Brad Boyes has 18 goals, Nick "The Bug" Bjugstad has 14, and four others are in double-digits as well. Roberto Luongo has played well since his return to the Sunshine State.
They may be NHL professionals, but Quick made them all look like amateurs on Saturday. He faced 24 shots (the Kings are third in the NHL in fewest shots against) and turned aside every single one of them. He made a sprawling stop of Scott Gomez' shot at 18:47 of the first period, and a nifty save of Sean Bergenehim's short-side wrister near the end of the period. He made plenty of other excellent stops throughout the game.
A highlight-reel save on Tomas Fleischmann
One of the most amazing saves in the NHL this season came in the second period, with the Kings up 2-0 on the strength of first period goals by Trevor Lewis (5) and Mike Richards (10).
The Panthers were on the power play, courtesy of a delay of game penalty on Willie Mitchell. Brad Boyes sent the puck to the point to Dmitri Kulikov, who fired a shot that whistled past Quick and off the boards. The puck ricocheted to a crashing Fleischmann who, in a flash, flipped it backhanded on net. Quick dove to his left, opened his glove and caught the puck just before it crossed the plane of the goal line.
In case you didn't see it on the NHL channel or anywhere else, here is the replay. Enjoy.
https://www.youtube.com/watch?v=MQuxpSCikB0
It's hard to overstate just how good that save really was. Quick was out of position following Kulikov's shot, which sailed just to his left. The puck rebounded to the stick of Fleishmann who took the shot, and Quick simultaneously stacked the pads and covered the short side with his glove. He somehow managed to dive to his left to make the save, flopping on his belly after snagging the shot. Sea lions at Sea World aren't as agile.
I don't know how a human being can twist and bend the way he did in order to make that save, and yet somehow he did.
A record win for Quick
The game was a milestone for Jonathan Quick. With the shutout victory, he earned his 172nd NHL win, surpassing longtime Kings goaltender Rogie Vachon for the most in franchise history. Simultaneously, another team record was tied on Saturday. The Kings blanked the opponent for the 11th time this season, Quick recording five of those shutouts. This tweet says it all:
The Kings now have 11 shutouts this season, tying the club record set in 2011-12 (Quick 5, Martin Jones 3, Ben Scrivens 3)

— LAKingsPR (@LAKingsPR) March 22, 2014
Next up: the streaking Philadelphia Flyers
This afternoon, the Kings venture to the Wells Fargo Center to play the rampaging Philadelphia Flyers, winners of five in a row and eight of their last ten. Mike Richards and Jeff Carter return to the scene of six seasons of past glory, while Los Angeles hopes to extend its own modest winning streak to three games.
Given how good the Flyers have been, the Kings will need to bring their A game, as the bellicose crowd and hostile venue will make things more than a little challenging for the Pacific division's third-place team. Nevertheless, their chances certainly look better as long as the great Jonathan Quick weilds that big, omnipotent glove of his and continues to conjure up one miraculous save after another.
I warned you what kind of post this would be. I do a couple of these a year, just few enough so that even Robert Langdon wouldn't complain. He's pretty useless anyway.
Fanboy out.