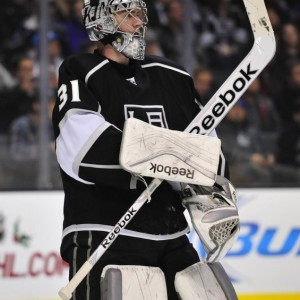 They've been a pair of goaltending outlaws, robbing shooters across the land during Jonathan Quick's extended recovery from a groin injury. One has a 1.66 G.A.A.; despite the aforementioned stat, the other has seemingly supplanted him as the number one netminder in Los Angeles during Quick's absence. It's not often that I write twice about the same subject just seven days apart, but this piece will be to be specific to Martin Jones, the "Kid" Curry to Ben Scrivens' Hannibal Heyes.
First-year goaltender Martin Jones paid his dues in the minors
When you're third on the organizational depth chart behind Jonathan Quick and (for most of his career) prized first-round draft pick Jonathan Bernier, you spend your share of time in the minors. That's exactly what Jones did, playing three-plus seasons for the Manchester Monarchs, the Kings' AHL affiliate. It's the minors, but his numbers were quite good: his lowest save percentage in one season was .919. He's a tall, lanky goalie, topping out at 6'4″ and a slender 187 pounds.
Hockey's Future had this to say about Jones in their latest talent analysis:
Jones is a large netminder that covers a lot of the net with both size and solid athleticism. He is good at puck control and gives up few rebounds. While consistency has been the main issue with Jones, he is starting to find more highs than lows as he has matured.
The Bernier trade and Quick's injury opened the door for Jones
For Kings fans, the Jonathan Bernier trade five months ago didn't shock anyone. Jonathan Quick had won a Cup just over a year earlier and had signed a long-term contract extension, relegating the former first round prospect to backup status for eternity were he to remain in Los Angeles. It was a little surprising to many, however, that the returns were only Matt Frattin, Ben Scrivens and a second round pick. Based on this report, now we know why.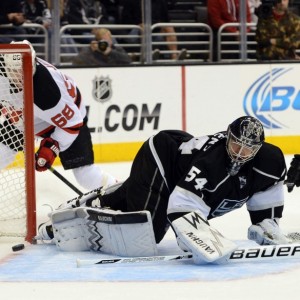 Fast forward to the present. Jonathan Bernier is doing well in Toronto, but the unintended consequences of the deal have been paying major dividends for Los Angeles. First up to the plate was Ben Scrivens, who proceeded to post a 7-3-4 record and a 1.66/.941 stat line in sixteen games, raising his market value were the Kings to test the trade market for the impending unrestricted free agent.
Second was the incredible debut of Martin Jones. Of course it's a small sample size, but after surrendering just one goal in a dominant 4-1 victory over the division-rival Sharks, his G.A.A. went up. Jones now has three shutouts in eight starts.
It pays to be good. It also pays to be lucky and good. I'll let you be the judge as to the percentage of each on this save against San Jose:
Jones ties an NHL record with his 8-0 start
Patrick Roy didn't do it. Dominik Hasek never approached it. Ed Belfour couldn't accomplish it. Martin Jones tied Bob Froese's NHL record for most wins to start an NHL career in a single season, and is within one win of Ray Emery's overall record.
His play has made both the opposition as well as teammates take note.
P.A. Parenteau: "I think he's got a great future in the NHL for sure. He looks really good."
Anze Kopitar: "He's been great. I don't know how many times I've said this before, he's given us a chance every night, and that's all you really wanted.
There's more, but you get the picture. He's been nearly perfect so far, while at the same time projecting a calm, consistent, unflappable personality in net. Could he be a flash in the pan? Sure, of course. Based on his seasoning in the minors and performance on the ice for L.A. so far this year, however, it seems more likely that the Kings have caught the proverbial lightning in a bottle.
Big decisions about both Jones and Scrivens are coming
Jonathan Quick has been injured since the Sabres game on November 12th, but is making progress. Given how strong Jones and Scrivens have played so far, it would seem highly unlikely that the team would be in a rush to get him back on the ice.
Having said that, when Quick does return, that will leave the Kings with questions that need to be decided. Do they trade Scrivens — and if so, how much of a market will there really be — and keep Jones as the backup, or send Jones back to Manchester and pencil him for the backup slot next year? What if Jonathan Quick and his $5.8 million cap hit are outplayed by Jones and/or Scrivens and their roughly $500,000 cap hits apiece?
It may be a tad uncomfortable to work through, but in the end it's a good problem to have. And now, for those of you who have never seen it, the opening of the 1970s western that inspired the title. It's kind of cool.