In what was a familiar sight for North Dakota fans, Grand Forks natives Jocelyne and Monique Lamoureux were nothing short of spectacular on Friday night in what may have been their final game at Ralph Engelstad Arena.
The twins, who wrapped up their playing careers at the University of North Dakota last season, helped lead the United States to a 4-1 win over Canada in pre-Olympic exhibition action.
"Just being back home, we couldn't have asked for a better game here," Jocelyne said after the game. "It might be the last time Monique and I ever get to play at the Ralph so we couldn't have asked for more."
"To be able to come and win 4-1 in our home rink was pretty big for us and this game was huge for us as a team," Monique said. "And to come out on top especially with how physical it was and for us to capitalize on our opportunities was huge."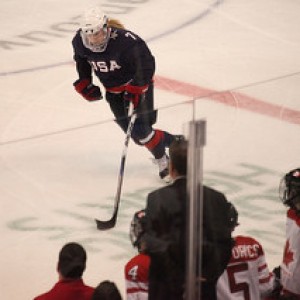 The Lamoureuxs spent three years at North Dakota after transferring from Minnesota after one season. They each had outstanding collegiate careers; Monique ranks second in the WCHA all-time and third in the NCAA all-time with 265 points in 149 games, while Jocelyne is the WCHA's career points leader with 285 points in 149 games, and is second all-time in the NCAA. Both were named First Team All-Americans in 2012-2013.
"To get [the win] here is bittersweet for us. It's probably the last game Joce and I will play in the Ralph," Monique said. "It's awesome being home, everybody's been so supportive, and I can't even express how appreciative we are of the support we've gotten since we've been home."
"This place is home for Monique and I, and this community means a lot to us, so to be able to share that with our family was nice," Jocelyne said.
Each finished the night with one goal and one assist, with Monique being named the Player of the Game afterwards.
"I thought they were spectacular," head coach Katey Stone said of the twins' performance. "What a great night for them. They were on their toes, they saw each other well. It was almost like they never left this building.
"They have a lot of great energy and memories here and so I couldn't have been happier for them to have the kind of night that they had."
U.S. forward Meghan Duggan has been playing on a line with the Lamoureuxs of late.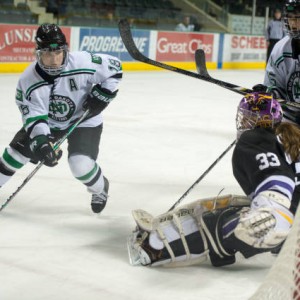 "I've played with Joce a handful of times this year, and just in the last little bit the two of them and myself have been put together," Duggan said. "They're dynamic players, they make things happen, they're smart with the puck, and I've been enjoying it."
One of the highlights of the game was the Grand Forks crowd. 5,559 fans were in attendance, many of them young girls with the same big dreams as the players they were cheering on.
"It's great. They have an opportunity to see what potentially could be their dream in who knows, ten, fifteen years," Stone said. "I was shocked by how loud the building was, really. At one point it was going through me. I kept feeling like the thunder was going through me a little bit too."
"I remember, when I was little, coming and watching. I remember being like, 'Yeah, this is where I want to be, this is what I want to do,'" Jocelyne said. "So if I can do that for someone else, if our team can be that inspiration for these young girls that came out, then that's pretty cool I think."