It was a sentence many of us were unwilling to hear – Not with this team. Not with this core. And for Heaven's sake, the window has not closed. So, when Sharks General Manager, Doug Wilson uttered those words on March 25, 2013, – "reset and refresh" many-a-Sharks-fan cringed. If they weren't cringing yet, they certainly were by April 3 (D-Day 2013), when the grand "refresh" Wilson had in mind was announced.
We had acquired Raffi Torres from the Phoenix Coyotes.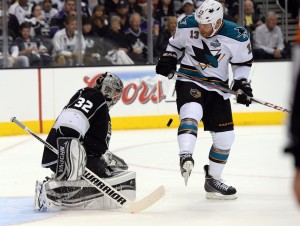 There's an old Biblical verse that says something like, "Whoever is not with me is against me…," and that had turned out to be the case for Torres. Prior to a (insert eye-roll here) controversial Playoff suspension, Torres seemed to revitalize the Sharks, who were streaking along in the late season homestretch. In the month leading up to the Torres acquisition, San Jose finished with a record of 9-8, with 3 of those wins coming in the shootout. Tired and aging and we get… Torres? He's going to be the spark for us?!
Well, turns out, Doug Wilson knows what he's doing. Torres did in fact spark the Sharks. The win/loss column looked much the same for the end of the season but the energy, that palpable energy, that I could nearly feel through my television set gave the fans a whole new outlook on the season. Torres? Sure, we hated him, but hey, wouldn't you rather be on the same side?
Flash forward to the recent 2014 deadline. Nobody was quite aware of what Doug Wilson had up his sleeve. There were rumors regarding Boyle, Vanek, Callahan, and even Niemi (really, guys?), but Wilson stood pat. As a matter of fact, for the first time I can remember, the Sharks made no major movements at the deadline.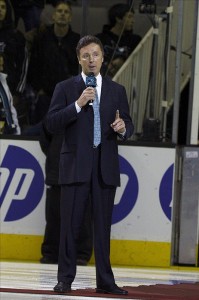 The train of thought here was that we'd have our injured guys coming back, which would create the same type of "new guy" experience that a trade would bring in. Logan Couture's hand was healed, Burish was healthy, Brown was good to go, Havlat was available and that other piece, that Raffi Torres piece, was set to make his debut for the season.
Being sidelined for months after signing a lengthy new contract extension can be grueling, and if anyone knows that, it's Torres, who underwent his second surgery to repair a ligament in his right knee, coincidentally, after having signed a 3-year extension with the Sharks. (For those of you keeping track at home – Yes, the same thing happened with him in Edmonton.) He made no promises to the press, warning that an encore performance should not be anticipated by fans.
And then he came out and put up 5 points in 5 games. He's been resting his leg a bit ("out with general soreness") but don't let that fool you. With the spark of Torres' undeniable energy, the Sharks have done anything but rest, catching up to a first-place Anaheim team that was expected to take the division without a doubt before the Olympic break. What started off a year ago as a "reset and refresh" in Doug Wilson's mind has the makings of a "reclaim [the Pacific] and remind [the world that the Sharks are the only team besides the Red Wings to make the Playoffs every year since the locked out season]" and perhaps even a "rejoice," as Lord Stanley's silver Cup is slowly coming within reach. Notice that "R" also stands for "Raffi"? Because I'm thinking that's no coincidence.