The Ontario Hockey League has officially welcomed its newest crop of insanely talented players.
Taking place on Apr. 7, the 2018 OHL Priority Selection ascended the likes of Quinton Byfield, Evan Vierling, and Jamie Drysdale to the next level of their hockey careers. However, the day was not without its fair share of surprises, as the Peterborough Petes selected Will Cuylle despite his refusal to play for the team while the Saginaw Spirit nabbed University of Michigan commit Cole Perfetti fifth-overall.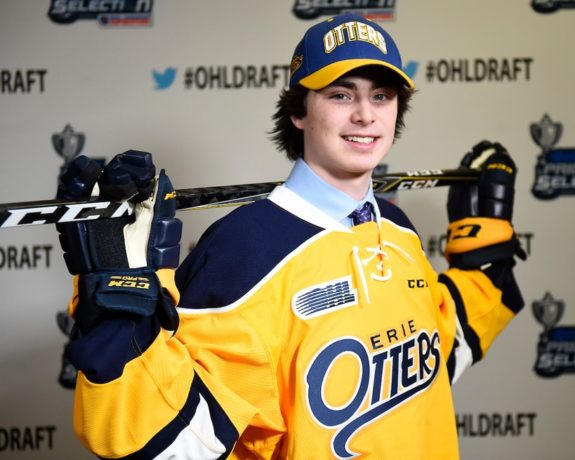 One team who did not shock on draft day, however, was the Mississauga Steelheads.
Boasting the eighth-overall choice in the event, the Steelheads quickly nabbed wildly promising forward James Hardie — a natural goal-scorer and winger of seemingly endless upside. From that point on, Mississauga focused on improving their offensive depth, drafting ten forwards and just four defencemen with their next fifteen choices including William Portokalis from the Don Mills Flyers.
So, how will the Steelheads' excellent choices in the 2018 OHL Priority Selection influence the franchise in the near future?
Let's take a closer look.
5 New Steelheads Stars
James Hardie
Drafted: 1st Round, 8th Overall
Position: Left-Wing
In Hardie, Mississauga drafted a promising if not elite young forward who will undoubtedly don a Steelheads jersey to begin the 2018-19 OHL campaign.
Boasting solid size, skill, and speed, Hardie is a complete player who competes to the fullest of his abilities on a nightly basis. As a strong skater of ample speed, Hardie uses his edges well and, as a result, is fairly difficult to knock off of the puck. As he continues to age and gains greater experience in the OHL, Hardie's increased size and strength should allow him to manhandle his opposition en route to the net.
However, it is Hardie's offensive talents which have come to define his game.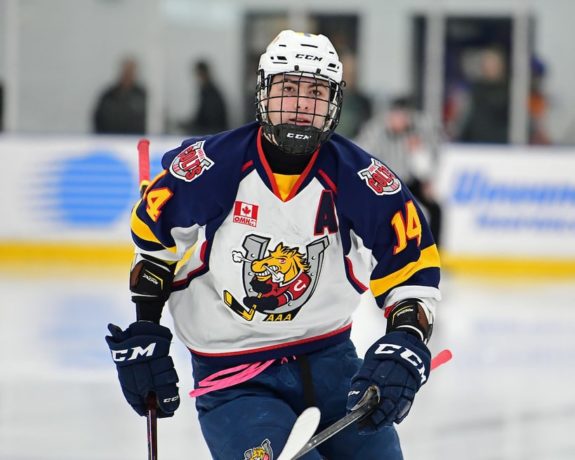 Of excellent vision and the ability to see teammates in his periphery, Hardie can pass the puck quickly or wire a shot on net in the blink of an eye. In fact, it is Hardie's shot which has long drawn the ire of opposing goaltenders, as it has the ability to overpower and create rebounds in the process. Heck, Hardie managed to pot a whopping 41 goals in just 34 games played during the 2017-18 season — a glaring indication of his stunning lethality.
In all, Hardie should enjoy a quick and seamless transition to the OHL-level in 2018-19.
William Portokalis
Drafted: 2nd Round, 39th Overall
Position: Centre
Although Portokalis is a strong offensive player, there is much more to appreciate with respect to his game than simply his overwhelming presence on the scoresheet.
Yes, he scored 81 points in 63 games played with the Don Mills Flyers last season. However, it is the energy, passion, and drive with which Portokalis plays the game which has long indicated his potential value at the OHL-level. Best defined as a two-way player, Portokalis is a responsible defender who prioritizes his own zone. Once in possession of the puck, Portokalis blazes the way to his opponents' zone where the product of Mississauga, Ontario is remarkably lethal.
While he may not boast the high-end skill of Hardie, Portokalis remains an incredibly capable player and one who should be able to provide the Steelheads with crucial depth scoring next season.
Joe Ranger
Drafted: 4th Round, 63rd Overall
Position: Goalie
Although Mississauga owns a capable starting goaltender in Jacob Ingham as well as a quality prospect in Matthew Dunsmoor, the franchise did not hesitate to select Joe Ranger with their fourth-round choice.
Standing 5-foot-11 and weighing close to 200-lbs, Ranger is a highly athletic goaltender whose game is founded upon explosive movements and lightning-quick reflexes. Well-known for his aggressive play and positioning, Ranger loves to challenge opposing shooters and has worked tirelessly to improve his technical abilities.
With our fourth round pick, we've selected our first goalie of the #OHLDraft! We are thrilled to select Joe Ranger from the Carleton Place Canadians! #FearTheFutureFish pic.twitter.com/7umpRgPOuJ

— Mississauga Steelheads (@OHLSteelheads) April 7, 2018
During his 2017-18 season, Ranger protected the pipes for the Carleton Place Canadians. In his 22 games played, Ranger compiled a 2.93 goals against average (GAA) and .908 save percentage (SV%) — two respectable totals given the fact that Ranger's team finished last within the Hockey East Ontario standings.
Given his proven ability to battle in tough situations and remain focused in the face of overwhelming competition, Ranger could push for a place within the Steelheads' opening night roster to begin the 2018-19 OHL season.
Devlin O'Brien
Drafted: 5th Round, 88th Overall
Position: Left-Wing
The fact that Mississauga was able to nab Devlin O'Brien in the fifth-round of the 2018 OHL Priority Selection is mind-boggling.
All throughout the 2017-18 GTHL season, O'Brien was a consistent offensive force. Earning substantial playing time with the Mississauga Reps, O'Brien became the driving force behind his team's lethal attack, scoring goals at-will while also standing as an excellent play-maker. In fact, O'Brien tallied 26 assists in addition to his 21 goals scored, all of which coming in just 33 games played with the Reps.
What makes O'Brien such a successful player — in addition to his raw talent — is his competitive edge. Never willing to back down from his opposition and determined to facilitate success at any cost, O'Brien can create offence from broken plays and can formulate opportunities by himself owing to shifty yet powerful skating and underrated offensive instincts.
Carson Whitson
Drafted: 12th Round, 228th Overall
Position: Right-Wing
Carson Whitson is one of the 2018 OHL Priority Selection's most under-appreciated players.
And, to this point, he could very well become one of Mississauga's most electric talents.
Standing 5-foot-6 and weighing 125-lbs, Whitson's lack of stature undoubtedly scared away the vast majority of league franchises. When it comes to the OHL-level, incoming players must be able to handle to strength and intensity of their opposition, as the ability to do so dictates the amount of success which a young player will ultimately capture.
We have two picks in the 12th round and with our first we've selected Carson Whitson from the Central Ontario Wolves! #FearTheFutureFish pic.twitter.com/4rO8e6eQUw

— Mississauga Steelheads (@OHLSteelheads) April 7, 2018
However, in the case of Whitson, the youngster boasts the proven ability to achieve vast offensive success despite his slender build. In fact, Whitson netted 20 goals and 50 points in his 34 games played for the Central Ontario Wolves this season, indicating his ability to thrive in the face of a perceived personal deficiency.
So, if Whitson can dominate his minor midget age group, could the native of Uxbridge, Ontario not do the same at the next-level?