As is the case for any sport, proponents of women's hockey want to be "in the know" as to who the up-and-comers of their game will be. Women's hockey turned the world on its ear at the 2018 PyeongChang Winter Games. It was easily the most popular event at this year's Games. Instilled with a new found appreciation of the sport, many fans could not get enough and carried their interest in the women's game over to both the NWHL and CWHL as those leagues wrapped up their respective seasons.
While the United States and Canada remain the powerhouses in the women's game, the bronze medalists at the '18 Winter Games – Team Finland – were equally as rich of a story. One that was also filled with exciting players to rally behind. North American fans were perhaps most familiar with Finnish goaltender Noora Räty and skater Annina Rajahuhta who each competed in PyeongChang and played this season with the CWHL's Kunlun Red Star. It is good parity for women's hockey to have a bit of crossover from Finland's Naisten Liiga and into the North American leagues.
This furthers the case of needing to be "in the know" of the future stars for women's hockey and to be so globally. THW would like to introduce you to a young Finn who is one of those up-and-comers. At the time of her interview, she is only 16 years old. Please meet Kiti Seikkula.
Hockey Is Widespread in Seikkula's Family
Even at 16 years of age, Seikkula is already playing in the top women's league in Finland as a forward for HPK Hämeenlinna. Some of her teammates are close to twice her age, and yet she has still managed to more than hold her own during the first year. But hockey is something that Seikkula has done all of her life, so it is not as if she is in unfamiliar territory.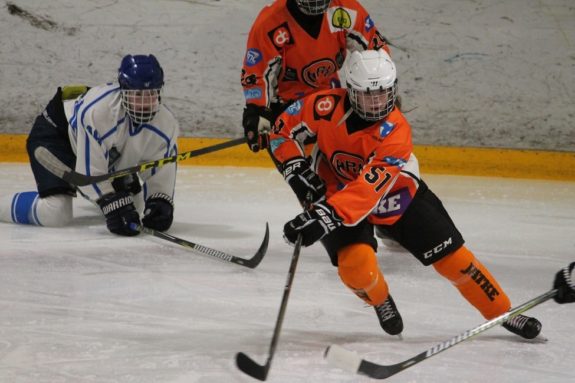 "The first time I was on skates was when I was 2 years old," she told THW. "Hockey has always played a big role in my life. I guess you could say that hockey is in our family. My uncle won the World Junior Championships in 1998, and my father has played and coached as well. Both my twin sister and little brother are playing too."
Seikkula's uncle is none other than Timo Seikkula, a former ninth round selection of the Pittsburgh Penguins back in 1996. Timo Seikkula is also a World Junior Championship gold medalist from the 1998 tournament held in Helsinki and Hämeenlinna, Finland. Some of the other players on that squad became household names, and include the likes of Olli Jokinen, Niko Kapanen, Niklas Hagman, and Niklas Bäckström.
Suffice it to say that Seikkula comes from a solid pedigree for hockey.
A Home in Kauhava and a Hero in Kalajoki
Seikkula's hometown is Kauhava, Finland. It is located on the more western portion of the country, and has a population of over 16,000 residents. Hockey in its purest form has long been played on outdoor rinks, and this is certainly part of Seikkula's upbringing with the game as well.
"Kauhava is a relatively small village with metal industry companies and lot of agriculture," Seikkula explained. "We have good facilities to play hockey in our city, but during the winter time, we also have the traditional outdoor rinks where the kids can play. Hockey is definitely one of the most popular sports in my hometown."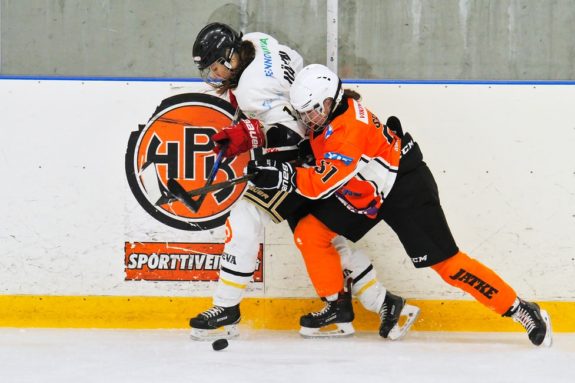 Just over a two-hour drive up north to the town of Kalajoki is where Seikkula's favorite hockey player has competed for nearly two decades. Asked if she has a particular hockey player whom she admires or considers a hero, she responded:
"Yes I do. He is Henri Mustonen, who is a great player for JHT in Kalajoki. He was the first player to reach 500 matches in Suomi-sarja here in Finland."
Suomi-sarja is the third highest level of men's hockey in Finland. Mustonen has played for the team for the majority of his career since the 1998-99 season. It is not hard to fathom either why Seikkula admires him so. In 518 games in Suomi-sarja, Mustonen has scored 313 goals and 355 assists for 668 points.
Seikkula Comes to HPK
Now if we venture south a bit from Kauhava – oh, roughly over three hours or so – we find ourselves in Hämeenlinna. This is where Seikkula and her twin sister, Heta, who is a defender for HPK, decided to play hockey in the top women's league in Finland.
"My sister and I decided to see where we could go as hockey players," Seikkula explained. "There were a couple of teams who showed interest in us last spring. HPK offered a good package for us together, to play hockey and study at the high school in Hämeenlinna. So, it was pretty easy to join HPK."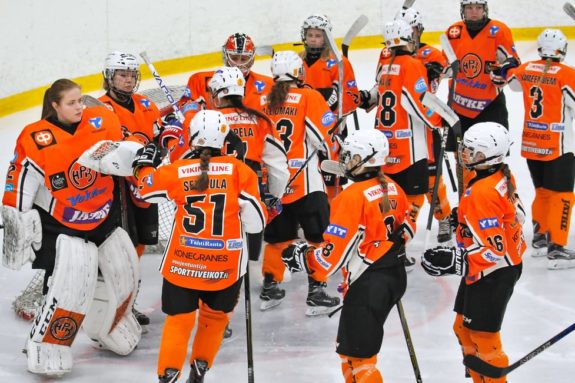 During 2017-18, the Seikkulas and their teammates helped lead HPK to a fourth place overall finish during the regular season with a record of 16-10-1-3. This record was good enough for 53 total points in the standings. While HPK scored the third fewest amount of goals in the league (87), they also gave up the third least amount too (66). In fact, the goals they did allow were just four more than what the championship winning Kärpät allowed.
Perhaps more importantly though, Seikkula enjoys where she plays and feels quite at home. Asked what she likes best about playing for HPK, she shared:
"I like that we have a lot of training, and I have a possibility to play women's hockey at the highest league in Finland."
A Most Successful First Season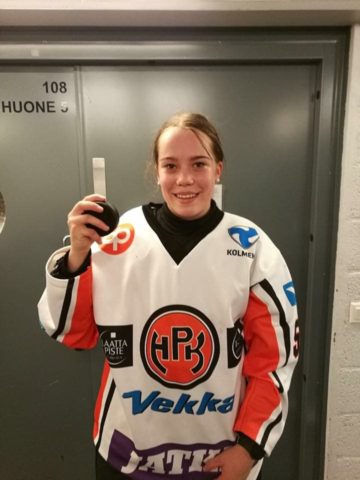 In the process of interviewing Seikkula, THW also took the opportunity to speak with HPK's assistant coach, Maija Hassinen-Sullanmaa. A former goaltender who was a 2006 Olympian and a three-time Women's World Championship bronze medalist, Hassinen-Sullanmaa is about as sharp as they come in the world of women's hockey, particularly in Finland. She also had nothing but praise for the young Seikkula.
"Kiti is very nice young lady and very smart," stated Hassinen-Sullanmaa. "This season was Kiti's first season in HPK Hämeenlinna and the women's league. Kiti's rookie year was very good, she usually played center in our second line and got lots of time on ice and responsibility."
Reminding you that she is just 16 years old, Seikkula had an incredibly successful first season with HPK. Scoring five goals and 11 assists in 30 games, her 16 points were tied for third most overall on the team. Better yet, despite HPK's quarterfinal loss in the playoffs, Seikkula was the team leader in postseason points. Her two assists in three games made her the only multi-point player for HPK in the playoffs.
"Kiti understands the game very well," Hassinen-Sullanmaa would go on to say, "she has very good skills. Kiti can keep the puck under pressure or with limited time and space. Kiti is definitely a future player for women's hockey and the Finnish national team."
For as much time as Hassinen-Sullanmaa played for the Finnish national team herself, she is an expert on the type of player it takes to make the team. Seikkula definitely has what it takes.
Experience at Women's U18 World Championships
Seikkula certainly exudes the sentiments of her coach. Playing for the women's national team is a very attainable goal for her, and one that she will likely achieve over the next few years. By the time the 2022 Winter Games of Beijing come around, Seikkula may have even earned a roster spot for the Finns. She views such an opportunity as a potential means for opening other doors for her, including the combination of both academics and hockey.
"I would love to play in the Olympic Games someday," Seikkula told us. "I would also like to combine hockey and my future studies somehow. Perhaps, that could happen in North America."
It's not as if she doesn't already have international experience either. Seikkula has competed for Finland at two Women's U18 World Championships, including 2017 in the Czech Republic and most recently at the 2018 games in Russia. In Dmitrov, Russia, Seikkula's two tournament goals in five games were tied for second most on the team, just behind her HPK teammate Julia Liikala's three markers.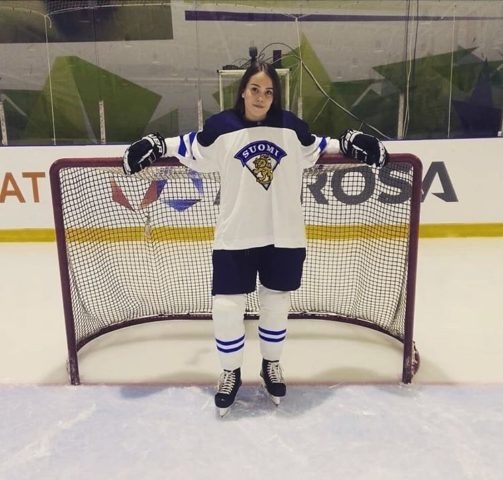 "It has always been a dream of mine to wear the lion jersey," Seikkula went on to say. "That dream has now become true a couple of times. I think it has been a privilege for me to represent Finland."
Seikkula has even had a bit of fun with the experience too. Not only did she score her first international goal at the Russia tournament too, but she also helped her team win a bet with the Finnish team's general manager. When THW asked Seikkula what her favorite moment of the tournament was, she responded with a grin:
"My first goal at a World Championships. I saw that our team was very consistent, and all players had the same goal as the team. I also remember that we made a bet with our GM for ice cream and he lost it – greetings to Sipi!"
It Is All a Matter of Commitment
Even at the tender age of 16, Kiti Seikkula is very much self-aware of her own game and what she brings to the table. Confidence in its truest sense is admirable. It is especially pleasing to see in a young person, who although she has the talent to back it up, does not come across as boastful. Seikkula is strong of both mind and character, not to mention physically powerful too.
"I´m pretty good with skating," she explained as she analyzed herself. "I can control the game, and I can also be strong-minded. Even though we are not allowed to hit in women's hockey, I still see the need for more power and muscle to become a better player."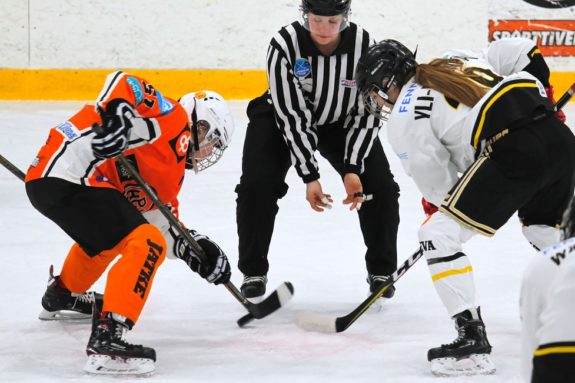 So how does a hockey player of Seikkula's age and skill set continue to build her game and become a key contributor to both her club and her country for years to come? According to this young lady, it all comes down to one word.
"Commitment," she stated firmly. I have given a lot for hockey, but hockey has given even more back to me."
Wise beyond her years, this is typically how the best and most meaningful aspects of life work. The more you put into it and the bigger the wholehearted commitment, the dividends received in return are all the more worthwhile. Fantastic work so far, Kiti, and we know the best is yet to come.