Are you familiar with the Olympic Creed? You ought to be, as it can be applied (and perhaps should be) to all walks of life. If you do not know the words, they are simply this:
"The most important thing in the Olympic Games is not to win but to take part, just as the most important thing in life is not the triumph but the struggle. The essential thing is not to have conquered but to have fought well."
There have been numerous star performers since the inception of women's hockey at the Winter Olympics at the '98 Nagano Games. You know the major names – Granato, Wickenheiser, Botterill, and up to today's stars like Spooner, Kessel, Knight, and Poulin. As in any sport though, there are those vital cogs in the women's game that get overlooked. Those players who when they get brought up in discussion cause responses such as, "Oh yeah, I remember her" or "Yeah, she really helped them to medal that year".
A part of you wishes that there were an "Unsung Hero/Heroine" award every four years that is bestowed upon the necessary role players who may have otherwise become forgotten. Especially over the past 20 years having gone by. The ones who may not have conquered, but fought well. Their struggle to compete is what makes them important to remember. Important to recognize and honor.
In the spirit of such an award, THW takes a look at 10 Olympians in women's hockey who are worthy, unsung heroines in their sport:
#10 Danijela Rundqvist, forward (Sweden)
Danijela Rundqvist is a three-time Olympian for Sweden. Her first Winter Games came in 2002 in Salt Lake City, Utah, USA. At the time she was just 18 years old. Although she would go pointless in five tournament games, Rundqvist would be the only member of Team Sweden to be a plus-player by the end of the Games. The Swedes as a whole would go on to win the bronze that year.
When the '06 Torino Games came around, Rundqvist and Sweden would pull off the unthinkable by defeating the United States in a semifinal shootout. Though they would lose to Canada in the gold medal game, this would mark the only time in Olympic women's hockey history that a team other than USA or Canada would take silver. Rundqvist would again go pointless but played a very robust tournament. She would be second overall for Sweden in penalty minutes with 10. At 5-foot-10 and more than 160 pounds, Rundqvist always had great size during her playing career.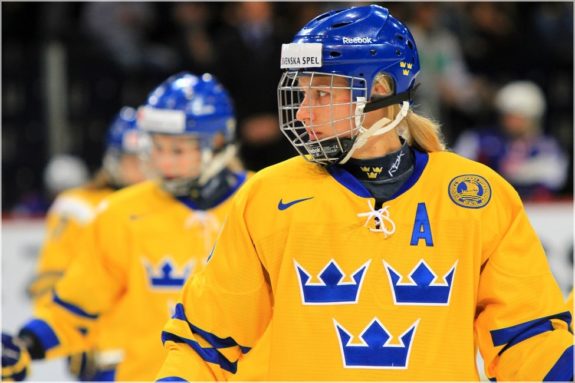 Her final Olympics would be 2010 in Vancouver. This would be the only Games that Rundqvist did not medal. She would however score her first Olympic points. In five tournament games Rundqvist scores two goals. None was more important than her game tying goal against Finland in the bronze medal game to send it to overtime. Unfortunately for Rundqvist and Sweden the Finns would score in OT to win the bronze.
#9 Lisa Chesson, defender (USA)
The current NWHL Buffalo Beauts defender has continued to have a very successful hockey career now into her early-30s. Last year she won an Isobel Cup with the Beauts, making her one of the few players in the sport to be an NWHL champion and an Olympic medalist.
At the '10 Vancouver Games Chesson played brilliantly on defense. She did everything but win the gold, as USA would fall to Canada 2-0 in the deciding and final game of the tournament. Even as a defender, Chesson was still a point per game player for USA. In five games she scored two goals and three assists. Both of her goals came in the opening round – one each against China and Russia.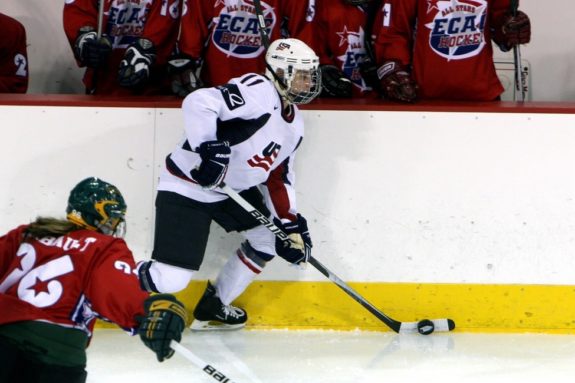 What truly spoke to Chesson's play in 2010 was her plus-12 for plus/minus rating. That was second overall for USA, and placed her in the top-10 in that category for all countries. Chesson excelled at both ends of the ice for her team and received a silver medal for her performance.
It is hard to fathom that 2010 would be Chesson's only Winter Olympics to date. But with so many elite defenders for USA to select from, it is certainly a difficult decision. Someone is always going to have to be excluded at some point. Separately, Chesson will forever be an Olympian, and her play in Vancouver is why she makes our list.
#8 Alexandra Vafina, forward (Russia)
With the 2018 PyeongChang Games well under way it is surprising that Alexandra Vafina was not called upon to be part of the Olympic Athletes of Russia contingent. Even with the Russians going with more of a youth movement at this year's Games, Vafina is still only 27 years old and brings prior Olympic success for her country. While Russia has never won an Olympic medal for women's hockey, Vafina would have proved beneficial to have in their fold for South Korea.
Besides all that, she has long been a very talented forward who is both a smooth skater and a finisher. North American schools thought highly enough of her that Vafina attended college and played hockey both for the University of Minnesota-Duluth and at the University of Calgary. Currently she is playing in the Russian Women's Hockey League (WHL) for Agidel Ufa. (NOTE: WHL is anglicized from Женская хоккейная лига (ЖХЛ.)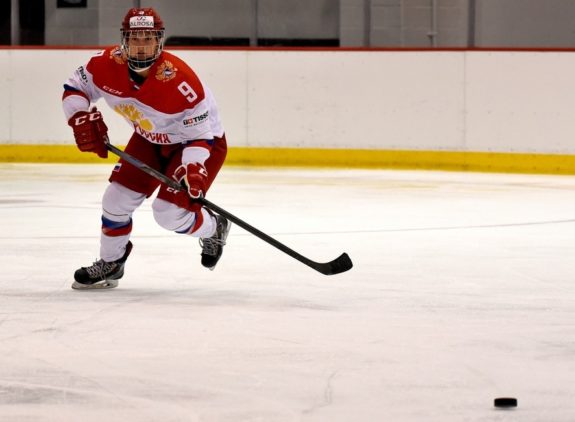 Vafina's Olympic performances are why she has made our list. She represented Russia at both the '10 Vancouver Games and the '14 Sochi Games. In Vancouver she scored Russia's first goal of the Games – a power play tally against Finland. At the Sochi Games she would help Russia finish at the top of Group B with three straight wins against their competition. Vafina scored the game-winning goal – a shorthanded goal at that – against Japan in a 2-1 victory for Russia.
#7 Maija Hassinen-Sullanmaa, goaltender (Finland)
At the 2006 Torino Games, Finland's goal crease was shared between their current star goaltender Noora Räty – who was all of 16 years old at the time – and 22 year old Maija Hassinen-Sullanmaa. The duo would backstop Finland to a fourth place finish at the Games with each goaltender getting a shutout in the opening round. Hassinen-Sullanmaa handled the majority of the games and played respectably well all tournament.
In four games played at Torino, Hassinen-Sullanmaa posted a 3.38 goals against average and a .875 save percentage. Those numbers came while making 77 saves within the four games. Furthermore, she shutout Germany 3-0 while making saves on all 24 shots. That would be Finland's first win of the tournament and it would get the ball rolling in pursuit of a medal. They would fall short but still put forth an inspiring Olympics. Having young and enthusiastic goaltending certainly helped matters.
"Maija Hassinen-Sullanmaa: Stellar Goaltending" #IIHF @Pallokerho @Nooraty41 @Minnijuliaa https://t.co/GH70uUWGhU pic.twitter.com/HGWJWqDYbC

— Nathaniel A. Oliver (@NathanielAOlivr) March 25, 2016
Keep in mind too that Hassinen-Sullanmaa faced USA twice – once in the opening round, and then again in the bronze medal game. In 2006 there was still great disparity in women's hockey between USA and Canada, and the rest of the world. For the bronze medal game against the USA, she came in to relieve Räty after USA went up 4-0. Hassinen-Sullanmaa would not allow a goal for the rest of the game, and turned aside all nine shots she faced.
2006 would be Hassinen-Sullanmaa's only Winter Olympics, but she continued to have a very successful international career and one in her homeland as well for HPK Hämeenlinna.
#6 Venla Hovi, forward (Finland)
PyeongChang is Venla Hovi's third Winter Games representing Finland. Already a bronze medal to her credit from 2010's Vancouver Games, she is looking to add one more (at least) to her trophy case. Hovi is 30 years old, and it is not out of the question that she could play in a fourth Olympics after PyeongChang. After all, her teammate Riikka Välilä is 44 years old, is presently leading the Finns in scoring in South Korea.
Hovi's first Olympics were those 2010 Games. At the tournament she scored two goals in five games, and was one of only four Finns to be a plus-player at the end of it all. Her goal against China in the opening round was the game-winner in a close 2-1 victory.
Bison WHKY fourth year player Venla Hovi adds an assist during 7-2 Team Finland win over Sweden…she already scored a goal earlier in 2018 Winter @Olympics …now in her 3rd Olys appearance

Finland now plays semi-final game vs USA on Sun., Feb. 18/18 at 10:10 pm CT pic.twitter.com/NsIblSCxKV

— U of Manitoba Bisons (@umbisons) February 17, 2018
She has continued to score at least one goal in the two Winter Games since. At PyeongChang, Hovi scored Finland's first goal of the tournament in a opening 3-1 loss to the United States. She has since added an assist on a Petra Nieminen goal in a quarterfinal 7-2 victory over Sweden. With that victory, Hovi and the Finns are in medal contention but still have to either garner a semifinal or bronze medal victory in order to take one home. By the time PyeongChang is said and done, Hovi may no longer be as unsung if she puts forth any more heroics.
#5 Viona Harrer, goaltender (Germany)
At the 2014 Sochi Games Viona Harrer's numbers were the second best of any goaltender to have played at least three games in the tournament. This would be her one and only Olympic Games. The Germans would play to a sixth place finish, ahead of Japan and a disqualified Russian team. Harrer played in three of her country's five games and did admirably well.
In the first game of the tournament she stopped 33 of Russia's 37 shots in a 4-1 loss. Harrer then turned aside all 30 shots that were put her way by Japan, as she and the German team won by a score of 4-0. Her final game in net would also be against Japan to decide seventh place for Sochi. Once more Harrer came up with the win as Germany defeated the Japanese 3-2. She steered aside 27 shots in the process.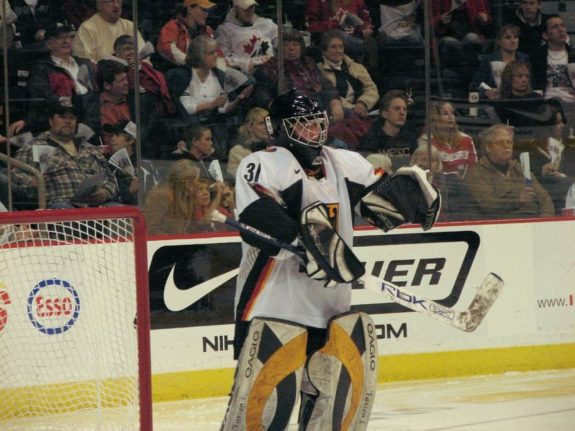 For a goaltender to have a 2-1 record in her only Winter Olympics is a fairly nice record to be remembered by and to have in the record books. Additionally, Harrer came away with an impressive 2.00 GAA and a .938 SV%. Such a performance puts this German netminder on our list.
#4 Vicky Sunohara, forward (Canada)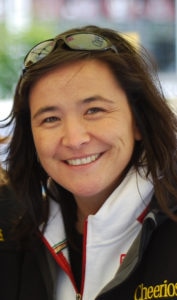 Canadian forward Vicky Sunohara scored and scored well at all three Olympics that she competed in. She was one of the pioneers of women's hockey at the Olympics, and she represented Canada for the first time at the '98 Nagano Games. It is hard to believe that enough time has gone by that now Sunohara is in her late-40s. In addition to Nagano when she won silver, Sunohara also proudly competed at the '02 Salt Lake City and '06 Torino Games. To put it simply, she was a staple for Canadian women's hockey for nearly two decades, having played in World Championships too from 1990 up through 2007.
At the Olympics is where Sunohara was arguably at her finest. At Nagano she would scored a goal and three assists in six games. Salt Lake City would be her best performance of all, as Sunohara potted four goals and two assists in just five games. Her final Olympic performance came at age 35 when Canada would win their second gold medal at Torino. At those Games, Sunohara scored her final Olympic goal and would add on two assists in five games. Her final Olympic point came in the semis against Finland when she picked up an assist on a Caroline Ouellette marker.
In 16 career Olympic Games, Sunohara finished with six goals and seven assists for 13 points. At one time she was one of the most popular Canadian women's hockey players but tends to get overlooked in retrospect. Let us not forget that there were a lot of big names on those first few Canadian women's teams. That being said, it is very important to not forget Vicky Sunohara.
#3 Nicole Bullo, defender (Switzerland)
Nicole Bullo is still quarterbacking Switzlerland's defense. The '18 PyeongChang Games make it four straight Olympics for the 30-year-old defender. Bullo is a very slippery puck mover for her team in the Swiss Women's Hockey League A (SWHL A), the top women's league in Switzerland. At 5-foot-3 and 120 pounds, she is smaller for a defender but very sturdy and very quick.
Having Bullo as one of their most reliable defenders translated into Switzerland's underdog bronze medal at the '14 Sochi Games. Her three assists in six games were the most for any Swiss skater and placed her tied for first overall in points on her team. In the quarterfinals against Russia she set up an empty net goal by Lara Stalder to seal the deal 2-0.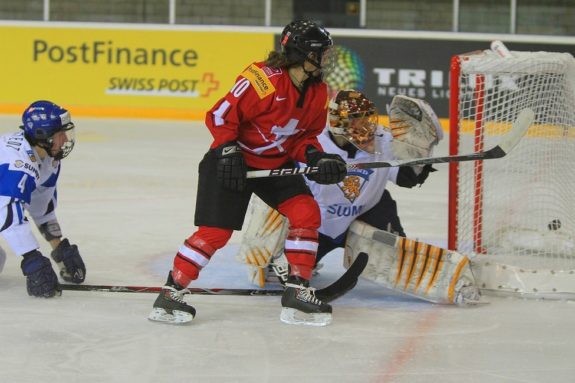 Sochi was Bullo's most productive Olympics to date, as previously she had just a lone assist in Torino and went pointless in Vancouver. Through the first four games of PyeongChang she has remained pointless as well, but has been the consummate veteran along the blueline for her team regardless. It would not be out of the question for Bullo to play a fifth Winter Olympics in four years from now, if she so desires it.
#2 Caitlin Cahow, defender (USA)
Caitlin Cahow goes down in history as one of the most underrated American Olympians to have played. Reliability and dependability are defining words for describing her style of play. Cahow was also never one to shy away from the physical aspects of hockey, but she kept herself within the lines of fair play. At 5-foot-4, she was an incredibly strong defender who weighed in at 160 pounds. In college while playing for Harvard University, she scored 31 goals, 82 assists, and 113 points in 134 career games, but also racked up 160 penalty minutes. She could pretty much do it all.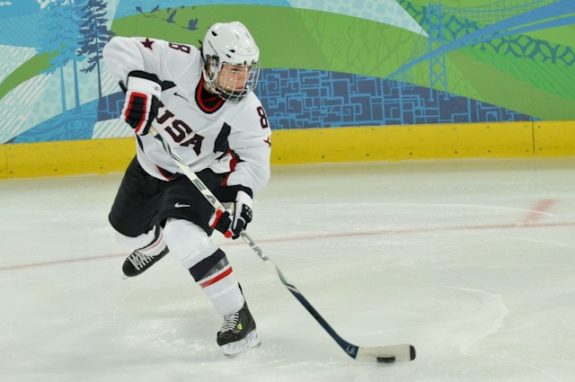 With Cahow standing vigilant guard in front of her own net, USA would win a bronze in Torino and a silver in Vancouver. In Vancouver she twice found the back of the net for her team. First in an opening round 13-0 win over the Russians, and then more importantly in the semis against the Swedes in a 9-1 victory. This helped vault USA into the gold medal game against Canada, which unfortunately they would lose 2-0.
Cahow finished her Olympic career with two goals and two assists in 10 games. She was a plus-six as well and totaled 12 minutes in penalties. Cahow would go on to have a very successful career in the CWHL and became a Clarkson Cup champion in 2013 with the Boston Blades.
Not enough good things can be said about Cahow's career, and she easily makes our list.
#1 Becky Kellar, defender (Canada)
People forget just how reliable Becky Kellar was on the back end. When she retired after the 2010-11 CWHL season with the old Burlington Barracudas, she was one of just four women to have represented Canada at the first four Olympics since women's hockey 1998 inclusion. In the process Kellar won an Olympic silver in Nagano, and then three straight gold in Salt Lake City, Torino, and Vancouver respectively.
In honour of #RIO2016, here's a #TBT to @BeckyKellar's (MBA '04) gold medal win at #Vancouver2010! #StayGolden pic.twitter.com/YbDAsl153Z

— Laurier Alumni (@LaurierAlumni) August 4, 2016
Even current Olympians idolized her. When THW spoke to Renata Fast back in June 2017, the current Canadian defender at the PyeongChang Games spoke about how much Kellar meant to her.
"I think one of the ones that stuck out with me was Becky Kellar" Fast said. "She lived in Burlington and she played on the Burlington Barracudas. I looked up to her because I knew that she was a part of the national women's program, and she was also a defenseman. I actually had the opportunity to practice with her team a couple times when I was growing up, and I was always kind of starstruck by watching her and knowing I was playing alongside someone who was playing for Team Canada."
Kellar finished her Olympic career with a goal and eight assists in 20 career games. She would also be a remarkable plus-28.
Certainly There Are Others
This list is not intended to be all-inclusive, but it is meant to draw recognition to 10 women's hockey players who were Olympians just as much as today's Hilary Knights and Marie-Philip Poulins. The most important aspect of this list is that all 10 players fought well, whether or not they conquered. They represent what the Olympics are truly all about.
While other players could also have been named, that is the most enjoyable part about this – the list of unsung heroines could certainly go on and on and is open for debate. Each Olympian throughout history has earned the right to represent his or her country, and few have ever disappointed. These 10 players certainly did not.
General Manager of the Buffalo Beauts (NWHL). Hockey history writer "The Hockey Writers". Credentialed media for the NHL Combine and 2018 IIHF World Junior Championships in Buffalo, NY, USA. Born and raised in Buffalo, NY. Lifelong hockey fan for over 40 years. Proponent of the women's game.