When Cole Tymkin steps on the ice of the London Knights there are three thoughts that come to mind. Firstly, he's not the most talented player on the team. That said, you know he's going to give his all and do whatever it takes to stand up for his teammates.
Recently, he's been given an opportunity to showcase his game as Dale Hunter and the Knights' coaching staff have given the second-year forward more playing time. In return, the 18-year-old has tallied 6 goals and 17 points in 46 games – bettering his eight points from last season.
While he's upped his offensive output, Tymkin is also well-known for what he brings to the game physically. Playing on the edge, the winger doesn't shy away from any on-ice battle.
Tymkin: Fearless and Feisty
While his 17 points this season are a definite step in the right direction in terms of his development, Tymkin is best known for what he does without the puck.
His hits are destructive. His forechecking is critical to his team. And every once in a while, he's willing to drop the mitts in order to get his team going.
Related: Young Knights Searching for Identity
"It was brewing over the course of a couple games," said Tymkin about a second-period fight between him and Givani Smith on Feb. 16. "He was getting under the skin of some of our top guys. I think they switched around the lines so we would matchup and it kind of just came down to it and we just went from there."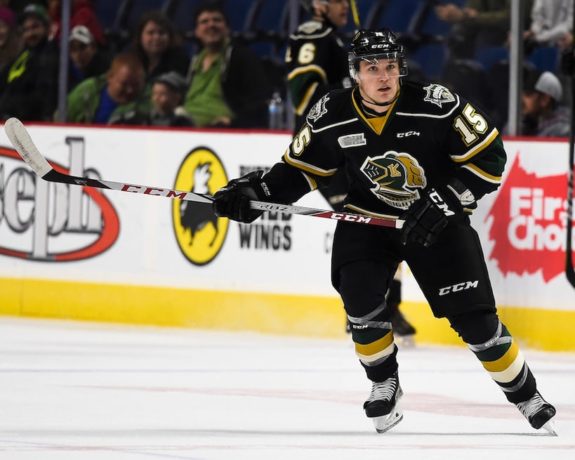 But the OHL has been doing its part in ridding the game of fighting – and made a major rule change ahead of the 2016-17 season that has prevented games from getting out of control.
Under the rule, players who fight three times in a season will be handed an automatic two-game suspension and another two games for every fight exceeding the threshold, according the OHL. The only exception is if a player is instigated upon by an opponent, the fight would not be included in the player's total.
Regardless, the rule has forced guys like Tymkin to change the way they play.
"In a three-fight league, you don't really want to just fight for no reason," said the 18-year-old. "I mean, you want it to contribute to something. So it gets the boys going afterwards and you take one of their big guys off so I think it helps."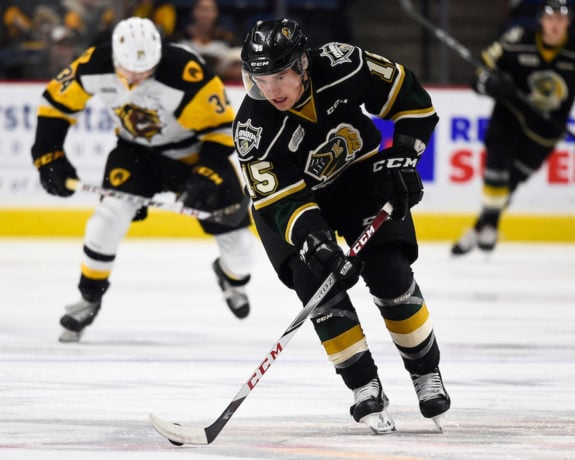 "I have an aggressive game," he continued. "Growing up, fighting was a part of the game when I was watching as a kid. So I like to bring it to my game and I think it's an important factor when a game gets physical and you need to step in for your guys."
And he's done that quite a bit this season – accumulating 74 penalty minutes thus far, which is good enough for 13th in the OHL.
Giving Cole to the Good Kids
As mentioned though, Tymkin has also taken a step forward in his offensive play. Last season, he averaged 0.16 points per game with his numbers climbing to 0.36 this season. No, that's not the numbers of a junior-level superstar, but it's a step. And it's one that Tymkin attributes to those around him.
"The guys I'm playing with for sure," said Tymkin when asked about why he's seen an increase in production. "I'm fortunate that Dale [Hunter] gave me the chance to play on one of the top lines and I'm just fortunate I have [Formenton] and [Rollo] and all our D that are getting good touches. And I think our chemistry has really been up since the beginning of the year."
Now, with the Knights looking towards another postseason berth, they will need all the help they can get. That includes the production on the offensive end and, with any luck, Tymkin will continue to bring the energy while standing up for his teammates.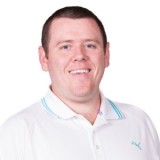 Andrew is in his 8th year reporting for The Hockey Writers covering the Toronto Maple Leafs. He began his broadcasting with CBC's Hockey Night in Canada team as well as being part of their coverage of the 2014 Winter Olympic Games in Sochi. He's the former play-by-play voice of the London Jr. Knights for Rogers TV and currently hosts the Sticks in the 6ix podcast. You can follow him on Twitter at @AndrewGForbes.