In the aftermath of the New Jersey Devils Game 4,  4-0, triumph over the Florida Panthers a lot of the attention (and rightfully so) went to Martin Brodeur and his defenseman. After all Brodeur had just recorded yet another NHL record, this one for most career postseason shutouts — 24, surpassing Patrick Roy; heck he even contributed with an assist in the third period, his second of the series and 10th of his career. His ten career postseason helpers are only second all-time: watch out Grant Fuhr!
Brodeur had the secondary assist on Steve Bernier's goal 2:02 into the third period, and it was a big one because it stretched the lead from 1-0 to 2-0 and gave the Devils team more energy as they attempted to even up the series. "I just tried to get speed through the neutral zone with the puck," said  Bernier's linemate Stephen Gionta. "Bernie made a great shot and put it top shelf on their goalie. This is awesome; it's fun, it's playoff hockey."
The goal was only Bernier's second as a Devil (he had one in 32 regular season games) and it was his eighth career postseason goal, but the momentum his team garnered with the two-goal bulge was priceless. "I don't take those kind of shots too much throughout the year," said Bernier of his laser shot that went over Scott Clemmensen's shoulder and into the back of the net. "It was a great pass by Marty and Gio did a great job driving the net. I saw that hole and shot it there hoping it would go in."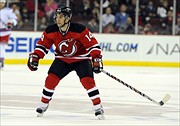 Gionta and Bernier each have a goal and an assist in the series, and their linemate on the fourth line (Ryan Carter) also has a goal through four games. Their production, goal-wise and energy-wise, has made it easy for coach Pete DeBoer to find ice-time for them as New Jersey attempts to make it out of the first round of the playoffs since 2006-07. "Bernier is another one of those unsung guys that we have on this team," said the Devils coach following Game 4. "He jumps over the boards, whether he plays seven minutes or fifteen; he plays a hard game, in the corners, on the walls, finishes his hits, goes to the front of the net. For me, he's a playoff-type player, a big body guy and he wears people out."
Bernier joined the team on January 31, being recalled from the AHL, and he's definitely feels that he's in a good spot now, contributing to a winning team after not having a solid contract offer over the summer. "This is a big step from where I started this season, being able to play in playoff games with a good team," said the recently turned 27-year-old Bernier. "I have a chance to do something good when I'm on the ice, it's extremely fun and hopefully we can continue this for a while."
Dan Rice can be reached at: drdiablo321@yahoo.com
Dan Rice is in his 9th year of reporting for THW & has covered NJ Devils home games for 15+ years at various websites. He began his journey working for legendary broadcaster/writer Stan Fischler from 2002-04 & completed an internship at the ECHL; he also has been writing features for the NWHL (nwhl.zone) website since 2016.