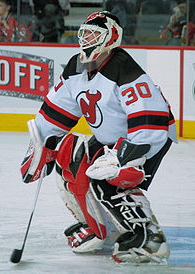 It's been the series no one talks about.  No suspensions. No major penalties. No real controversy.  And yet, it may be the best series going.  After the two teams split the first two games in Florida, the Panthers grabbed an improbable 2-1 series lead after scoring 4 unanswered goals to come back from a 3-0 deficit in game 3.  Both starting goaltenders were pulled in game 3, including future hall of famer Martin Brodeur, who was none too pleased.  While the decision to pull Brodeur failed to inspire the Devils in the final period of game 3, it may have won them game 4.   An angered Brodeur put on a display worthy of 2003 and shut the door on the Panthers, earning a NHL record 24th playoff shutout.
Moving forward, this series could go anywhere.  Game 1 saw New Jersey race out to a 3-0, 1st period lead, but the Panthers cut that lead down to 1 before a final scramble came up short.  Game 2 saw Florida race out to a 3-0 lead before the Devils scored twice and made it another 1 goal game (Florida scored an empty net goal as time expired).  Game 3 followed the same script, as the Devils scored 3 straight to open the game, chasing Jose Theodore.  Only this time, Florida didn't stop at reducing the deficit to 1, they scored 4 straight to take back home ice advantage.  Game 4, on the other hand, was a much tighter, much more competitive game early on.  Both goaltenders looked sharp, and the feeling that the first goal would be crucial seeped to the forefront as the first period went scoreless.  Yet even after New Jersey got that opening goal in the 2nd, Florida couldn't find the equalizer.  Once the 3rd period started, it was just over 3 minutes before the Devils would find yet another 3-0 lead.  There was no comeback to be had on this night, as the home Devils would add a 4th and even the series.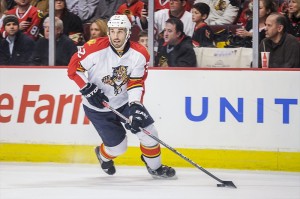 So the series is down to a best of 3.  Game 5 comes Saturday in Florida, and the questions for the Panthers seem endless.  Jason Garrison, who participated in the morning skate before game 4, was a late scratch with the nondescript "lower body injury."  Even GM Dale Tallon was surprised by the absence of the G-52 cannon on the blueline.  What happened?  Will he be ready for game 5?  His replacement, Keaton Ellerby, left game 4 early after being run into the odd half boards between the team's benches, seeming to jar his shoulder, and did not return.  What is his status?  Will Florida need to reach down to AHL affiliate San Antonio, possibly for Tyson Strachan?  After Jose Theodore was pulled in game 4, Scott Clemmensen was given the start in game 5.  It looked like a solid decision through about 45 minutes of game play, but as the team fell behind by 2, and then 3 goals, Clemmensen seemed to lose focus.  Does Panthers' coach Kevin Dineen go back to Theodore?  What about Florida's bottom 2 lines?  After a solid season, Shawn Matthias has looked every bit of the inexperienced player in his first postseason series.  Throw in Scottie Upshall and Marco Sturm, and there's a full line of disappointment.  Does Florida need the added physicality of a Matt Bradley, who's been a healthy scratch all 4 games?  Wojtek Wolski was disappointing in the opening games, and therefore scratched in game 3.  Would he be a re-inspired player should he be brought back in game 5?  With just 48 hours to answer these questions and more, Dineen is in an unenviable position.
What shouldn't be lost, however, is the fact that these Florida Panthers now hold home ice advantage in what is, in effect, a best of 3 series.  These Panthers, who had lost home ice and were down 3-0 in the team's first road playoff game in 12 years, against an eventual hall of famer, never stopped pushing.  As much as giving up a 3-0 lead may have inspired the Devils to a 4-0 game 4 win, being beat down 4-0 could just be the subtle reminder the Panthers need that nothing will be handed to them as they return to home ice.  The matchups that worked so well in 8 of the 9 periods in the BankAtlantic Center should now tilt back to Kevin Dineen's favor.  As quickly as Lady Luck picks a side, she can just as easily decide on another suitor.  3-0 to 4-3 in a matter of hours, and back to 4-0 just two nights later.  Either way, game 5 is, as always, crucial.  The winner Saturday night will climb to within a single victory of the 2nd round of playoff games.  Puck drops at 6:30 pm et.
Karl Selvig was born and raised in south Florida, and was introduced to hockey when the NHL came to Miami in 1993. It was love at first sight. After playing through college, he turned to the media side of the sport and has enjoyed writing about his beloved Panthers since 2007.