By now, most hockey fans have heard the news. Yesterday, The Colorado Avalanche completed a surprising trade for the second year in a row. This time, the Avs involved themselves in a three team trade with the Detroit Red Wings and Tampa Bay Lightning. Each team acquired:
Colorado- Forward Steve Downie
Detroit- Defenseman Kyle Quincey
Tampa Bay- Detroit's 2012 first-round pick and minor league defenseman Sebastien Piche
On paper, Colorado parts ways with the workhorse of their defensive roster. Quincey led the Avalanche this season with a 22:21 average time on ice, and just under 30 shifts per game. Quincey also added 23 points in 54 games for Colorado. Although he left Denver has a -1 this season, that still ranked high on a team struggling to score.
Losing Quincey simply for Downie also comes as a let down to those who thought that Colorado might package Quincey along with forward David Jones or Jean-Sebastien Giguere for one of the premier players of the deadline, such as Jeff Carter. Downie, who has 12 goals this season for Tampa Bay, should provide some much-needed grit to the Avalanche squad (he currently ranks 6th in the NHL in penalty minutes).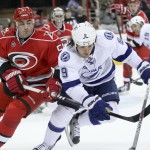 The biggest problem with Downie is his knack for suspensions. He once served 20 games for slashing a referee in the leg. His last suspension came in last year's NHL playoffs, where he received a one game ban for a hit on Penguin's defenseman Ben Lovejoy. If Downie can leave his history of suspensions behind him, Colorado could benefit greatly from his style of play. The Avalanche are a team searching for identity ever since the retirement of Patrick Roy. At 24, Downie could mix well the young talent the Avs have in Matt Duchene and Ryan O'Reilly. A speedy, yet gritty game could make the Avalanche dangerous in years to come.
A former first round pick, Downie has much scoring potential. His career started off slow, scoring 3 goals in his first two years, but his point totals have slowly been getting higher, including 14 points in 17 games last postseason. The power and finishing ability Downie brings Colorado could remind fans of Claude Lemieux, who brought grit and scoring ability to the Avs when they seemed to need it most.
At first glance, the Colorado Avalanche may have lost this trade to many people. If Steve Downie can control his bad habit, Denver just acquired a crucial piece to becoming a yearly contender for the Stanley Cup.
Stats courtesy of NHL.com