If you were to take a poll among Flyer fans asking what the teams biggest issue would be heading into this season, goaltending would certainly be near the bottom of that list.
A few weeks into the season, however, that would have topped the list by a long shot.
The Flyers opened the season as one of the highest scoring teams in the NHL and were peppering opposing goaltenders with shots night-in and night-out. That was great, but their goalies couldn't back them up, and the despite being one of the highest scoring teams, they were losing games because they were giving up more goals than anyone else.
Steve Mason was notorious for his early season struggles, but this appeared to be much worse than anything he's ever done. On top of that, Michal Neuvirth was just as bad.
When Neuvirth went down due to injury a few weeks ago, Mason became the Flyer's last line of defense, and he has proven crucial to the recent success of the Flyers.
A Rough Start
The beginning of last season was a nightmare for Mason. He underperformed and nearly lost his starting job to Neuvirth, who came in and took the Flyers by storm.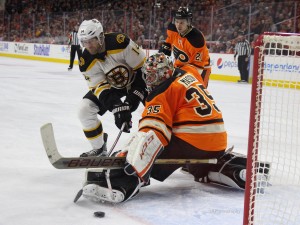 Mason regained confidence and still managed to be the Flyers number one goalie, but an abysmal playoff performance last year, coupled with Neuvirth's outstanding playoff performance last season, left some question as to who would start in net for the Flyers.
Surprisingly, Neuvirth got the nod in the first game of the season, and led the Flyers to a win, stopping 23 of 25 shots against the Los Angeles Kings.
That's where the good times came to an end.
Throughout the rest of October, Mason and Neuvirth split time, here's what their stat lines looked like: Mason was 2-4-1 with a .887 save percentage and Neuvirth was 2-1-0 (he was also pulled twice and those were both no decisions) with a .847 save percentage.
Those numbers came from arguably one of the best goaltending tandems in the league last season. The Flyers were scoring plenty of goals, but their goaltenders weren't holding up their end of the bargain. Things were looking bleak in net.
Turn of the Tides
Just as things were getting really bad, Neuvirth went down with an injury, leaving everything on Mason's shoulders.
Dave Hakstol knew that Mason had to get himself into a groove again, so he put him in night-in and night-out.
Since Neuvirth went down with that injury, Mason is 7-3-1 with a .927 save percentage, the team as a whole is 8-3-1 over those games.
That isn't a result of the Flyers just scoring goals, it's a direct result of Mason's on-ice play.
During that stretch, he had a 38 save win against Florida and a stellar 45 save win against Boston (he also stopped eight of nine in the shootout).
The Flyers are also in the midst of a five-game win streak. Mason has played in four of those games, and in those games he has a whopping .945 save percentage.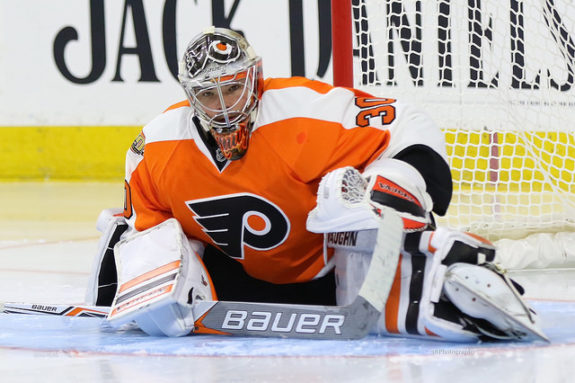 To keep the story short, he has been on the forefront for the surging Flyers.
Earlier in the season, both Flyer goalies were stopping what they needed to stop, but they couldn't bail the defense out of any mistakes. Every little defensive blunder was multiplied because the goalies couldn't stand tall.
That's all changed now, and it's being reflected in the recent string of wins the Flyers have strung together.
If Mason continues his outstanding play, the Flyers will keep climbing the standings and finding the win column. They have been scoring at will all season, but they were just missing the clutch goaltending. Mason has started to provide that clutch goaltending again.
If this play keeps up, look out, the Flyers could quickly find themselves near the top of the Eastern Conference.