There's no debate about who are the three best goalies in Philadelphia Flyers' history — and that's not for good reason. The Flyers have had such a bad history in net that really only three stand out from the pack.
It's the fourth best where the debates can begin. Pete Peeters, who backstopped Philly's 35-game unbeaten streak, Doug Favell, an original Flyer, or Bob Froese are all in the running for that honor. But for the past five seasons, Steve Mason has been making a case to be the fourth best Flyers goalie of all-time. On Saturday, that crusade ended, if everything plays out like it looks like it will.
With one goalie signed and a prospect ready for NHL duty, the Flyers will likely walk away from Mason, who will enter free agency. Wherever the veteran ends up, Mason deserves better than what he got during his time in Philadelphia.
Steve Mason Circa 2013-15
Like Mason had done 103 other times in his career as a Flyer, he won what could be his last game in orange and black on Saturday; a 4-2 win over his former team, the Columbus Blue Jackets. Just over four years earlier, it was the Blue Jackets who had given up on Mason.
After a sensational rookie year, which included a Calder Trophy win and Columbus' first playoff berth, Mason struggled for the next four seasons in Ohio, never posting a goals-against-average lower than 3.00, except for his last season there. Unsurprisingly, the Blue Jackets faltered also and at the 2013 trade deadline, the team dealt him to the Flyers.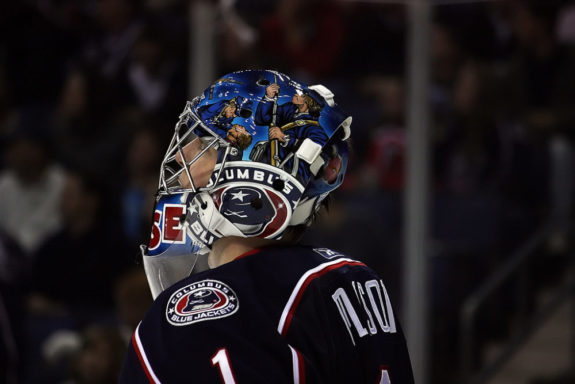 The trade gave new life to Mason. He finished the year with a 4-2 record, a .944 save percentage and a 1.90 GAA. In the offseason, fellow goalie Ilya Bryzgalov was bought out, Ray Emery returned and Mason was the clear starter.
The London Knight product didn't quite have the individual numbers of the prior year's short stint, but tied his career record in wins and helped the Flyers reach the playoffs after falling short in 2012-13.
The playoffs helped Mason break-out. He missed the first two games and if he hadn't it's possible Philadelphia would have knocked off the New York Rangers that year. In the final five games of the series, Mason posted a 1.97 GAA and .939 save percentage, keeping the Flyers in close games and the series.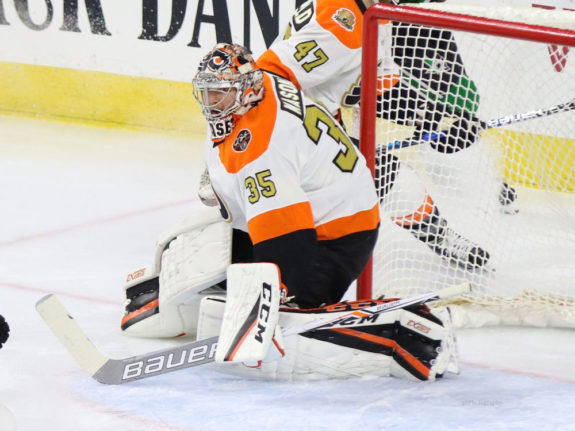 The 2014-15 season was a down one for Philly, but not for Mason. He posted his best GAA and save percentage over a full season. Despite that, fans started to wonder if Mason was the right one to lead the Flyers to the glory land, mostly due to injury issues and a frequency of soft goals.
That offseason, the Flyers upgraded Mason's backup by signing Michael Neuvirth to a two-year deal. He almost immediately began battling Mason for the starting spot, despite Mason's great numbers over his time in Philly:
from @travisyost's article today (https://t.co/kDu7foUiDl) — hi, steve mason. pic.twitter.com/LAmaQHfPka

— collin mehalick (@collin) March 8, 2016
Since 4/3/13, Mason has .930 even strength SV%, 9th in NHL, 12th in overall SV% .920, T13th 82 wins, 17th GAA 2.45 (Bobrovsky 21st at 2.49) https://t.co/jKRzLYLbf2

— Adam Kimelman (@NHLAdamK) November 18, 2016
Mason Circa 2016-17
If Mason wasn't known for letting in soft goals before the 2016 playoffs, he certainly was afterwards. The Ontario native backstopped the Flyers again to a playoff berth but got off to a bad start in the postseason. He then let in a goal that was deflected, not shot, from center-ice in Game 3:
Looking back on it, that moment seemed to spell the end for Mason in Philadelphia. Neuvirth took the series over from there, winning two games impressively and when the 2016-17 season started, neither got off on the right foot.
Despite that, Neuvirth was the one awarded with a contract extension at the trade deadline. Mason, on the other hand, never had extension talks, according to GM Ron Hextall.
Since Neuvirth signed his new deal and somehow earned a raise, he has played just four games. Mason has played 15 games and won nine. Even though Neuvirth is the one with a contract in hand, Mason was clearly the one the Flyers trusted more in net down the stretch run.
In return, Mason will likely test free agency for the first time in his career.
Mason Deserves Better
One of the first things that showed how the Flyers didn't appreciate their number one starter was when they allowed goaltender coach Jeff Reese to walk away from the team. Reese was instrumental in getting Mason's career back on track and Frank Seravelli reported that he left because he felt the team was rushing the goalie back from injury.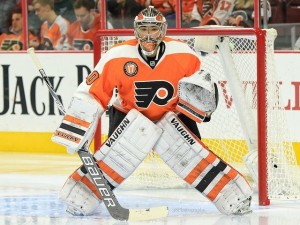 But the handling of contract extensions was the real slap in the face to Mason. He's been better than Neuvirth his entire career and if the Flyers had waited another month, they could have seen how much more important Mason was to them.
It's still possible that Philadelphia re-signs Mason, but with Anthony Stolarz seemingly ready for a backup role and Neuvirth already in the books, there isn't much room for him. If there's anything the past month has shown, though, it's that they should make room for Mason.
Fans have always been hard on Mason. They're notorious for their expectations of goalies, which is what happens when a team can't find a stable one for nearly 25 years.
The organization has now turned on him also. On July 1st, Mason will likely hit free agency. Wherever he ends up, he deserves to be treated better than how he was in Philadelphia.