It's not rare for kids to leave home for extended periods of time when they reach their mid-teens. Some are looking to do some travelling, while others might do it for school or work. Regardless of the reason behind it, leaving home is never easy for the kids or their parents.
For 15-year-old Brett Budgell, chasing his dream of playing hockey meant leaving his family in St. John's, Newfoundland – a choice that didn't come easy for Budgell or his parents.
"The hardest part was being away from my family and not knowing anyone really," said Budgell. "I go to school with a few guys on the team and they were great introducing me to people at school. The coaching staff, the organization, my teammates, they were all great to me and welcomed me onto the team."
From Out East to Ontario
The goal for Budgell and his family was to expose the hockey world to what Brett had to offer. His skill level was undeniable. His love for the game was even more obvious. But if he wanted to pursue a career in hockey, something had to give. So, in searching for a school to send him to, his parents decided to hand him over to his aunt and uncle who lived in London, Ontario, to continue his development with the London Jr. Knights Minor Midget AAA team.
The process of getting him there was just as difficult as the decision to let him go.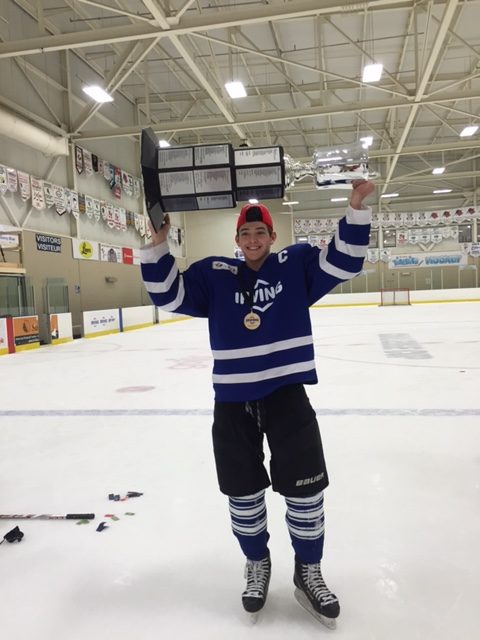 "We contacted the coaching staff – the Benedettis – and they indicated the team was strong and that Brett might have trouble making the team," said Todd Budgell, Brett's father.
But Brett finished his bantam career with the St. John's Caps having played 51 games over two seasons. He collected an unbelievable 51 goals and 101 points over that span. From there, the London coaches watched him play in the Atlantic Championships and decided that he could help their club in pursuing an OHL Cup.
"From there, we started the process of getting him to London," said Brett's father. "First we had to get a release from his minor hockey club here, which was no problem. Jack Casey was more than willing to do that. Then we applied to the London Knights."
"The process was long and arduous. The Knights sent us to Alliance Hockey and we jumped through all those hoops. Then they sent us to the Ontario Hockey Federation and we jumped through all those hoops. Then they sent us to Hockey Canada. That was just a circle we couldn't seem to close off and they told us it all had to go through appeal. So, in August, it went to appeal and the move was granted."
Brett moved to London in late August and started his year away from home in a new place with a new club and nothing to lose.
Exposed and Unfazed
"He said [the transition] was relatively easy," said the elder Budgell. "He obviously missed home, you know, he's very close to his sister and I would think his parents. But it was much easier with him living with his aunt and uncle. No doubt he was nervous, though. We went to all of his tournaments and he wasn't the same player in the Titans tournament that he was in the Marlies tournament because he was feeling his way around. But the kids on the team were fantastic. Brett is a very humble hockey player and a fantastic kid, so he fit in perfectly."
Cole MacKay (@KJR_MMAAA) led the 2016-17 Alliance regular season in goals with 30 🚨. Next closest was London's Brett Budgell (25G)#OHLDraft

— Brendan Ross 🇨🇦 (@RossyYoungblood) January 23, 2017
Nervous or not, Brett had no trouble adapting to the team or the style of play in Ontario. He finished the season with 58 points in 32 games during the regular season – finished second to only Ryan Suzuki on the team in scoring. Suzuki ended up going first overall in the OHL Draft in April.
Budgell backed that up with 15 points in 10 playoff games to help the Knights to the Alliance championship and a berth in the OHL Cup – a tournament they would eventually lose in the semifinals.
"At home you don't really get a full team," said Budgell regarding the level of play in Ontario. "You have good players, but we don't have the population or the depth to have a full team. So the bottom guys aren't as good. Here, you know, everyone's good and it's great to get that better competition."
But coming to London wasn't all about getting exposure. London's well-known for producing some extremely high talent players and the coaching staff of the Jr. Knights offered Brett a chance to develop his game.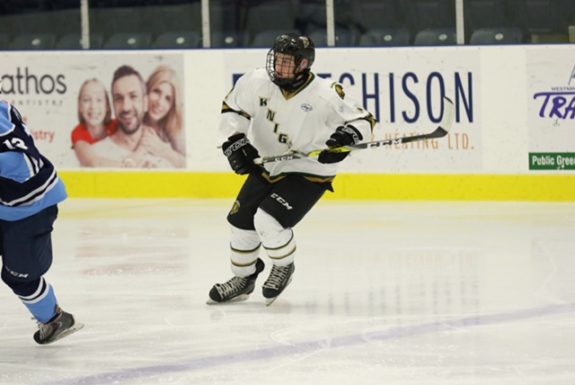 "They taught me a lot of new systems and stuff that I've never seen before," said Brett. "Every coach wants to make you better, so they would work on stuff that I needed to work on – whether that would be working on face-offs or working on my shot, you know, whatever I felt I needed to work on. I was really fortunate to get that out of my coaching staff."
Brett's game is designed much like that of a Jonathan Toews. He has the offensive skill, but has the prowess and physical ability to play in the grimy areas as well. Where some players are keyed in on the offensive side of the game, Brett's father explained that his son focuses on the entire rink and playing an all-around game.
"Brett's a little different of a player where he's a little more physical. So even though he has a certain amount of skill, he like the physicality of the game and he definitely plays a 200-foot game," said the older Budgell. "He works hard not to be scored on, rather he tries to put the puck in the net."
One Step Closer and What's Next
While it can be looked at as a learning experience for Budgell, the year spent in Ontario surely exposed his talents to the hockey world. Still, Budgell is humbled by his experiences and has decided to return home to play with his former mates out east.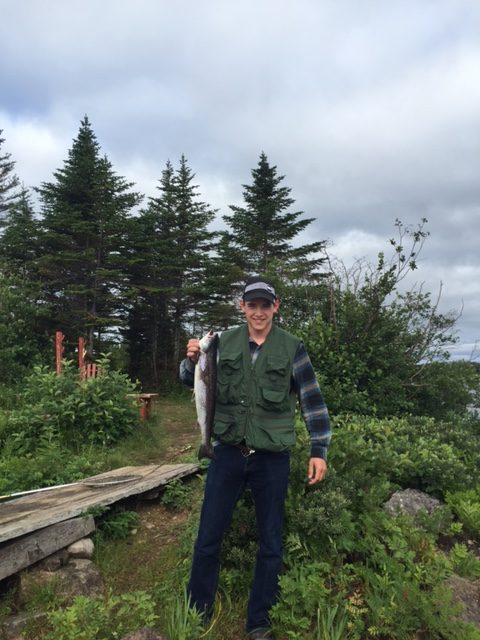 In deciding to go back to Newfoundland to play in the under-16 tournament, he forgoes any chance of playing in the Ontario Hockey League – a league that certainly had eyes on scooping up the east coaster. But that doesn't mean that there aren't other options.
In fact, the exposure that he received by playing his minor midget season with the Jr. Knights, has landed the 15-year-old a number of offers from NCAA teams. On top of that, a number of teams from the Quebec Major Junior Hockey League (QMJHL) have also expressed their interest in landing the young forward.
But that decision is far from made. And as both father and son explain, it will depend entirely on what is best for Brett when the family makes the final decision on his future in hockey.
"Brett got a phenomenal amount of exposure from south of the border and from the teams in the OHL and the Q," said Brett's father. "So it definitely helped raise his profile as a hockey player and people understand now and recognize who he is. For us, we're going to wait and see where he gets drafted and we're going to believe in the process of it and not manipulate anything. Obviously he's got to play to get better. If the right decision is there, then I guess we're going to have some tough decisions to make."
For Brett, there simply is no preference when it comes to choosing between the NCAA and playing in the QMJHL.
"I'm definitely going to keep all my options open and after a few more months and after the under-16 is over we're going to wait it all out, weigh pros and cons, and see what the best option is for me and go from there. But coming to Ontario, I think I definitely got the exposure I was looking for. I have no regrets."
He has a long way to go, but regardless of where he plays next season, this is a player who's name will be heard down the road. He's eligible for the 2019 NHL Draft and could be a guy your team looks at – joining the ranks of other players to come out of the east coast.